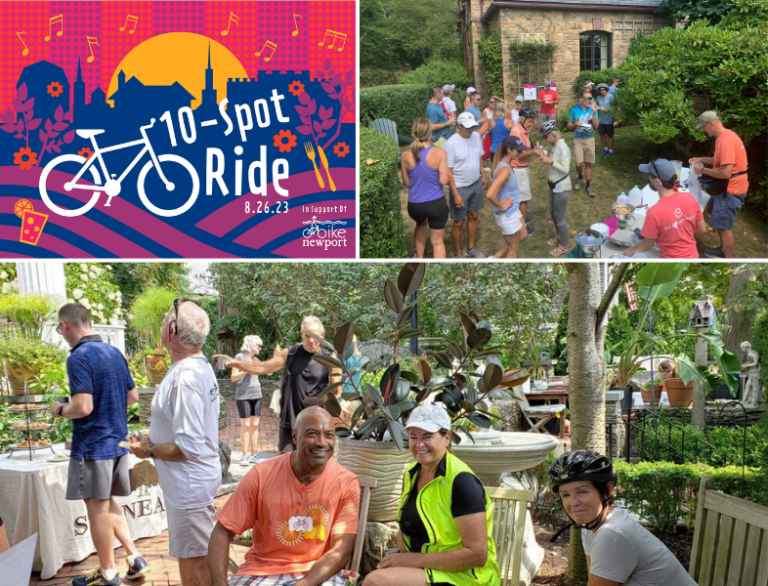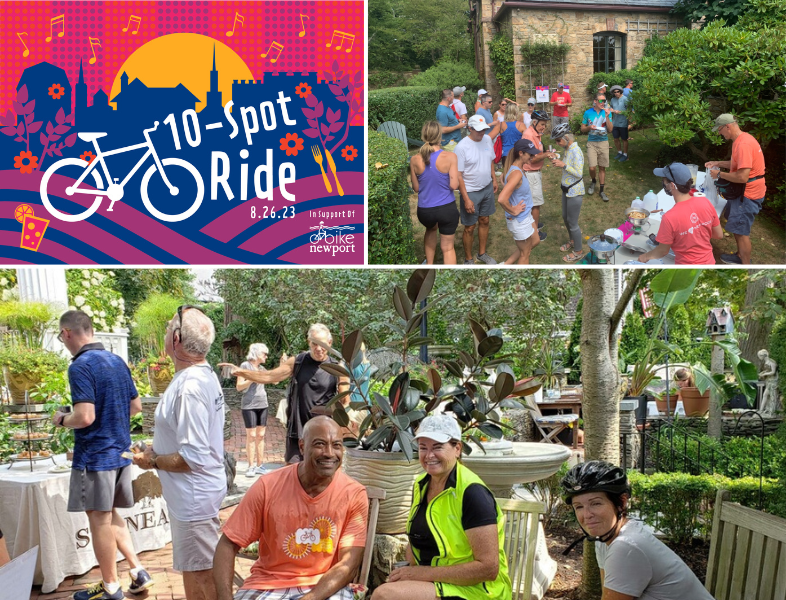 Newport's most anticipated summer bike event is back!
Saturday, August 26, 2023, 11am – 4pm.
Ride to 10 beautiful private "Spots" around lovely Newport for live music & local food.
It's a magical combination that you simply must experience: 10 beautiful locations revealed on the morning of the ride, 10 great restaurants offering tasty bites and cool summer drinks, and 10 musicians completing the fun & festive vibe. We can't wait to reveal this year's 10 secret Spots that we have in store for you! Each "Spot" offers a beautiful garden, ambience, and personality – reflecting the host, the site, and the fare.
How it works
Each ticket-holder is assigned a Starting Spot. On the afternoon before the event (Friday afternoon, August 25), you will receive an e-mail that reveals your assigned Starting Spot, which is where you'll arrive for Saturday morning check-in anytime after 10:30am. Additional riders that you purchase tickets for, as well as other riders by request, will be assigned to the same Starting Spot.
When you check in on Saturday morning, August 26, that's when the fun surprise of the remaining nine Spots will be revealed. You'll receive an event guide which includes a map, GPS codes, and descriptions of the 10 Spots. You'll also receive a commemorative cup and bamboo flatware for the day, to help minimize trash.
You can design and enjoy your own 10-Spot adventure
Choose your own routes and timing. From 11am to 4pm, you may visit each of the Ten Spots scattered around the city!
Tickets are $140 by mail or in person, or $144.20 online.
New this year
The online ticketing platform we used to use for the 10-Spot Ride charged our riders hefty handling fees on top of card processing fees. So this year we're streamlining. This year's online ticket costs reflect only card processing fees, whereas the old ticketing platform would have charged riders an additional $7 per ticket.
Purchase by check
If you would like to pay the flat $140 per ticket, please simply click here to complete and submit the "pay by check" registration form, and mail us a check or drop one off at Bike Newport headquarters at 62 Broadway.
Invite your friends and family
This is an experience you're going to want to share. You can purchase tickets for additional riders and enter their names and e-mail addresses in the registration form below. Or, you can encourage others to purchase tickets separately, and there's a corresponding box in the below form to enter the names of other riders that you would like assigned to the same starting "Spot".
What You'll Experience Along the Way
The locations are all secret until the day of the event when you receive your map and guide – but we can tease you with what you'll enjoy along the way – Take a look at all of these amazing musical and taste-tingling partners who will be making your 10-Spot day awesome! Where will you bump into your favorite performers and recipes? Ride to all 10 Spots to find out!
All proceeds from the 10-Spot Ride support Bike Newport's mission to create the conditions that lead to more people biking more often, and to ensure that bicycling is a viable, safe, and comfortable primary choice for transportation and recreation. Lots more information at bikenewportri.org.
We gratefully acknowledge BankNewport as a Signature Sponsor of the 2023 10-Spot Ride. Thank you BankNewport! We're thankful for additional sponsorships by Aramli Foundation & Starkweather & Shepley Insurance.
Glimpse photo highlights from last year's amazing 10-Spot Ride:
"6 Thumbs Up" from riders in our inaugural 10-Spot Ride in 2020:
Past 10-Spot rider Nancy R. called the event: "Delightful, local, heartfelt, and filled with off-the-beaten-path gems. It reminds us of every reason why we love Newport."
If you cannot make the event, please consider a donation in support of bicycling education, advocacy, and community building. Thank you!
Rain date
There is no rain date for this event. If the event has to be cancelled due to weather, we will ask but not require our participants to please convert their ticket to a donation, as a tax-deductible contribution to Bike Newport. With gratitude.
About Bike Newport
Bike Newport promotes bicycling as a viable, safe, and comfortable choice for all, in the best interest of our community's health, economy, environment, and quality of life.
We offer educational programs for all ages, advocate for safer streets for all road-users, and provide access to restored bikes, donated by our supporters and refurbished by our team of bike mechanics. Our efforts to continue our work throughout the Covid-19 pandemic included the distribution of nearly 800 bicycles in our community and led to our being named the 2020 Advocacy Organization of the Year by the League of American Bicyclists.
2023 marks our second year of providing bicycle education in the Newport Public Schools, and our fourth year of providing six weeks of Summer Bike Camp to Newport Youth. If your bike needs basic help, bring it in during one of our Open Garage sessions and we'll help you make the repair, or for more involved tune-ups bring it to our expert mechanics at The Annex at 56 Broadway.
Thank you for supporting Bike Newport and our work to make it easier and safer for bicycling to be a choice – and a solution.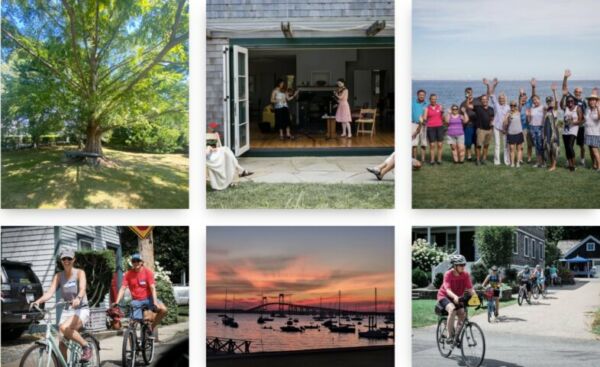 Online Ticket Sales Have Ended
If you wish to register on the day of the event (Saturday, August 26th), please go by bike to Rough Point (680 Bellevue Ave) at 11:00am. If spaces remain, tickets can be purchased on-site while they last. Thank you!