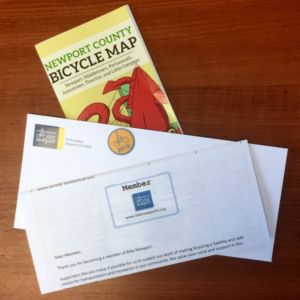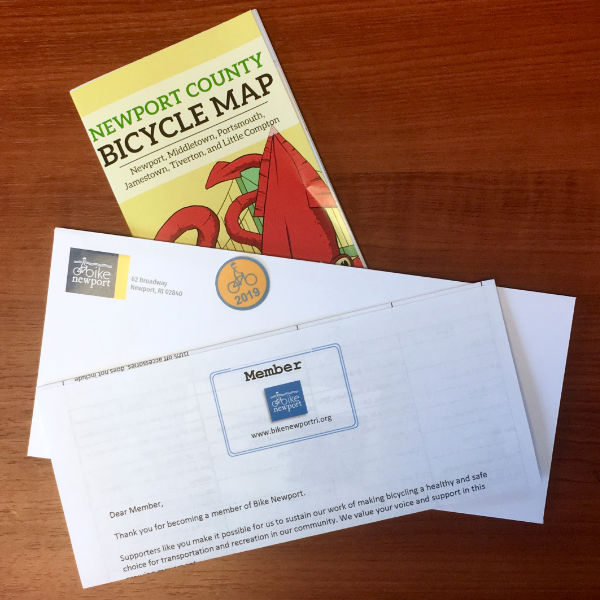 Join Us
Annual membership is an easy way to be part of our vital and growing cycling community. Membership expresses our community support–more members more resources that Bike Newport can bring to bear on bicycling issues and important to you.
Bike Newport depends on members like you to sustain our work making bicycling a healthy transportation and recreation choice in our community. We value your voice and support in this growing movement.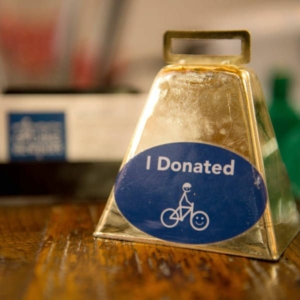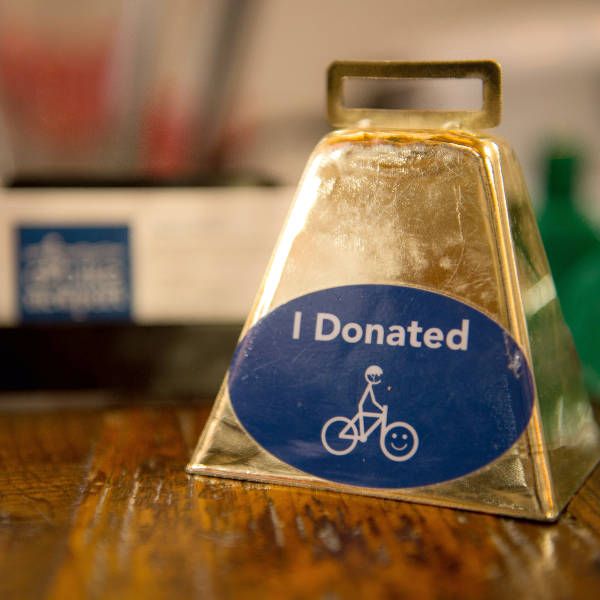 Donate
Your donation supports all that Bike Newport does–Education, Infrastructure and Bicycle Culture.
$5/month buys six youth helmets
$10/month restores four bicycles for community distribution
$20/month buys a high-capacity bike event rack
$30/month supplies needed Bike Garage tools
$50/month trains a League Certified Instructor
$100/month runs every part of Bike Newport for a day!
Bike Newport is a 501c3 non-profit organization registered in the State of Rhode Island.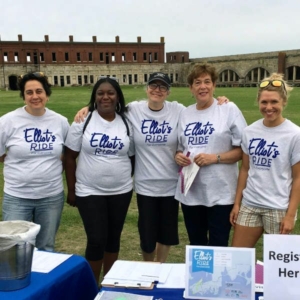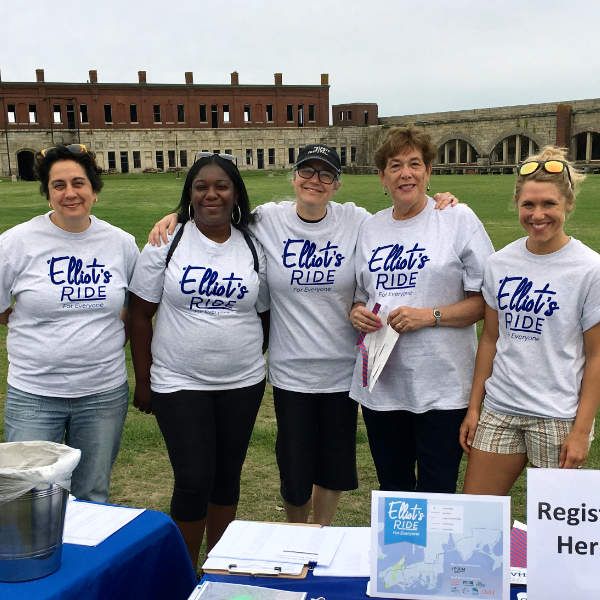 Volunteer
Bike Newport wouldn't run without the support and dedication of our amazing volunteers. There are many opportunities to get involved! Help plan, organize, and participate! Bike Newport volunteers get free membership (min 5x/year).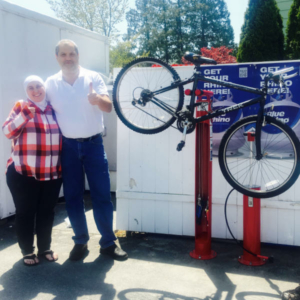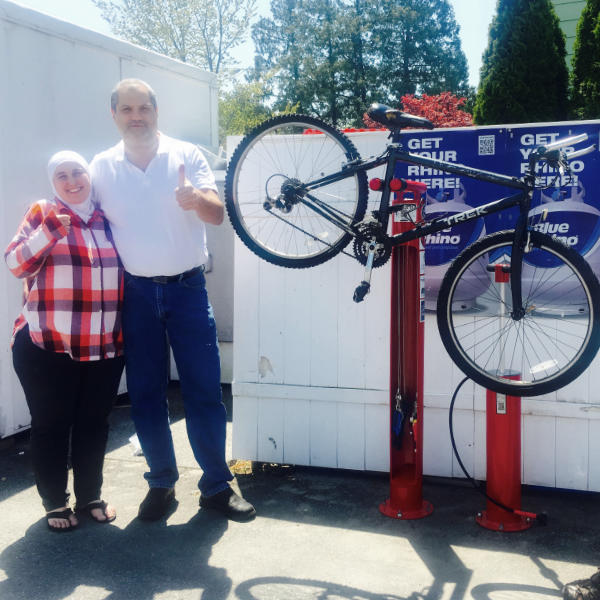 Sponsor
Your donation supports all that Bike Sponsors help us sustain all of our initiatives. Let's think together about what you or your business would like to support!
Thanks to our Generous Donors!
Ten Year Champions: Celebrating Bike Newport 2011-2021
Our Ten Year Champions are leading voices for positive change – partners in launching our second decade with a solid record of accomplishment and our batteries fully charged. Each Champion has contributed $10,000 or more specifically in honor of this milestone year.
Bike Newport registered in the State of Rhode Island on November 11, 2011 – 11/11/11! Our plans to celebrate in 2021 were diminished by the pandemic – but no worries – we will celebrate 11 years on 11/11/2022 – watch for details. Thanks to all of our supporters!
Ten – and Eleven! – Year Champions
Join our Champions by writing to Bari Freeman.
Betty Bourret
Paul & Charlotte Marshall
2021 Donors
GEARS
$10,000 & UP
BankNewport
Bazarsky Family Foundation
The Bloom Family
Betty Bourret
The de Ramel Foundation
EJMP Fund for Philanthropy
Frederick Henry Prince Memorial Endowment
Gruben Charitable Foundation
Hamilton Family Charitable Trust
Kaminitz Family Foundation
Charlotte & Paul Marshall
Reynolds DeWalt/Standard Modern
RI Department of Transportation
van Beuren Charitable Foundation
Barbara van Beuren & Stephen Glascock
Sarah Whitehouse
FRAMES
$5,000-$9,999
Anonymous
Bike to the Beach
BnV
DCG Synergy Fund
Ocean State Charities Trust
CRANKS
$1,000-$4,999
Aquidneck Land Trust: Merritt Neighborhood Fund
The Barry Walsh & Friends Foundation
Glenn Bradfield
John Burton
Discover Newport
Donald Hartley
HiRoad
Douglas & Nancy Horsey
League of American Bicyclists
Judy Malin
Susan Mocarski
Newport Housing Authority
Pyle Fund of Greater Worcester Community Foundation
Nancy Robertson
Women's Resource Center
WHEELS
$500-$999
Aquidneck Community Table
Paul Araujo & Susan Van Dam
Joyce Bailey
Mary & Robert Bohlen
Bromberg Family Charitable Fund
Carney Family Charitable Foundation
Bill & Karen Corcoran
David Dittman
Kurt Dolnier
Hank Kniskern
John & Suzanna Laramee
LPL Financial Foundation
Newport Public Schools
Rhode Island Foundation
Betsy & Pete Rice
Denise Roberts
Brian & Ray Rodgers
Solomon Rosenthal & Maryann Thompson
Safe Harbor Newport Shipyard
Stephen Sheldon
Jennifer & Scott Spring
Conrad Tea
Tiverton Materials
Bonnie Watson
PEDALS
$100-$499
2 Hands Studios: Melissa & Jeff Moniz
The A. and B. Stein Family Foundation
Meredith Adams
Ted Adams & Angela Montemagni
Dominique Alfandre & Thomas Palmer
Constantine Amarant
Maryellen Atkins
Ella & Tom Auchincloss
B&C Auto Inc.
Emily Babbitt & Matt Knowles
Nina Bander
Hadley & Jason Bazarsky
Scott Bengtson
Julian Bonder
Fran & Steve Booth
Tyson Bottenus
Adam Bradfield
Kathleen Braga
Mark Brandow
Alice Braunstein & Brian Dever
Jennifer Bristol
Christopher Brown
Kristine Brown & Robert Brown
James Burress
Paul & Nancy Cardoza
Drew Carey & Lisa Colburn
Katy & Nick Carney
Alex Castillo
Michael Cecchi
Maria Chandler
Miles and Linda Chandler
Alice Cialella & John Robinson
Mat Coes
Sharon Connors
Karen Conway
Daniel Cordeiro
Marguerite Crocker
Guy Cummings
Rob Cummings


Christopher Daly
Frances Daniels
Robert Davidson
Jennifer Davis-Allison
Thomas Dembinski
Lilly Dick
Lisa Donovan
Elizabeth & Paul Doucette
Liz & Emlen Drayton
Alexandra Ducas
Harriet Dwyer
ecoRI News
William Emmet
Amy & Tim Fater
Paul Fattibene
Elizabeth Finn & John Foley
Linda & John Finn
Tom Fortier
Alex Fowler
Bari Freeman
Phillip Freeman & Jill Goldstein
Marlyn Gaines
Linda & Shawn Gale
Gina Gallo
Thomas Gibson
Dwayne & Kathleen Goulding
Monique Peoples Graham
Kate Haakonsen
Bill Halchuk
Peter Harty
Roman & Kathryn Hayda
Liz Dougherty Hebb
Nancy Hendrickson
Brian Hennessey
Lola Herrera-Ximenez
Tom Hockaday & Bill Martin
Alena Hornakova & Viktor Hornak
Penelope & Tyler Hunt
Allison Ingalsbe
Dianne & Robert Izzo
Sam & Ruth Jernigan
Marian Kaminitz





Mark Kanter
Kathleen Keating and Martin Kits van Heyningen
Lorraine & Dempsey Keyes
Brian Kiracofe
John & Gwen LaRiviere
Valerie Larkin
David Lavery
I-Hwa Lee & Eric Schmutz
Jason Lee
Kerri Lewia
Paul Leys & Margaret Corcoran
Chjan Chin Lim & Siew Leng Chuah
John Litherland
Joseph Logan
Douglas Lyman
Ellen Lynch
Ronald & Eugenie Maine
Bradford & Laura Martin
Chris Martin
Richard & Cheryl Martin
Mrs. Kaye L. May
Timothy McMahon & Mary Ann Peters
Rhonda & Clarence Mitchell-Chenoweth
Andrew Montelli
Brian & Mary Moore
Ellen & Michael Murphy
Finbarr Murray
James Murray
Laura Murphy
Newport Family & Cosmetic Dentistry
Newport Rotary Club
Chyleene & Jack O'Connor
Teresa Paiva-Weed
Lillian Picchione
Julie Basil Pierce
Peter Portney
Kathy Pratt & Turner Scott
Dan Prentiss





Elise & William Ramos
Caroline Reavey & David Brown
Christopher Reidy
Dani Cano Restrepo & Sean O'Connor
Jean Riesman
John & Kathryn Rok
James Ryan
Sandee Saunders
Linda & John Schieffelin
Susan & Robert Schlein
Deken Schmidt
Ruth Scott
Tracy Shea
Peter Smith
Deborah & Dave Smith
Linda & Peter Smith
Judith & William Souza
Kate Sparrow
David & Hilary Stookey
Antoinette Sutherland
Catherine Sykes
Michael Thomas
Chris Tompsett & Nancy Raposo
Rev. Laurel Tower
Maria-Teresa Trapani
Lynne Tungett
David & Suzi Van Ness
Bob & Karen Votava
Lisa Wagenbach
Thomas Waugh
Judy Webb
Carol & Marc Weitzman
Eric Werblow
Stephanie West
Murray Wilmerding
Trip Wolfskehl
Alan Woodmansee
Laura & Christopher Yalanis
Ron & Karen Yeh
Merrilee Zellner
Henry Zhang
SPOKES
Up to $99
Rita Adam
Judith Allpress
Thomas Amaral
Anonymous
Anonymous
Rachel Balaban & John Burnham
Ed Barber
Daniel Baudouin
Barbara & Peter Baum
Glenn Bradfield
Rose Bradfield
Marissa Caito
Kate Cantwell
Michelle Cardoza
Michael Cassidy
Barbara Chaves
Brian Clayton
Kerry & Justin Clougher
Yvonne Rogers Coleman
Deanna Conheeny
Jean & Paul Conway
Paul Crichfield
Rachel Cronin
Kate Dana and Alexander Nesbitt
Nolan Danchik & Hynda Kleinman
Don Dauphinee
Lawrence Davis
David & Brenda Delasanta

Krysta Doerfler
Joyce Douglas
Rev. Shelley Dungan
Rocco Falcone
Scott Ferreira
John Flaherty
James & Anne Fleet
Paul Forde
William Gamble
Kris Gangemi
Katherine Gibson
Nancy Gillooly
Maria Gilman
Anne & Mark Gorman
Debra & Troy Gowen
Barbara Gradley
Isabel Griffith
Renee Harriston
Janet Hawkins
Dan Hooper and Kathy Hooper
Michael Ingmanson
Victoria Johnson
Tom & Janice Kowalczyk
Angie Koziara
Hannah Lasorsa
Eliza Lawson
Harlee Lee
Kelly Lee
Lindsay Lieberman & Isaac Kardon
Laurie Lindemann

Francisco Lovera
Marilyn & Chandler Lyell
Dave Mann
Rabbi Marc & Jackie Mandel
Isabel Marsh and David Hulse
Candace Martin
Brian Masck
Elizabeth Matteson
Allyson & Angela McCalla
Leslie McCalla
Amy Mckinney
Ealain McMullin
Edward McPherson
Sara Meirowitz
Rae Anne Mena
Beth & Russell Milham
Joann Mitchell
Paige Myatt
Claire Nelson
John Nery
Bill Nesper
Mary & Howard Newman
Patricia O'Connell
Clarence Page, Jr.
Mia Patriarca
Cynthia Peckham
Tom Perrotti
Vicki & Gregg Phillipson
Sara & Nicholas Poirier-Williams
Margherita Pryor

Alicia & Ken Quirk
Suzan Raleigh
Colin Roberts
Josie Rock
Victor Rosado
Marian Royer
Eric Sample
Ellen Santaniello
Barry & Elizabeth Schiller
Cynthia Sexton
Dennis Sheehan
Meaghan Sloane
Rosemary & David Smith
Juan So
Jennifer Soares
Sondra Spencer
Shelley Spivack
Stuart & Leslie Streuli
Tara Sweeney
Megan Toth
Paula & David Touger
Cindy Walaski
Shannon Walker
Susan Walsh & Brian Shanley
Lesley & Julian Warhurst
Sid Wax
Amy Wittekind
Clare Woodhead & Holly Fisher
Jonna Wood-Prince
Chip Young
Lew & Joan Zackin
Erica Zanghi