Maps & Rides
Explore the city, the state, or the region with a group, or at your own pace.
The Newport County Bicycle Map is a wealth of cycling information. Our big, beautiful, fold-out map covers all of Newport County from Conanicut Island to Aquidneck Island and all the way to Little Compton!
Find the map at locations in Newport and around the county, including the Newport Visitors Center, all local bike shops, Bike Newport, and in Jamestown at the Jamestown Ferry and Baker's Pharmacy.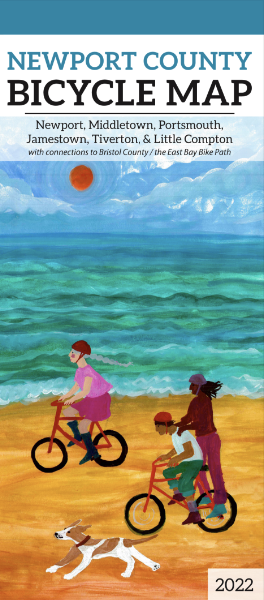 This is a large file, 4.1Mb – for desktop reference only, not printable.
More Rides
Visit our friends around the region for more great rides, group rides and outings.
Narragansett Bay Wheelmen Maps
New England Randonneurs Maps
New England Mountain Biking Association – Rhode Island Chapter
Bridges
Newport Pell Bridge
Jamestown Bridge
Bicycles are not allowed on these bridges. To cross, either drive, take the ferry service across the bay.
Mt. Hope Bridge
Cycling is permitted, but use caution, the roadway is very narrow.
Sakonnet Bridge
The protected bike lane is open and lovely to ride!
Support Bike Newport
Enjoying the great resources provided by Bike Newport? Consider donating to keep us on the road and providing the Education, Advocacy, Community & Bikes that keep Newport rolling!