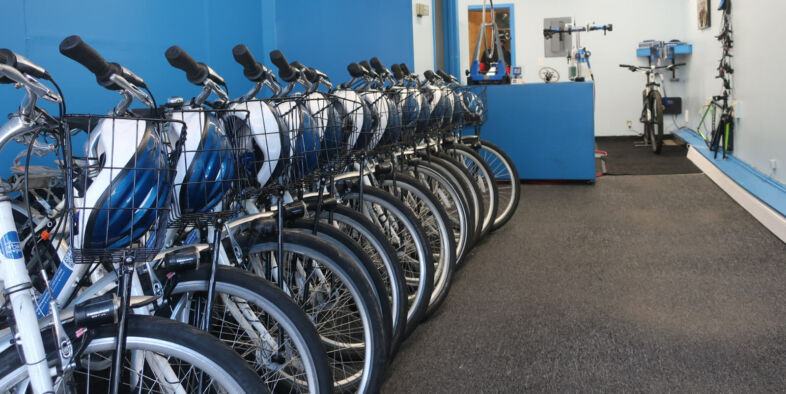 The Annex
Bike Repairs & Rentals
The Annex, Bike Newport's friendly, professional service & rental shop.
All proceeds support our education and advocacy programs!
56 Broadway, Newport, RI
(next to Bike Newport HQ)
Repairs: 401-619-4765
Rentals: 401-619-4900
Hours: Closed week of November 17-24
Monday – Thursday
Repairs & Rentals: 9:30am – 5:30pm
Fridays
Repairs (Pick-Up Only): 9am – 5pm
Rentals: 9am – 5pm
Bike Repair & Service
Expert bike repair and maintenance services in the heart of downtown Newport, RI, at the Annex! Located next door to Bike Newport's headquarters opposite City Hall on Broadway.
Service Manager Richard Starry brings 30 years of experience in the bike shops of Boston to Newport. Here at Bike Newport, Richard's expertise benefits more than his clients because bike repair proceeds directly support Bike Newport's community programs – bicycle safety education, improved infrastructure, community bike projects and more!
From minor adjustments to major overhauls, bring your bike to The Annex for great service, expert repairs, and support more, better, and safer bicycling for everyone!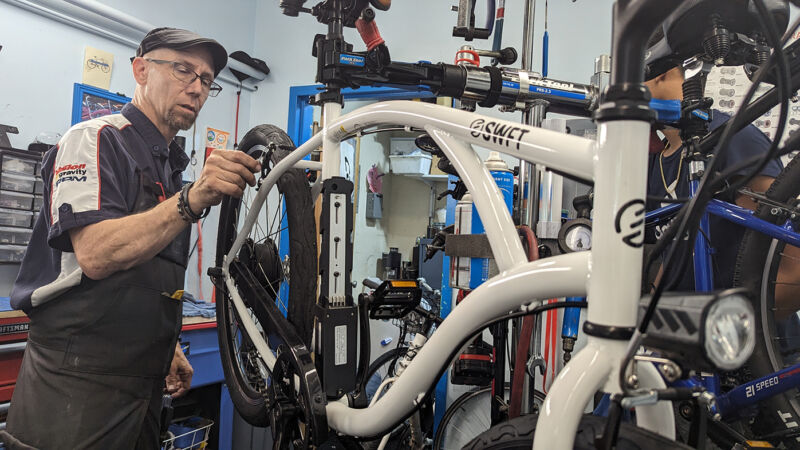 Estimates & Pricing
Estimates are always free!
Service at The Annex always starts with a free, no-obligation estimate of the work needed. Our service pros will discuss what's needed and will carefully explain what should be done and what is coming down the road.
Choose from the tune-ups below or select from the list of services.
Standard Tune-up $75

STANDARD TUNE $75*

This package is ideal for bikes that are in good overall condition, with only a few things needing attention. The Standard Tune covers the most common adjustments and light cleaning.

ADJUST GEARS
• Adjust derailleur set screws and cable tension • Adjust internally geared hubs

ADJUST BRAKES

ADJUST BEARINGS
• Including headset, both hubs and bottom bracket

TRUE WHEELS & TENSION SPOKES
• Minor lateral wheel true to .5mm tolerance

INSPECTION & LUBRICATION
• Secure, inspect and adjust caliper
• Adjust pad alignment, centering and clearance
• Inspect frame for cracks and damage
• Light cleaning of frame and wheels
• Check torque on all bolts
• Lubricate chain and cable
• Inflate tires to recommended pressure

*$3 Shop supply fee added to each Tune-up
*10% Loyalty discount on this tune for bikes purchased from Bike Newport
Comp Tune-up $125

COMP TUNE $125*

The Comp Tune is our most popular package for bicycles that needs extra attention and cleaning. Includes all of the features of the Standard Tune, plus drivetrain cleaning and detailed frame cleaning.

CLEAN DRIVETRAIN
• Including cassette/freewheel • Crankset (both arms)
• Both derailleurs and chain
• Front & Rear brakes
• (Parts washer service add 20.00)

ALSO INCLUDES
• Derailleur hanger alignment • Install cables and housing
• Install brake pads
• Adjust bearings
• Adjust gears
• Adjust brakes
• True wheels & tension spokes
• Grease headset & hubs (repack only)
• Inspection & lubrication

*$3 Shop supply fee added to each Tune-up package
*10% Loyalty discount for bikes purchased from Bike Newport
Deluxe Overhaul $225

DELUXE OVERHAUL $225*

The Deluxe Overhaul is our most thorough tune-up package for bikes that see a lot of miles or have been in extreme conditions. The Deluxe Overhaul covers everything included in the Comp Tune package, plus bearing overhaul of the hubs, headset and bottom bracket.

OVERHAUL BEARINGS
• Overhaul hubs, headset and bottom bracket
• Clean and inspect bearing surfaces
• Install new bearings

ALSO INCLUDES
• Derailleur hanger alignment
• Install cables and housing
• Install brake pads
• Install handlebar tape
• Cables & housing included
• Adjust bearings
• Adjust gears
• Adjust brakes
• True wheels & tension spokes
• Inspection & lubrication

DETAILING INCLUDED
Drivetrain cleaning (with parts washer)
*BIKE LUST frame
Remove Wheels, Cranks, Fork to
clean crevices

*$3 Shop supply fee added to each Tune-up package
*10% Loyalty discount for bikes purchased from Bike Newport
Labor Costs

Flat Fix $25.00. (Tube Included)
E-Bike Flat Fix Front $35.00. (Tube Included)
E-Bike Flat Fix Rear $45.00. (Tube Included)

Shift Adjust (per shifter) $15.00. Both for $20.00


Tubeless Installation $20.00. (Sealant NOT Included)
Tubeless Reset $20.00. (Sealant Included)


Cable Brake Adjust (per brake) $10.00
Hydraulic Brake Adjust $15.00
Hydraulic Brake Bleed $30.00 (Fluid included)
Pad Install – Rim $10.00
Pad Install – Disc $12.00


Install Chain $10.00
Install Cassette $10.00
Combo install $15.00
Lube drivetrain $2.00


BB Adjust $10.00
BB Removal/Installation $20.00. (Seized BB Removal is Timed Labor)
BB 30 Clean/reinstall $25.00
Face & Chase BB $45.00


True wheel $25.00
Spoke Replacement $30.00 (Plus Cost of Spoke)
Bike Boxing $75.00 (Box & All Material Included)
Bike Build $100.00
E-Bike Build $150.00
Drive Train Cleaning $45.00
Cut Steer tube $15.00
Cut Seat post $10.00
Cut Handlebar $15.00
Hub Adjust $10.00
Headset Adjust $10.00


Cleat Install $5.00
Bar Wrap $15.00 (wrap purchased through Bike Newport $5)
Fender Install $5.00 – $15.00
Drop-off or Walk-in
Schedule ahead or stop by the shop
Drop off your bike on weekdays, Mondays thru Thursdays from 9:00am-5:00pm and Fridays from 9:00am-5:00 pm FOR PICK-UP ONLY or call 401-619-4765 to schedule.
Getting ready to ride and discovered a flat tire? Hit a pothole and your rim is out of true? Sometimes you can't plan when your bike needs attention. Bring it in and if we can fix it on the spot, we will! If we need more time, we'll let you know when to stop by to pick it up.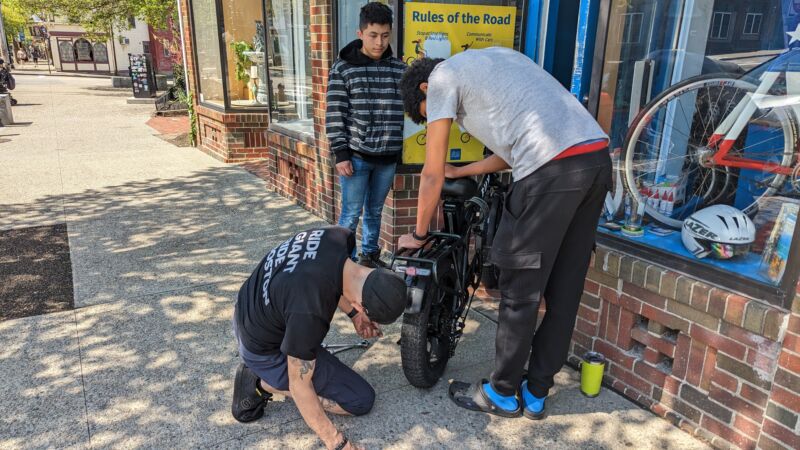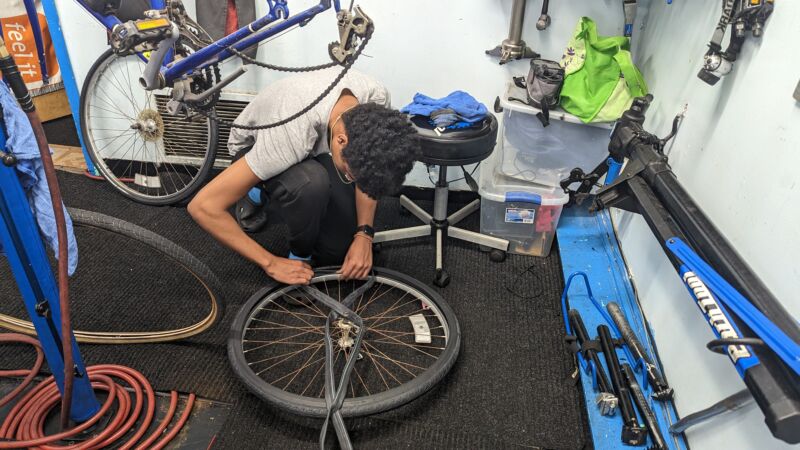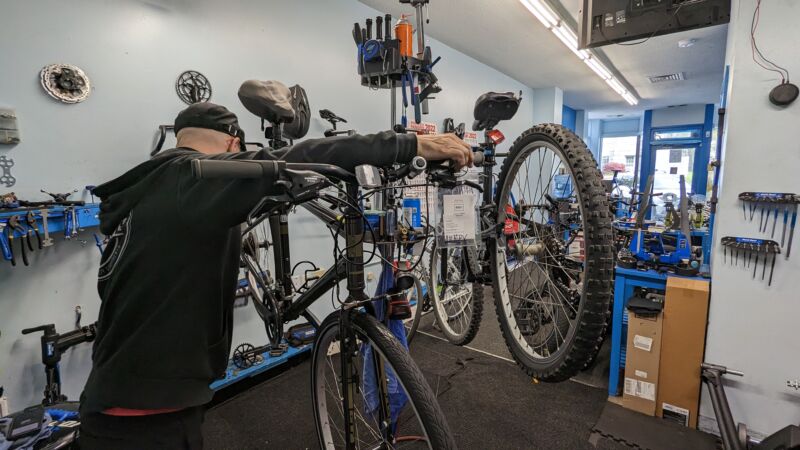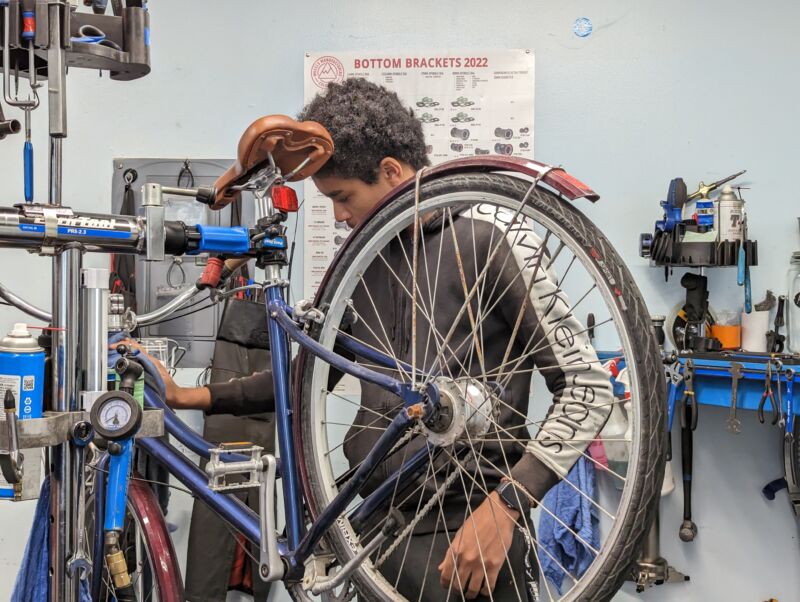 Bike Newport Rental Bikes
See Newport by Bike!
Bike Newport has a fleet of 20 bikes available for daily rentals. Our bikes come with a lock, helmet, lights, and a bell. All revenue supports our bike safety education programs!
Bike Newport is open Monday-Friday from 9am to 5pm. All rental pick-ups and drop-offs must occur within our hours of operation. Bike Newport does not offer e-bike rentals.
Stop by the Annex at 56 Broadway to rent a bike
Call 401-619-4900 to reserve a bike
Email info@bikenewportri.org
3-Hour $30 – Pickup 9am – return by 12pm or pickup 1pm – return by 4pm
1 Day $55 – Pickup 9am – return by 4:30pm
2 Days $80 – Pickup 9am – return by 4:30pm on last day
3 Days $120 – Pickup 9am – return by 4:30pm on last day
Overnight/Late Fee $20: If you miss the return window on your rental (4:30pm), you will be charged a late fee. The rental bike must be returned by 9:15am the next day or you will be charged for an additional rental day ($55/bike).
Rentals past 3 Days: We do not offer rentals for periods longer than 3 days. If you need a long-term rental, we recommend you call ahead or visit our bike garage and buy a bike from us! By purchasing a bicycle from Bike Newport, you get all the same amenities as renting, but without the time restrictions. At the end of your time, we encourage you to donate the bike back to us so we can redistribute that bicycle to someone in need in our community.
Rental Reservations: Planning a visit to Newport? Want to ride with a large group? We are happy to schedule reservations in advance. Payment in full is required to make a reservation. Call (401) 619-4900 to make a reservation. Reservations cancelled more than 24hrs prior to the start of the rental period will receive a full refund.
Upon Return: Renters are expected to return the lock, helmet and bicycle to Bike Newport in good condition. All renters must provide a credit card for Bike Newport to hold on file prior to the beginning of the rental period. If a bicycle is damaged during the course of a rental period, the card on file will be charged to cover the cost of the damage.
3-Hour and Full day rental discounts are available to Newport residents, students, military, and seniors upon showing valid ID.
Discounted 3-Hour rate: $20
Discounted 1 Day rate: $40
Because the majority of roads in Newport do not have separated bicycle infrastructure and bicyclists must ride in the road with vehicle traffic, Bike Newport does offer bike rentals for children. Any teenage riders under the age of 18 must be accompanied by a parent/guardian.