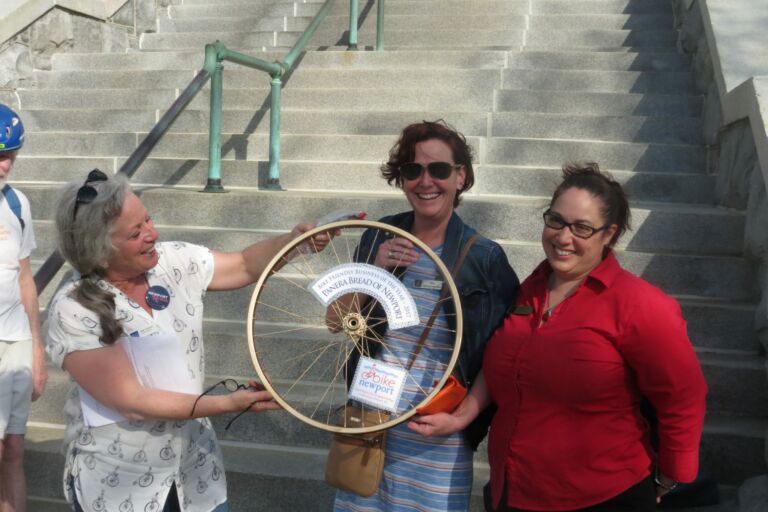 For the fifth year, we've used the occasion of National Bike to Work Day to present the annual Bike Friendly Business of the Year award.
The announcement at City Hall on May 19th, was attended by many local bicyclists, advocates, and supporters. Bike Newport shared: "This year, the award goes to Panera Bread – for demonstrating a commitment to improved biking in Newport at every opportunity – for installing a branded bike high capacity bike rack; for honoring Art Weekley, a cycling enthusiast customer who lost his life while biking; for providing refreshment at innumerable bike events, including the annual Bike Commuter Breakfast; and for answering 'Yes!' to virtually every bike friendly idea proposed to them. For these reasons and more, Newport's 2017 Bike Friendly Business of the Year is Panera Bread!"
The award is a transformed and "gilded" bike wheel, created by renowned sculptors and local residents Howard and Mary Newman. The Newmans are bicycle riders and cycling advocates who have contributed their talents each year to this special recognition of bike friendliness among Newport's business community.
Past recipients include Jane Pickens Theater (2013), Preservation Society of Newport County (2014), Newport County YMCA (2015), and Butch Murray and the Fastnet Pub (2016).
The award is a highlight of the annual celebration of biking for transportation. It was presented after a morning commuter breakfast and before an afternoon City Loop ride, which was escorted by Newport Police Department Officers Merrie Scott and Jared Johansen. Event sponsors included A Market, Empire Tea and Coffee, Crystal Springs Water, Panera Bread, FatFace , RIPTA, and Stop & Shop.
Bike to Work Day also saw the unveiling of two new Self-Service Bike Repair Stations – for 24/7 air and adjustments. Cyclists can find the tools they're looking for to fill tires and tighten nuts at Bike Newport (62 Broadway) and Ash Mart (2 Carroll Ave). Additional stations will be coming soon to Thompson Middle School, the Gateway Visitors Center, and Florence Gray Community Center. The stations are generously sponsored by BnV Funds and RIPTA.