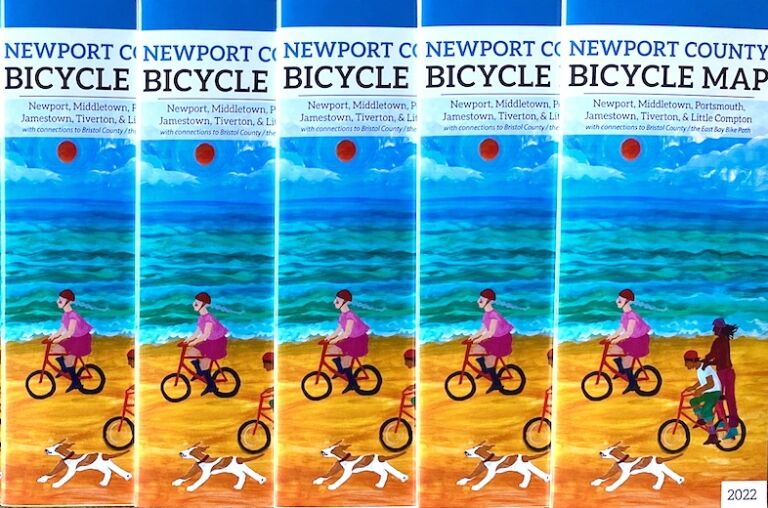 Come and get 'em!
The Newport County Bicycle Map is a wealth of cycling information. The big, beautiful, fold-out map covers all of Newport County including Aquidneck Island (Newport, Middletown, and Portsmouth), Conanicut Island (Jamestown), Tiverton, and Little Compton, as well as parts of Bristol, Warren, Barrington, Warwick and Prudence Island.
The map includes a large map of all of Newport County and surrounds, individual recommended route maps (which can be downloaded at bikenewportri.org/maps, a directory of local resources. how to put your bike on the bus, local bike laws, bike repair station locations, and much more.
The map is offered free of charge at many locations – including bike shops, cafes, hotels, and numerous points of interest all over the state.
Do you have clientele who will make use of the map – come pick up a box for your business!
Most locations need new stock! It'll take a village to distribute these 15,000 maps where they are needed most – so let us know if you'd like to help. Please email Nick Drennon to arrange pick up or to offer to help distribute. Thank you!
Stop by Bike Newport at 62 Broadway in Newport for a map for yourself or a bunch for your business. For questions, please call (401) 619-4900 or email nick@bikenewportri.org.
We want to give a BIG shout out to Bike Newport Board Member Amy Fater for updating all of the map graphics and content; to RIDOT GIS team headed by Stephen Kut for updating the base maps; to our good friends at Reynolds DeWalt for always-awesome printing; to photographers Mick Cochran, Sara Coombs, Richard Benjamin, Alexy Sergeev, Bryan Bzdul, and Melissa Barker for use of their lovely photos; and to Lydia George for the beautiful cover art!