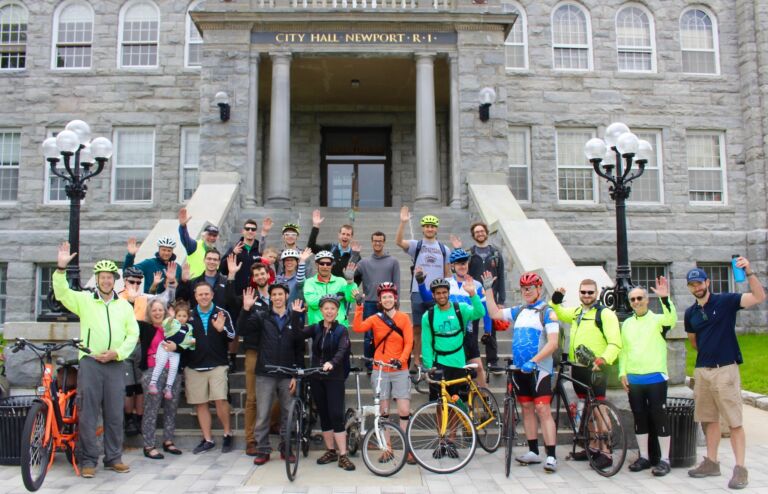 It was a busy day for bikes in front of City Hall on Broadway in Newport, from the first bikes arriving to the annual Bike Commuter Breakfast at 7am, to the last to depart on the police-escorted bell-ringing Ride Round Town at 5pm.
In the morning, bike commuters from NUWC, Naval Station Newport, Newport Hospital, Preservation Society, Newport Public Schools and many other local employers, enjoyed refreshments from Empire Coffee, A-Market, Stop & Shop, Bagel Boys, and Mad Hatter Bakery along with the camaraderie of fellow cyclists and information and swag from RIPTA Commuter Resources.
In the afternoon, Juan and Alba Campos, owners of Leo's Market, were awarded the 2018 Bicycle Friendly Business of the Year Award for their unwavering support of bicycle education and outreach, from distribution of night lights and reflectivity to translation of bicycle safety messages to promoting the Newport Wave.
Similarly honored was Evan Smith, CEO of Discover Newport, who has presented the award to past recipients. "Discover Newport has championed bike friendly progress from day one," shared Bike Newport Executive Director, Bari Freeman, "Evan has sponsored every map, attended every program, promoted every project, and devoted space inside and outside at the Visitors Center to encouraging safe biking in Newport."
Leo's Market and Discover Newport join past recipients Jane Pickens Theater (2013), Preservation Society (2014), Newport County YMCA (2015), Fastnet Pub (2016), and Panera Bread (2017).
Every year the award is lovingly created by artists Howard and Mary Newman, themselves Newport treasures – for their art and their citizenry. World renowned local residents with a passion for biking, their efforts to make Newport bike friendly go back decades.  We so enjoy benefitting from their passion and community spirit.
Bike Newport presented an afternoon review of bike friendly progress that included a status update of the First Mile Bikeway, which is now bundled in planning with the site plan for the Pell Bridge ramp realignment, and updates on the building of the Big Blue Bike Barn – an education hub to be located on Newport Housing Authority property on the north side of Miantonomi Park.
The big news of the afternoon was the announcement of the RI BRIDGE  BIKE SHUTTLE. Partners Bike Newport, RI Turnpike and Bridge Authority, Discover Newport, and the YMCA together presented a new project to get bicyclists across the Newport Pell and Jamestown Verrazano Bridges. Beginning 
June 23rd
 a free service will be in place on Saturdays through the summer season to shuttle bicyclists from Newport to Jamestown to North Kingstown, making three rounds each day. Reservations will be made online at 
www.ribridgebikeshuttle.com
.
Eric Offenberg, Director of Engineering at RITBA, explained, "If you want to ride around Jamestown and then continue on to Narragansett, or you want to come to Jamestown and continue on to Newport, you'll be able to get across and know you have a way back across the bridges."
"Whether they're coming from Connecticut or Key West, whether they're going to Newport or the Cape or Canada, we want to make sure that our bridges don't get in the way of cyclists passing through Aquidneck Island," said Bari Freeman of Bike Newport.
City Councilor, Jaime Bova, is liaison to the City's Bicycle and Pedestrian Advisory Commission. She reported on the commission's progress in making recommendations to the Council regarding the best bike share options for the City. The commission is also completing a review of the city's ordinances related to bicycles and pedestrians and making recommendations for improvements.