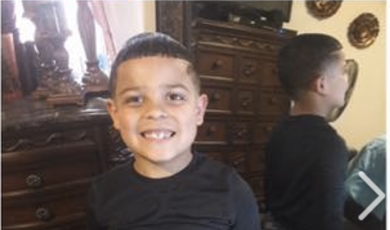 IMPORTANT NEWS: All funds raised by the Bike Newport team in the annual Bike to the Beach ride this Saturday will be contributed to the medical and recovery expenses for 7-year-old Jayden Manuel Rodriguez. Jayden was critically injured while riding his bicycle last week in his Newport neighborhood. Please visit the Bike Newport Team page to donate and/or sign up to ride. Riders MUST sign up by Thursday 8/31 noon. A van to bring riders and bikes to the Woonsocket start will leave Bike Newport 62 Broadway at 7am on Saturday. Contributions will continue to be accepted beyond the ride. Thank you for your support!
Jayden Manuel Rodriguez likes being outside and active – from biking to football. Super friendly and silly, his friends say his smile "can light up a room." He made a touchdown on his first scrimmage just two weeks ago! Jayden's family thanks everyone for all their prayers and well wishes and asks that you keep him in your thoughts. Let's all get on board and help get Jayden back on his feet, on his bike, and onto the field.
Taking place this Saturday, September 2nd – Bike to the Beach is a fundraising ride that originates in either Boston (100 miles) or Woonsocket (62 miles) and ends in Newport. The Bike Newport team leads the ride from Woonsocket to Newport every year – a ride that begs the question: "Where else but RI can you ride the whole state in a morning??" Riders can still sign up, transportation will be provided from Newport to Woonsocket. Don't delay!
The national organization Bike to the Beach raises funds for Autism Awareness and has partnered with Bike Newport for the past five years. The organizers see the chance for this ride – happening in just a few days – to give Bike Newport a way to quickly raise awareness and funds for little Jayden. "We're happy to support this decision by Bike Newport," shared Bike to the Beach Executive Director, Robby Walsh, "and we encourage everyone in the community to get behind the effort and show Jayden the love and support that is so present for him."
To support the Bike Newport team's Love for Jayden fundraising, please visit and share the announcement on Bike Newport's Facebook page: www.facebook.com/bikenewportri. Or visit the Bike Newport Team page to donate and/or sign up to ride. Questions? Email niko@bikenewportri.org.
Photo: Jayden Manuel Rodriguez, courtesy of Jayden's family