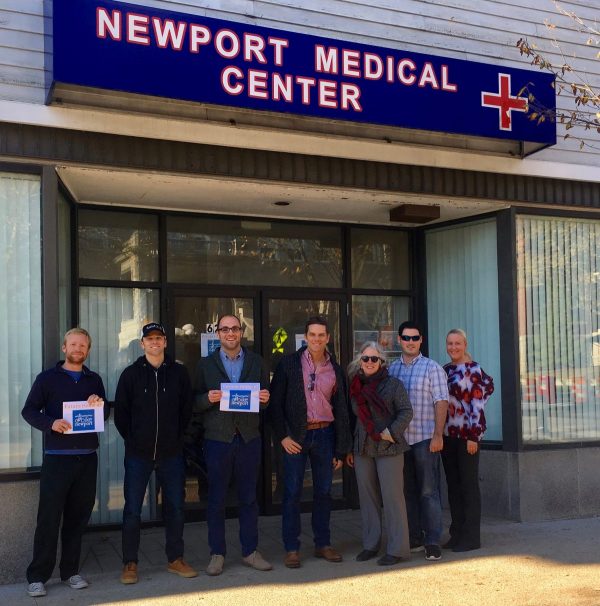 Check out our new HQ!
After our fine summer on Spring Street, Bike Newport operations are shifting to 62 Broadway – the site of the former Newport Medical Center. Since May, we've been temporarily housed in a former gas station, a space that supported the busy Community Bike Project and advocacy work under the same roof. The newly leased location at 62 Broadway will allow us to continue to conduct these programs side by side, while also giving more space for planning meetings, classes, community gatherings and more.
Butch Murray, owner of the Spring Street location as well as the Fastnet Pub, made the Spring Street site available to us for this short period. Without Butch's support, the building transformation and our program growth over the past the seven months would not have happened. On Spring Street, we accomplished our intention – to prove the impact we can have when centrally located. Now we'll be able to maintain this high level of activity in the heart of the city. Butch's friendship and generosity really made it possible.
Being located in downtown Newport greatly increased the visibility of our community bicycle restoration program – attracting and engaging people of every age, every type of bike experience, and every walk of life. During the summer months alone, scores of program participants worked on their own bicycles, while more than 100 bicycles were restored and distributed into the community. The very central and accessible location at 62 Broadway will encourage more community involvement, as well as an expansion of other educational programs. In addition to administrative offices and a basement for bike storage, our new space will feature a mapping and strategy room, conference room, classroom, and other meeting space.
Steve Kirby of Kirby Commercial, has been a friend of Bike Newport since we first formed in November of 2011. He shared: "I've always appreciated what Bike Newport brings to the community, and I'm happy I could help them find this new longer-term site to continue to grow. The space appears to be ideal." We also have the generous support of the property owners on Broadway – Schochet Companies – so we can develop the site to meet program needs. And once again, Northeast Collaborative Architects is donating their design services to ensure the bike culture vibe isn't left behind on Spring Street. "It's a different set of criteria on Broadway, but we'll help the site say 'bike happiness' just as it does now on Spring Street," said NCA partner architect Glenn Gardiner.
We will need volunteers to help with the move and the new site transformation during the first two weeks of November. Community service hours are available and refreshments will be on hand. Keep an eye on our Facebook , our Twitter, or send an email to info@bikenewportri.org if you're interested in helping with the move.
In addition to downtown activities, the Bike Garage at Rogers HS and the Bike Library at the Florence Gray Center are in full swing. The popular Bike Library is open for youth action every Saturday from 9:30 a.m. – 12:30 p.m.  Visit www.bikenewportri.org/bike-garage/ for the full list of locations and programs.
We're entering our fifth year improving and encouraging bicycling in collaboration with the city, police, schools, businesses, planners, and other agencies locally and statewide. Our oranization, staff, and programs have been recognized for excellence and innovation by Grow Smart RI, Women in Transportation, Clean Water Action, AARP-RI, Women's Resource Center, Newport Life Magazine, RI Department of Health, RI Department of Transportation, the League of American Bicyclists, and People For Bikes, among others.
We'll be fully moved in by November 15th – be sure to stop by, say hi, and help us warm our new digs with bike love!