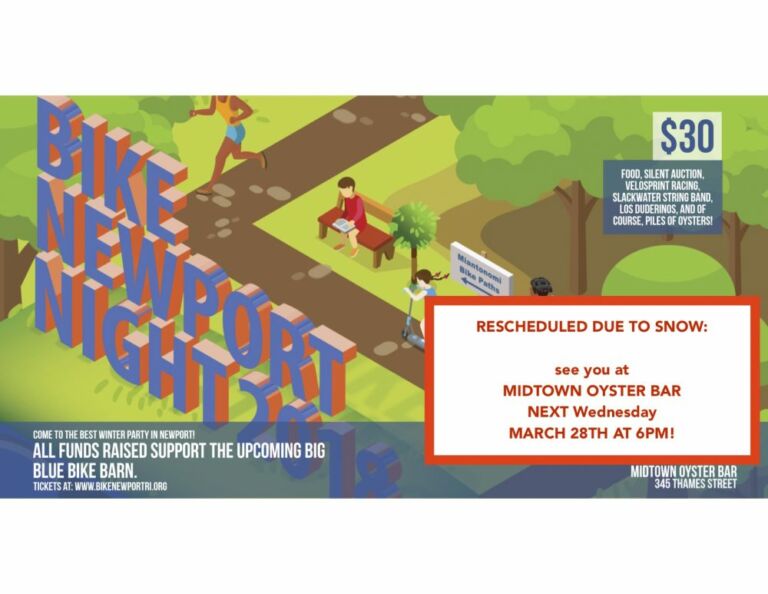 NEW DATE!!!
We wouldn't want a snowstorm to keep anyone away – so we're hitting our brakes and dismounting for a week – we hope you agree it's a good call – and WE'LL SEE YOU ON THE NEW DATE – WEDNESDAY MARCH 28TH! Winter will be officially behind us and there'll be bike racks waiting for your wheels 🙂
Everything else is the same: Same great host MIDTOWN OYSTER BAR, same great time 6-9pm, same mad music with LOS DUDERINOS and SLACKWATER STRING BAND, same AMAZING AUCTION items – though that could get even better over the next week – and same celebration of bike progress!
We've got an extra week to gather more folks, more cheer, and more focus on BUILDING THE BIG BLUE BIKE BARN. Every penny raised will help us build and run program. The kids are waiting!!!
Bike Newport Night 2018 will be the best EARLY SPRING party in Newport! 
There'll be singing, swinging and lots of merriment as we celebrate Bike Newport and fundraise for the upcoming Big Blue Bike Barn! Fantastic food, amazing auction items, VeloSprint Racing, the best live music by Slackwater String Band and Los Duderinos, of course, piles of oysters!
TICKETS  NOW AVAILABLE ON THE DOOR!
Don't miss out on the annual tradition, the 'GRAND PRIZE BICYCLE RAFFLE'.
Win this beautiful Biria CitiBike generously donated by Bennelly Bike Works.
Everyone who attends has a chance to win and raffle tickets will also be on sale at the event. You have to be in it to win it!
featuring the new "Hootie Rule" – same person may not win within 5 years – love you Hootie!
All proceeds will help us build the Big Blue Bike Barn. Remember the Bikes and Gardens video? Check out the dream here.
We've got an incredible new location for the Bike Barn on the north side of Miantonomi Park thanks to the generous partnership of the Newport Housing Authority. There will be direct path connections into the park thanks to the City of Newport and Aquidneck Land Trust. We're already planning exciting new programs with the Newport County YMCA and Boys and Girls Club. Come to Bike Newport Night to see the sketches, pitch in for the funding, and sign up to help raise the Bike Barn this spring!
HUGE thanks to all of our fellow dreamers and doers. The kids are super excited about this amazing new facility and all the program that goes with it.
So COME TO BIKE NEWPORT NIGHT and HELP MAKE IT HAPPEN. The kids are waiting!
March 28st – The Midtown Oyster Bar- 6-9pm
TICKETS  NOW AVAILABLE ON THE DOOR!
Exciting silent auction and raffle donations are rolling in from many of our business friends:
A Market Baywood Gear Bellevue Wine and Spirits Benelly Bike Works of Bristol Body Matters Day Spa Boru Noodle Bar Bridge To Fitness Common Fence  Carol A. Chabot Photography Cleverhood Coddington Brewery  Community Center Common Fence Music David Stookey Dooney and Bourke Ebb and Flow/ Gyrotonic Edible Rhody Empire Coffee Farmaesthetics The Fastnet Pub Firehouse Theater Flint Audio Frank Antonio French Confection Gather Home Green Valley Golf Club Horus Herbals Hotel Viking Spa Fjor Inpopnito Island Surf and Sports Island Moving Company Jane Pickens Theater Jenny Kay Beauty Julie Basil Pierce Kelly Clemens Kidder Gowan Basketry Lori Sklarski Reflexology Lululemon Map is Art Matt's Pharmacy Meg Heriot Photography Mission Burger Nathan Giblin Newport Art Museum Newport Community Yoga Newport County YMCA NewportFILM Newport Jazz Festival Newport Nautical Supply Newport Polo Newport Storm Brewery Newport Vineyards Newport Wine Cellar Niko Merritt Paul Simone Pedago/ Benelly Bike Works Pedago Pleasant Surprise Preservation Society of Newport Radia Herbs Rail Explorers Renaissance Fitness Schooner Aurora Scratch Kitchen and Catering Scrimshanders Seamen's Church Institute Secret Garden Tours Spence Creative Graphic Design and Illustration Standard Modern Company Stoneacre Pantry Team One Ten Speed Spokes The Fair Lead Velofix Virgin and Aged Gourmet Oils Vespertine Vicious Cycling