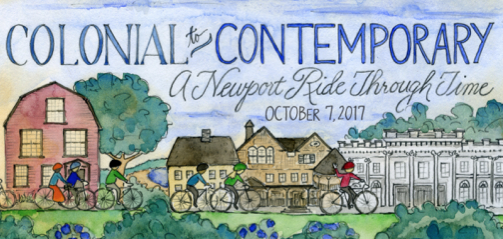 Pedal through Newport's history from Colonial to Victorian to Gilded to modern times. Centuries of stories await in Newport's city streets as we explore one of the most historically intact communities in the nation with one of the nation's foremost architectural historians.
Our expert guide, John Tschirch was longtime Director of Museum Affairs and Architectural Historian for the Preservation Society of Newport County and now serves as Visiting Curator of Urban History for the Newport Historical Society. An award-winning authority, John travels the globe—on foot and by bike—studying historic sites from English castles to Croatian fortresses and Italian gardens. A writer, photographer and teacher, he specializes in historic buildings, landscapes and urban planning.
At Bike Newport we work to improve and encourage biking, and to advance bike-friendly culture in and around Newport. Programs include education, encouragement, safety and improved infrastructure. Bike solutions are good for health, economy, equity, environment and overall quality of life and place. This lovely ride is one more way to step out of the car and into the saddle in our beautiful City by the Sea while you support bike safety.
Date: October 7th
Time: 9-12 noon
Please bring your bicycle, helmet and water bottle. We will provide your lunch!
We hope you can join us! Only 25 places available- book your place today!