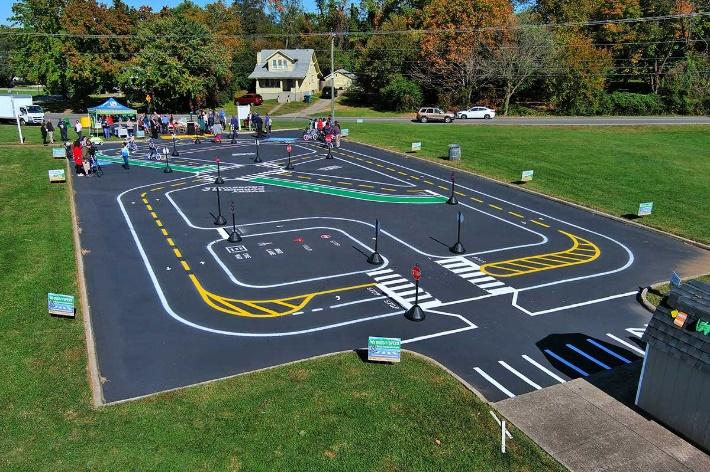 Get ready for some two-wheeled fun! Bike Newport and the City of Newport are teaming up to create a fantastic 20,000-square-foot "Traffic Garden" right in the heart of Newport's North End. It's not just any garden—it's a place where young riders can learn and practice their cycling skills while having a blast!
This unique Traffic Garden will be the first in Rhode Island. We're taking cues from successful designs that have wowed people worldwide. Our goal? To improve road safety education, enhance road-sharing skills, and foster a culture of respect and courtesy among all road users.
Imagine a mini cityscape just for bikes—bright, colorful, and exciting. The Newport Traffic Garden will feature small roads winding through open spaces and everything you'd find in on a real street: traffic signals, road markings, sidewalks, crosswalks, bike paths, bus stops, and driveways. It's the perfect way to experience the fun of cycling while learning to navigate safely.
We have two potential locations in mind, both around 20,000 square feet. And guess what? They're conveniently located in Newport's north end, so it's a quick walk or bike ride for many residents and is close toPell Elementary School, Bike Newport's Big Blue Bike Barn and Summer Bike Camp, the Florence Gray Community Center, and other cool spots in town. By choosing this location, we ensure everyone can easily join the fun, especially those facing transportation challenges without cars or reliable transit.
But wait, there's more! We've got a history of transforming unused spaces into vibrant community hubs. Look no further than Bike Newport's "Big Blue Bike Barn," a one-acre campus on Newport Housing Authority property. We teamed up with the property owner to turn a vacant lot into an incredible outdoor space for the whole community to enjoy. Now we're using that success as inspiration to create a Traffic Garden that will benefit everyone in Newport.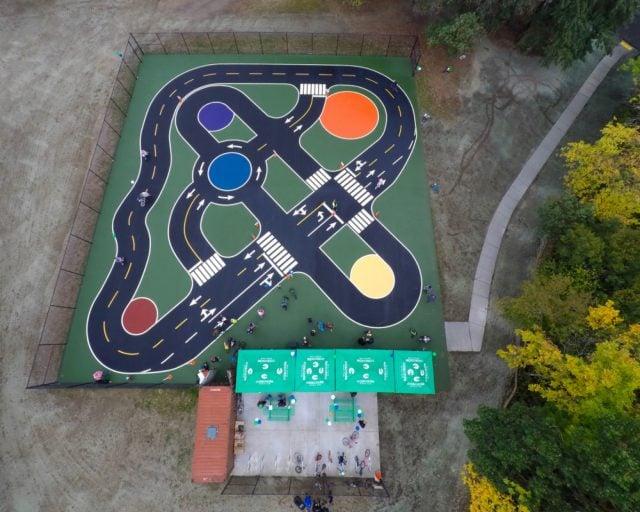 Exciting funding news: The Newport Traffic Garden is made possible by a Rhode Island Streets Transformation Grant from the RI Department of Health, supported by Grow Smart Rhode Island and Providence Streets Coalition. We're thrilled to have their backing in making this project a reality.
Get ready to pedal your way to adventure and safety at the Newport Traffic Garden. It's going to be a wheely awesome time for all!
Photos provided by:
https://bikeportland.org/2016/10/03/seattles-new-traffic-garden-is-the-perfect-place-to-learn-the-rules-of-the-road-192710
https://northernvirginiamag.com/family/family-features/2022/12/28/traffic-gardens-northern-virginia-dc/