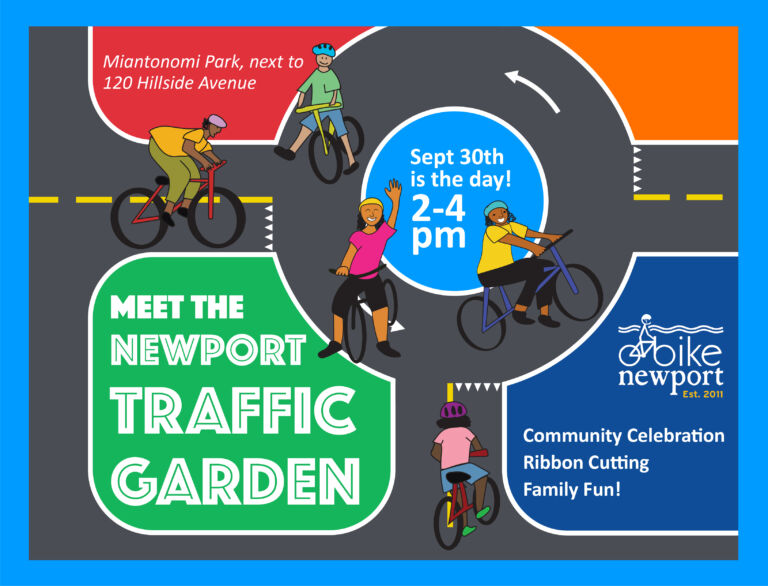 Bike Newport is creating Rhode Island's first "Traffic Garden", located in the parking lot of the former Maher Center on Hillside Avenue – adjacent to beautiful Miantonomi Park. Please join us for a ribbon cutting celebration on Saturday, September 30th, from 2-4pm.
Imagine a mini streetscape just for bikes—bright, colorful, and exciting. A Traffic Garden lets young riders have fun learning and practicing their bicycling skills safely away from cars.
Our goal? To improve road safety education, enhance road-sharing skills, and foster a culture of respect and courtesy among all road users.
The Newport Traffic Garden will include roadways with vehicle markings, crosswalks, stop signs, and even a roundabout. And it will be ready for your use and enjoyment by September 30th.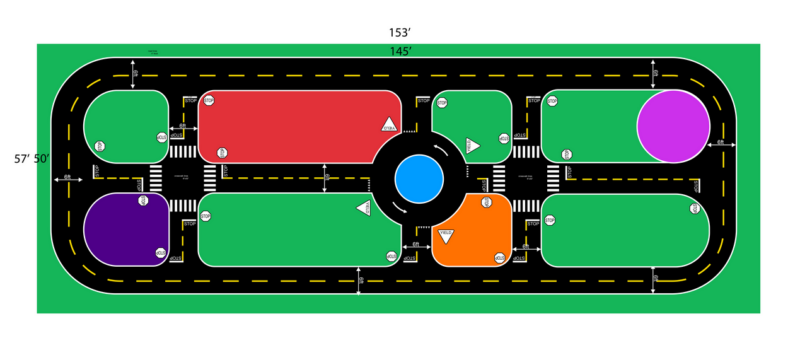 The City of Newport has granted permission for Bike Newport to utilize the parking lot of the former Maher Center on Hillside Avenue adjacent to Miantonomi Park. The location is a quick walk or bike ride for many residents and is close to Pell Elementary School, Bike Newport's Big Blue Bike Barn and Summer Bike Camp, the Florence Gray Community Center, and the shared use path on JT Connell Highway. By securing this convenient location, we ensure everyone can easily join the fun, including those facing transportation challenges without cars or reliable transit.
Work has begun to repair and seal the pavement, closely followed by the street markings and color scheme as shown in the above design. We look forward to having all the work completed by September 30th, and we invite you to attend a public ribbon-cutting celebration at the new Traffic Garden on Saturday, September 30th, from 2-4pm.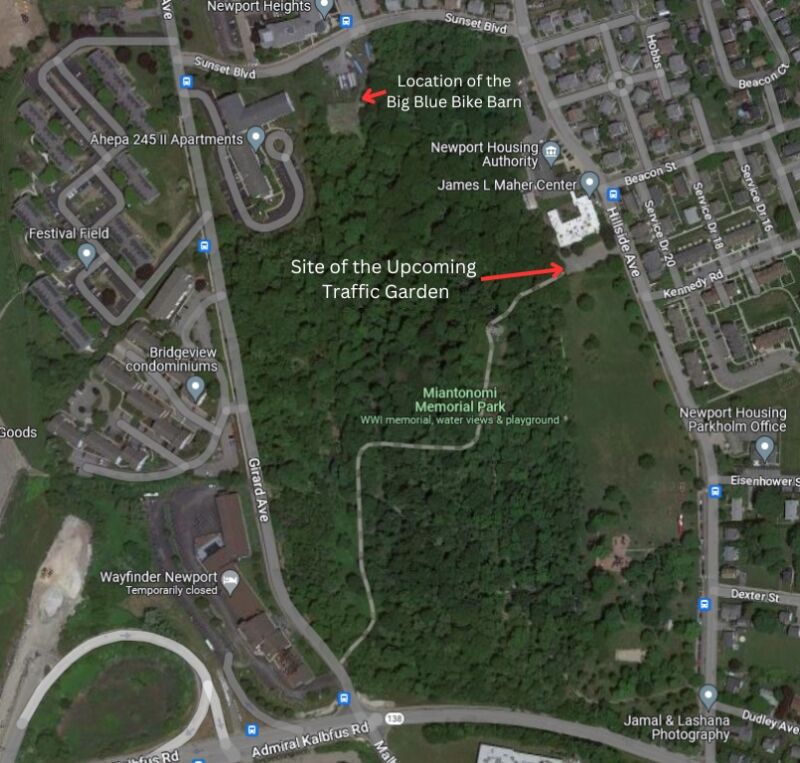 Bike Newport has a history of transforming unused spaces into vibrant community hubs. Look no further than Bike Newport's "Big Blue Bike Barn," a one-acre campus on Newport Housing Authority property. We teamed up with the property owner to turn a vacant lot into a vibrant outdoor space for the whole community to enjoy. The success of that transformation is an inspiration to convert other unused spaces for community benefit until they are needed. The upcoming Traffic Garden will likewise be a wonderful community asset until that space is otherwise developed.
Grant support: The Newport Traffic Garden is made possible by a Rhode Island Streets Transformation Grant from the RI Department of Health, Grow Smart Rhode Island and Providence Streets Coalition, by a grant from the RIDOT Division of Highway Safety, and by generous support from an anonymous donor. We're grateful for these generous awards that are converting our long-held dream of a Newport Traffic Garden into a fun-filled reality.
Be sure to come out and enjoy it!