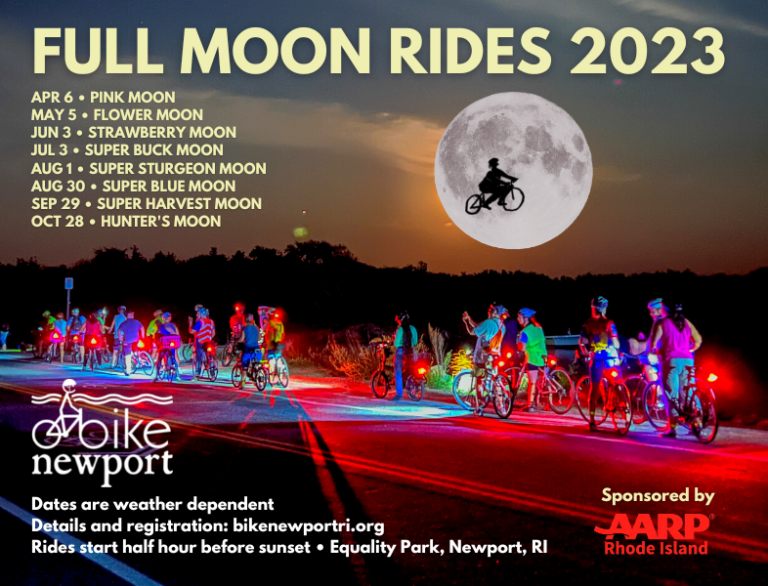 Bike Newport's popular Full Moon Rides are delighting riders every month! We're grateful to AARP Rhode Island for once again sponsoring this enjoyable series of scenic evening group rides, and we look forward to welcoming first-time and returning riders alike as we soak-in the moonlit beauty of our city by the sea.
The Full Moon Ride coastal route will bring us past scenic harbor, bay, and ocean views – lit first by the setting sun, and then by the rising moon. We'll ride 15 miles on Newport's scenic roads and coastline, from downtown Newport to Fort Adams, around the beautiful Ocean Loop, and along the mansions of Bellevue Avenue. These rides have limited capacity, so be sure to register as each date's tickets become available. All of the 2023 dates are listed below!
Suggested Donation: $10 per Rider. Donations are not a requirement. Donations of all sizes are welcome, and support Bike Newport's inclusive programs for bike safety education and advocacy. Thank you! We require all riders to kindly pre-register on Eventbrite for our ride-planning purposes. Riders must be at least 18 years of age. Registration is now open for the September 29th ride (moved to Thursday, September 28th due to forecast for rain). Registration for subsequent rides ride will open right after the prior ride ride is complete, beginning at 10:00pm on the night of the preceding ride. Please bookmark this page in your web browser to refer back for all the relevant registration links, updates, and announcements.
2023 Full Moon Ride Dates: Mark your calendars!
Pink Moon. Thursday, April 6th
Flower Moon. Friday, May 5th
Strawberry Moon. Saturday, June 3rd
Super Buck Moon. Monday, July 3rd – (Rain date was July 6th)
Super Sturgeon Moon. Tuesday, August 1st
Super Blue Moon. Wednesday, August 30th
Super Harvest Moon, Friday, September 29th – Moved to Thursday, September 28th
Hunter's Moon. Saturday, October 28th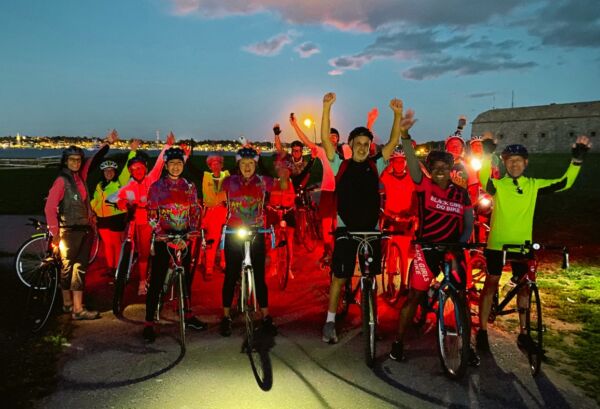 Registration for the September 28th ride is now open. Here's the link.
Registration for the October 28th ride will open September 29th at 10pm. Here's the link.
All the Details:
20-30 minutes before the start of each ride we'll gather at Equality Park on Broadway in downtown Newport, as marked by the star on the map, adjacent to Parlor Bar & Kitchen (at 200 Broadway). The ride lasts roughly two hours from departure, returning to our starting spot.

You can download the 'Ride Spot' app and access the route here. The route begins at Equality Park, proceeds down Marlborough St, left onto America's Cup Ave., right onto lower Thames St, right onto Wellington Ave to King's Park, and then follows the coastal route to Fort Adams State Park, around the Ocean Loop, down Bellevue Ave, to Touro St, and back to Broadway via Spring St.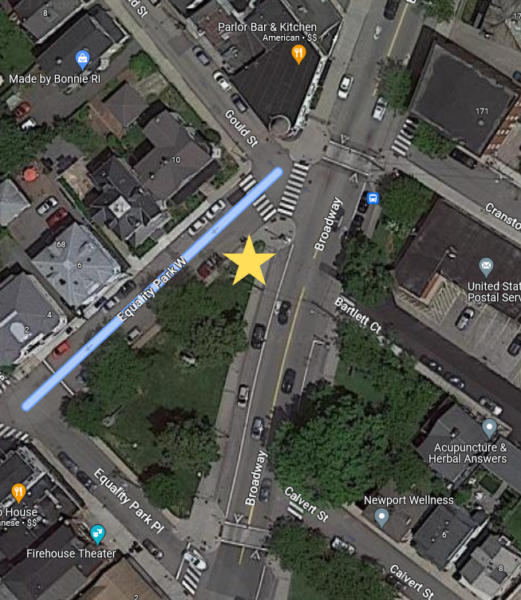 Once we reach King's Park, our coastal route will bring us past scenic harbor, bay, and ocean views – lit first by the setting sun, and then by the rising full moon.
The April 6 ride gathers at 6:15pm, starts at 6:45, with sunset at 7:15, moonrise at 7:59.
The May 5 ride gathers at 6:45pm, starts at 7:15, with sunset at 7:47, moonrise at 8:04.
The June 3rd ride gathers at 7:15pm, starts at 7:45, with sunset at 8:14, moonrise at 8:12.
The July 6th ride gathers at 7:30pm, starts at 8:00, with sunset at 8:22, moonrise at 9:14.
The August 1st ride gathers at 7:00pm, starts at 7:30, with sunset at 8:02, moonrise at 8:34.
The August 30th ride gathers 6:15pm, starts at 6:45, with sunset at 7:21, moonrise at 7:34.
The September 28th ride gathers at 5:30pm, starts at 6:00, Moonrise is 6:24pm. Sunset is 6:32pm.
The October 28th ride gathers 4:45pm, starts at 5:15, with sunset at 5:45, moonrise at 5:38.
• This ride is for 18+.
• This is a NIGHT ride. We will be riding on dark roads.
• A helmet, front headlight, and rear red blinking light are required to participate. Be sure your lights are well charged. Please also bring your water bottle, snack, and bicycle lock.
• Please check your air pressure, brakes, and gears to ensure your bike is in good working order before arriving. An air pump will be available at the start of the ride.
• Dress for the weather! We will cancel the ride if weather/road conditions are not safe and attempt a reschedule within 3 days. Keep an eye on our social media @BikeNewportRI and check this web page for updates.
• This ride traverses downtown streets, and is suited for riders comfortable riding with traffic.
Our special thanks to AARP Rhode Island for again sponsoring these popular Full Moon Rides!
When you register, you'll be invited to "opt-in" for Bike Newport to share your contact information with AARP Rhode Island – our host and generous sponsor. Once you do, AARP will contact you to confirm your interest. This is a wonderful way to find out about other programs that might interest you.