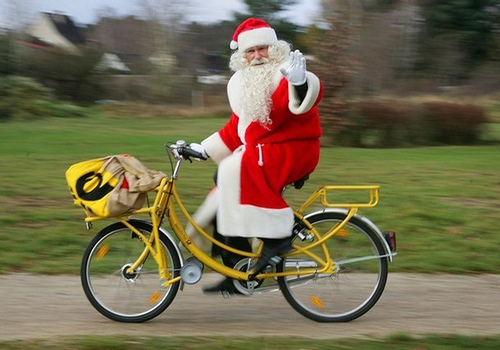 Wishing you Wonderful Winter Holidays,
health and happiness in the new year,
the wind at your back, air in your tires
and fresh bread in your panniers!
THANK YOU!  for making 2011 a fabulous inaugural year for Bike Newport!  In just a few months, we've had HUGE successes, thanks to the enthusiasm, collaboration and support of people working together to improve and encourage bicycling in Newport. Together we know that bicycling benefits all of us – young and old, resident and visitor – our health, our environment, our historic places and our economy. May 2012 be another year of major progress!
2011:  Inaugural Year Highlights
City Council Resolutions April 13, 2011:  setting May 20 as Newport Bike to Work Day and calling for a Community Workshop on Bicycling.

Produced six promotional posters featuring prominent Newporters on bicycles.

Bike to Work Day May 20, 2011, funded by AARP and Narragansett Bay Wheelmen
Bike Fair May 20, 2011
Bike Map of Newport printed May, 2011, supported by NCCVB and AIPC
Student Baseline Survey May, 2011, 1,518 responses
July 4th Children's Bike Parade
14 Business Sponsored Bike Racks produced from salvage anchor chain by the Steel Yard in Providence
Presentation to St. Michael's Middle School September 16, 2011
Bike Ed for Community Leaders September 27, 2011
Resident Survey:  October, 2011, 317 Responses including 110 pages of comments
24 Bicycle Awareness Signs installed by the City of Newport, October, 2011, funded by Narragansett Bay Wheelmen
Bike to School Day October 5, 2011
Bike Rack Dedication October 5, 2011
City Council Community Workshop on Bicycling October 5, 2011
Presentation at New England Bike Walk Summit October 7, 2011
Featured speaker at Narragansett Bay Wheelmen Annual Meeting November 5, 2011
Distribution of bike lights to bicycle commuting workers November/December 2011, funded by Narragansett Bay Wheelmen
Bike Ed for Residents November 9-12, 2011
Bike Newport information gathering tour of Boston Bikes and Hubway with Boston Bicycle Coordinator, Nicole Freedman, November 2011
Bike Garage:  Met/Rogers/Salve Collaboration located at Rogers HS
Weekly Community Bike Rides – weekends from Touro Park, 10-25 miles

Partnership with Newport Community Police

Printed Police Pads: Bicycle Rules of the Road

34-member Bike Newport Committee

161 Facebook Friends

240 List-serve Participants

Significant local and state media coverage