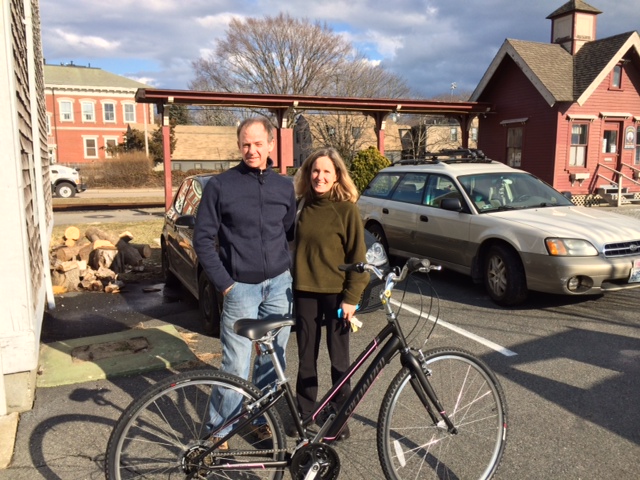 Grand Prize winner Hootie Fogg and Tom Kearns, Ten Speed Spokes owner and Grand Prize donor. HUGE thanks to Tom for the beautiful Specialized Crossroads.
[divider style="medium"] [spacer height="7px"]
WOW was that a great party! 
Rack 'em Up was a huge success – more than 200 bike lovers celebrated to the tunes of Pier Jump and Los Duderinos with the help of Common Fence Music in the fabulous venue of our uber host-with-the-most Midtown Oyster Bar. Awards were won, songs were sung, oysters were devoured, videos played and racing hearts pumped (for real!). We welcomed many new Bike Newport members, sold a slew of rad merchandise, and had a blast on RI Bike's VeloSprints! In addition to all the fun we had, we raised about $4,500 – an amazing start to our campaign to purchase portable parking for 1,000 bikes.
Wow, what a time. We thank everyone for coming out to eat, dance, drink, and bid in support of BIKE RACKS. We love our cycling community! 
Check out some photos from the event, by Tyson Bottenus:
[prime_gallery ids="12581,12580,12579,12578,12577,12576,12575,12574,12573″fullsize="8″ mobile="4″ lightbox="true"]
THANKS! to all our wonderful volunteers who made the night a success: Allison McNally, Laura Murphy, Deanna Casey, Lori Bates, Pat Clayton, Alec Boyle, Matt Newton, Amanda Ward, Tyson Bottenus, Tim Leary, Sarah Leary, Matt Moritz, and Betty Bourret.
And THANKS! to all the local businesses, organizations and individuals who donated to our  raffles and silent auction.  Be sure to frequent our donors' businesses and show the Bike Love!
Tara Brennan
Cabbage Rose
Robert Davidson
Julie Basil Pierce Massage Therapy
Laura Murphy
Peter Razza
Twin Oaks Restaurant