Let's Go for a Ride!
"Gigi" is Bike Newport's beloved "trishaw" … a wonderfully designed piloted cycle from Copenhagen, and the star of our Cycling Without Age program. Cycling Without Age gives those who no longer can ride their own bicycle the opportunity to enjoy the wind in their hair as they are pedaled around places they love by volunteer pilots.
The model of our trishaw is The Chat. It earned its name because it inspires conversation and camaraderie, and with that – reflection and reminiscence. The pilot is engaged with the passenger(s), and chatting comes easily. We were able to import our Chat from Copenhagen thanks to generous contributions by Jana & Don Jagoe and Carol & David Bazarsky.
The Chat is part of the international movement "Cycling Without Age", which was started in 2012 by Ole Kassow in Copenhagen. Kassow wanted to help Danish elders get back on their bicycles, but he had to find a solution to their limited mobility. The answer was a trishaw, and he started a worldwide movement by offering free bike rides to the local nursing home residents.

Today, there are more than 3,000 CWA chapters in 39 countries around the world, helping people with a whole range of mobility challenges to enjoy the wind in their hair and sun in their faces that are the joys of bike riding.
We're busy training volunteer pilots and planning a schedule to take folks out on scenic rides. We'll be working with recreation programs, nursing homes, veteran organizations, rehab centers, and more to set up ride opportunities – so please keep your eyes open for announcements!
We hope to personally introduce you to Gigi soon!
We're recruiting volunteer pilots to lead ride outings, which is rewarding and lots of fun! Please contact info@bikenewportri.org.
Guiding Principles of Cycling Without Age
Generosity: The program is based on generosity and kindness. Piloted by volunteers, the experience starts with the obvious generous act of taking one or two less-abled people out on a bike ride. It's a simple act that everyone can do.
Slowness: Slowness allows us to experience the environment, to be present in the moment. It also allows people we meet along the way to be curious and gain knowledge about the program when we take time to stop and talk.
Storytelling: Older adults in particular have many stories that can be forgotten if we don't reach out and listen to them. On The Chat, we tell stories, listen to stories, and share them by word of mouth and on social media.
Relationships: We will create many new relationships: between generations, among contemporaries, between pilots and passengers. Relationships build trust, happiness, and quality of life.
For all abilities: Life unfolds at all ages, young and old, and for all abilities, and can be thrilling, fun, sad, beautiful and meaningful. The Chat helps people be positive – fully aware of the opportunities that lie everywhere when interacting in their local community.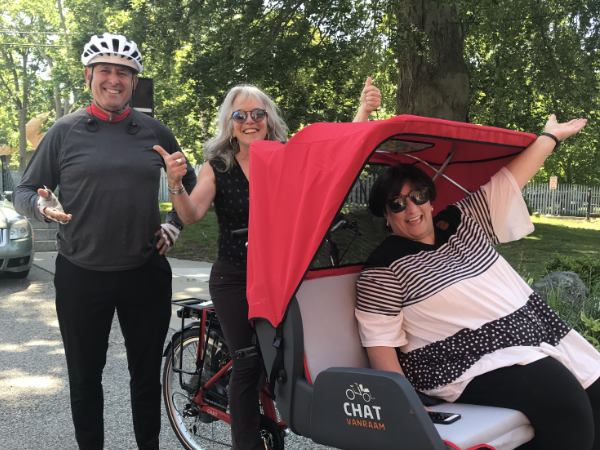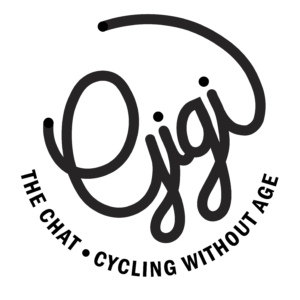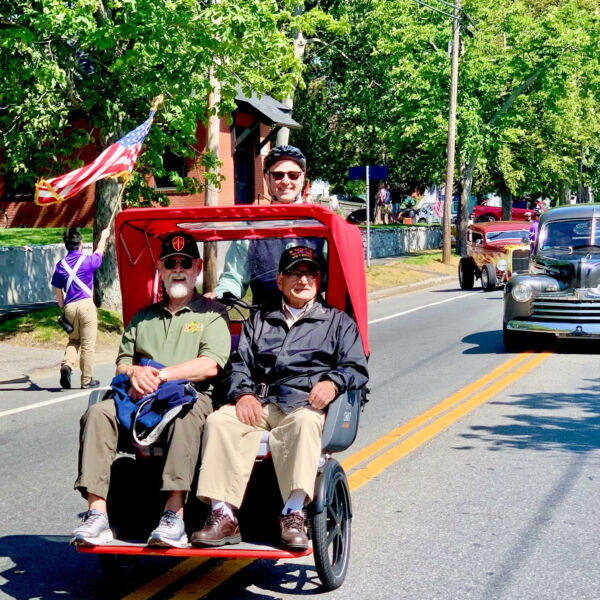 The AARP Community Challenge is a grant program to make tangible improvements in communities that jump-start long-term change. It is part of AARP's nationwide Livable Communities initiative, which supports the efforts of cities, towns, neighborhoods and rural areas to become great places to live for people of all ages. To learn more, visit aarp.org/Livable.