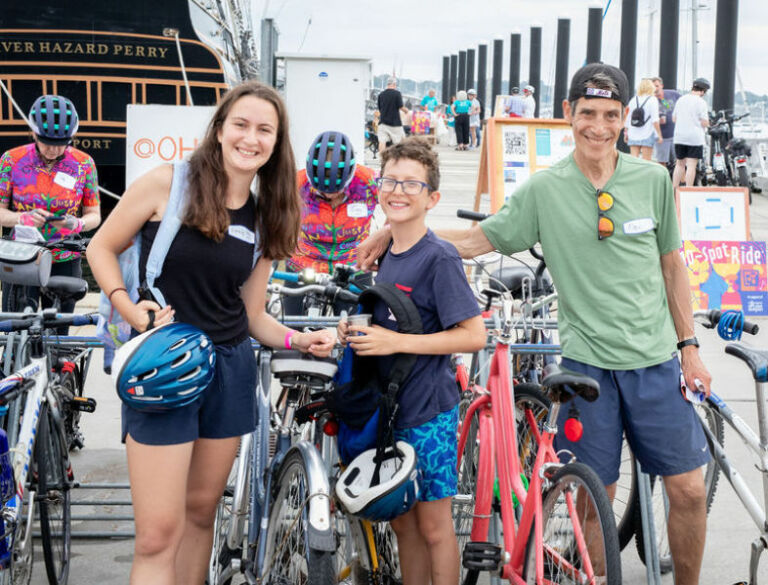 ⭐️ 🚲 ⭐️ 🚲 ⭐️ 🚲 ⭐️ 🚲 ⭐️ 🚲 ⭐️ 🚲 ⭐️ 🚲 ⭐️ 🚲 ⭐️ 🚲 ⭐️
The annual 10-Spot Ride on Saturday, August 26th, 2023, was a thrilling celebration of bikes, the local community, music, delicacies, and more! We welcomed 300 people on bikes to a variety of properties from downtown patios to the deck of a schooner, from tiny secret gardens to expansive oceanfront views, from the 1700s to the 21st century – a splendid variety that mirrors Newport's vast array of experiences.
…together created a delightful adventure for all!
Here's what just a few folks had to say about the 2023 10-Spot Ride
"The best way to explore the city. Every year brings me to a nook I've not discovered." – Sarah
"Fun, yummy, and great cause!" – Meg
"Great food, drinks, interesting homes, and welcoming Bike Newport people" – Joanne
" Breathtaking views, beautiful gardens" – Cathy
"A must do NPT event; so unique and real taste of NPT hospitality" – Linda
"My first time and I loved every minute" – Kim
"So fun discovering little spots you don't normally get to" – Patrick
"The best event in Newport, hands down" – Sarah
🗓️ Mark your calendars for next year's 10 Spot Ride – Saturday, August 24th, 2024!
💌 If you're not already on our mailing list, sign up to stay informed.
Here's a spirited video recap – please scroll down to see the photo gallery.
From our generous hosts and their lovely homes, to our awesome restaurant partners, magical musicians, rock star staff and volunteers, and all the adventurous participants on bikes – thanks to all who made this day wonderful – in support of Bike Newport's education programs, advocacy for safe bicycle infrastructure, and awesome bike events like the 10-Spot Ride! We're always working to improve and encourage biking in our "City by the Sea" and beyond. Your support is the wind behind our wheels!
Sponsors
BankNewport, Aramli Foundation, BedJet, Starkweather & Shepley Insurance Brokerage
Ticket Patrons
Joyce & Nick Bailey, Amy Barclay, Kurt Dolnier, Jim Duffy, Edith McBean, Ann Mencoff, The Orchard Sirens
Hosts
Ida & Mark Aramli, Dan Cordeiro, Catherine Curtis, Erin Flynn, Valerie Larkin & Tuni Schartner, John Litherland, Charlotte & Paul Marshall, Newport Restoration Foundation, Preservation Society of Newport County, Oliver Hazard Perry Rhode Island
Staff & Spot Leads
Chris Barker, Glenn Bradfield, Bari Freeman, Tommie Harrell, Don Hartley, Valerie Larkin, Allyson McCalla, Laura Murphy, Chyleene O'Connor, Bobby Penha, Gail Ruscetta, Tuni Schartner, Richard Starry, Sarah Whitehouse
Volunteers
Darwin Almonte, Leo Barker, Sara Barker, Renee Bernard, Peter Bloom, Melissa Bodnar, Melissa Caito, Alex Castillo, Mat Coes, Keenan Connery, Peter Coriander, Liz Davis, Jennifer Davis-Allison, Renee Kaminitz, Maggie Kortchmar, Seth Lovely, Karine Noack, Cate O'Connor, Jack O'Connor, Monique Peoples, Guillermo Rojas, Paula Santos, Leslie Schein, Sandra Silva, Liz Smith