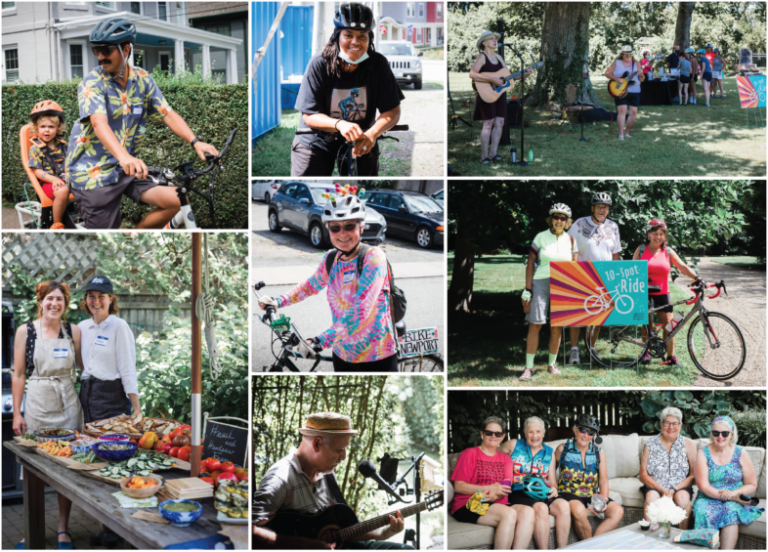 Photos: Julie Maraziti @jmarazitiphotography 
On Saturday, August 21st, we held our TEN SPOT RIDE – a creative, fun, and COVID-safe summer experience – deemed by many to be their summer highlight! Participants from near and far bicycled to ten lovely locations around Newport, enjoying a beautiful summer day. With Hurricane Henri on the horizon, it was a calm before the storm. At every "Spot," the riders sampled delicious food and drink from local restaurants and farms, enjoyed tunes by local musicians, and experienced private gardens and landscapes usually hidden from view – up close and personal. What a day it was! From secret gardens to ocean cliffs – the 10 Spots delivered delights to all  – and all under clear blue skies.
Summer resident Nancy Robertson loved that the ride was "delightful, local, heartfelt, and filled with off-the-beaten-path gems. It reminds us of every reason why we love Newport."
"I'd say it's the best event of the summer, hands down," added her wife, Shar Dodson, "every Spot was a treat, and we grew to love Bike Newport even more in the process."
The response of the generous hosts, entertainers, restaurants and riders was across-the-board enthusiastic.
Lilly Dick hosted and greeted nearly 150 people on bikes over the course of the day at her ocean view property. "The event was so well managed; the volunteers and cyclists were delightful!" she shared, "We were glad to host and support biking – and to provide a welcome place to rest and recharge those leg batteries!"
In addition to a great group of riders, it took many generous supporters to make the event so successful. Here's the list – with many thanks!
10 SPOT HOSTS
Dominique Alfandre & Thomas Palmer
Carol & David Bazarsky
Bill & Karen Corcoran
Maureen Cronin & Mark Marosits
Lilly Dick
Bari Freeman
Lindsay Lieberman & Isaac Kardon
Charlotte & Paul Marshall
EVENT PATRONS
Carol & David Bazarsky
Alexander Castillo
Drew Carey & Lisa Colburn
Bill & Karen Corcoran
Daniel Cordeiro
The Electra Cowgirls
Kathleen Keating & Martin Kits van Heyningen
Marla & Richard Pyle
Suzi & Dave Van Ness
Joyce Wensel-Bailey
FOOD & BEVERAGE
BRAVE ROBOT
Cru Cafe
Crystal Spring
Hawk & Handsaw
Heineken 0.0
Humming Bird
Leo's Market & Restaurant
Midtown Oyster Bar
O'Brien's Pub
Pour Judgement
Rose & Petal Cakery
Salvation Cafe
Stoneacre Garden
Tijuana Burrito Grill
The Coffee Guy
Vieste Simply Italian
Stop & Shop
MUSICIANS
Julio Amaro
Beth Barron
Fay Bullard
Allysen Callery
Dragonfly Marie
Derek Escher & Ann Meers
Mel
Newport String Project
Patty and Buster
Michelle Siegal
PHOTOGRAPHER:
Julie Maraziti
10 SPOT GREETERS
* Bike Newport Staff  / **Board Member/Advisor  / *** Volunteer
Hadley Bazarsky **
Glenn Bradfield **
Miriam Bradley ***
Peter Bloom ***
Jen Bristol *
Marissa Caito *
Liz Davis ***
Liz Doucette **
Amy Fater **
Bari Freeman *
Charles Gonzalez ***
Jennah Kratochwill ***
Lindsay Lieberman **
Samantha Mankin ***
Chris Martin **
Ilona Martin ***
Allyson McCalla *
Paige Myatt ***
Robert Penha **
Avery Robertson *
Ric Starry *
Traci Vaspol ***
Sarah Whitehouse **
Merrilee Zellner ***
Behind the Scenes Helpers
Susan Raleigh ***
Sandee Saunders **
Jordan Stokes ***