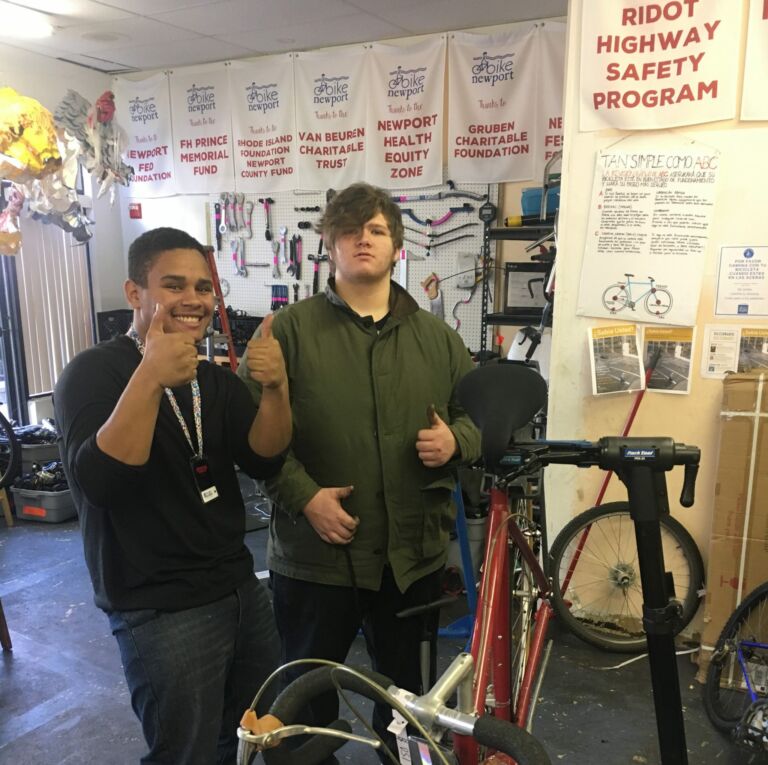 It's Friday morning in Newport. The Bike Newport building that's home to the Bike Garage is buzzing with Rogers High School interns. Teenagers are spread out across the garage floor, working on bicycles in different stages of repair. The sound of gear changes and a steady clank of pedal wrenches fills the room. An assortment of vintage, road and mountain bikes hang from bike stands awaiting further repairs to become road ready steeds.
The teenagers are participating in an internship program, the result of a partnership between Rogers High School, the East Bay MET School, and Bike Newport. The students learn the craft of bicycle refurbishing, maintenance, and troubleshooting under the guidance of Art Spivack, our volunteer bike mechanic mentor. With a personal interest in bike repair, these skills prepare them for possible future employment in the growing bicycle repair industry.
Bike Newport also offers Bike Garage times that are open to the public — including three evenings a week and a Saturday afternoon – for people to come in and service their own bicycles. During this time, community members have full access to the shop's bike stands, specialized tools, and the staff's expertise.
Whether it's reaching out to Rhode Island's youth or opening its doors to the community, we're excited for 2019 to continue to have a big impact on the people of Newport and surrounding areas. So swing by the Bike Garage and say hi and see what we're all about.
Bike Garage – Mon, Wed, Thur – 4:30-7pm / Saturday 1-4pm
62 Broadway, Newport, RI 02840
(401) 619-4900
bikenewportri.org/bike-garage