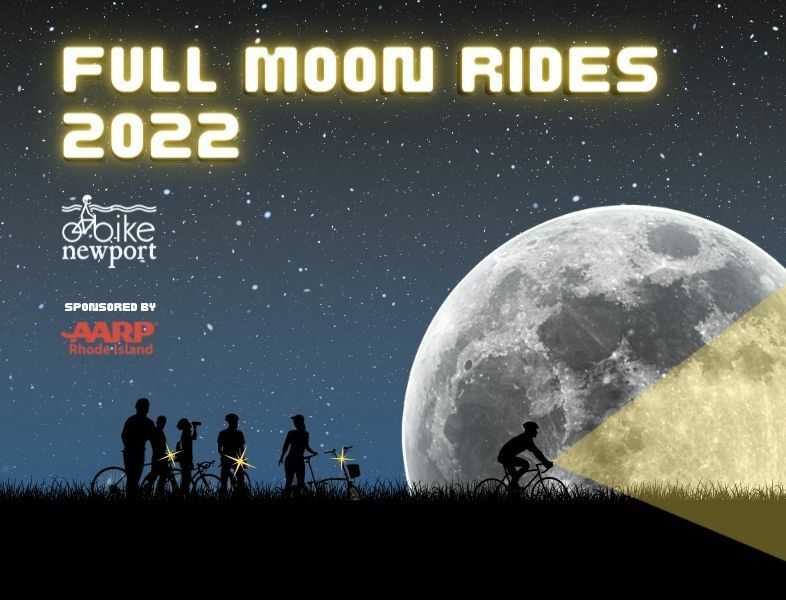 Our 2022 Full Moon Ride Dates:
Sponsored by our friends at AARP Rhode Island
Times differ by date – please see all details and registration HERE.
Worm Moon. Friday, March 18th
Pink Moon. Saturday, April 16th
Flower Moon. Tuesday, May 17th
Strawberry Moon. Tuesday, June 14th
Buck Moon. Wednesday, July 13th
Sturgeon Moon. Thursday, August 11th (ride begins at 6:30 pm)
Harvest Moon. Saturday, September 10th
Hunter's Moon. Sunday, October 9th
Event details and registration at Eventbrite.
You'll be able to sign up for these very popular rides one at a time – each ride immediately after the prior ride is complete – so remember to check back monthly!
All participants should be comfortable riding 15 miles on paved roads lit by their headlights and the moon's light. This is not a fast ride, we ride mostly together, spreading out occasionally and regrouping at scenic spots along the way. The rides last about 2 hours and those who wish may gather at the end for refreshment.
THE COURSE: We ride 15 miles on Newport's scenic roads and coastline by the light of the moon – from downtown Newport to Fort Adams, around the beautiful Ocean Loop and along the mansions of Bellevue Avenue.
START / FINISH: Please arrive 20-30 minutes before start time. We begin and end at EQUALITY PARK on Broadway, in the heart of downtown Newport, and very convenient for after-ride gathering at one of our favorite watering holes, Parlor Bar & Kitchen. If you'd like to follow the route, download the 'Ride Spot' app and follow along here.
FULL MOON POETRY: What's more poetic than a moonlit ride? This year we'll enjoy the delightful addition of reading from "Twelve Moons" poems by Mary Oliver. Goodreads describes: "These vibrant, magical poems pulse with an aching awareness of nature's unaffected beauty. Her absorbing intimate vision leads us into the natural and human kingdoms we only fleetingly grasp." Lovely! Please let us know if you'd like to be a reader 🌝
All event details are listed in our Eventbrite sign up.
Thanks to AARP Rhode Island for sponsoring our Full Moon Rides for the fourth year in a row!
When you register, you'll be invited to "opt-in" to share your contact information with our generous sponsor AARP Rhode Island. Once you do, AARP will contact you to confirm your interest. This is a wonderful way to find out about other fun programs that might interest you.