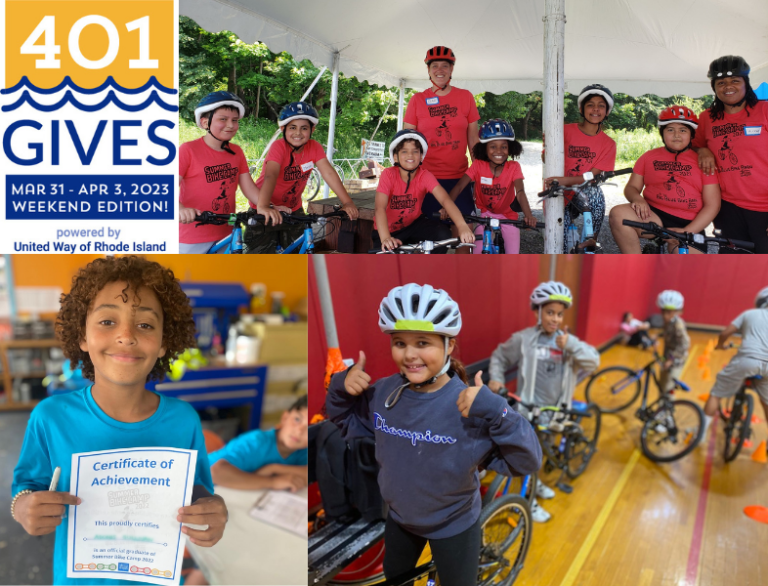 **Breaking News**: We're off to a solid start. Please help us sustain our momentum right through the rest of this opening day, and throughout the weekend until 6:00pm on Monday. The next powerful match opportunity is at 4:01pm today (Friday). Thank you for supporting our programs for kids.
The crocuses are sprouting, and signal the approach of Rhode Island's greatest outpouring of grassroots support for nonprofits: the annual 401Gives charitable campaign through United Way of Rhode Island. Last year's campaign raised $3.1 million for more than 500 nonprofits, made possible by 13,000 amazing donors like you. 401Gives is a key opportunity each year for organizations like Bike Newport to energize core supporters and connect with wider audiences statewide.
For this year's campaign, we're directing support to three of our beloved programs for kids: In-School Bike Safety Education, our free Summer Bike Camp, and the incomparable Holiday Bike Giveaway. Please visit Bike Newport's 401Gives page for details.
Please note: 401Gives now spans four days instead of one. If you follow Bike Newport on Facebook or Instagram, you'll see posts about the launch Friday morning, March 31st at 6am, and continuing through 6:00pm on Monday, April 3rd. We hope you'll feel inspired to support this effort in one or more of the ways outlined below, and we thank you in advance!
3 Ways to Get Involved: Donors, Champions, and Superfans
Donors: To secure the ongoing success of our kids' programs, please donate to Bike Newport through 401Gives between 6:00am on 3/31 and 6:00pm on 4/3. Thank you! Members of our board, staff, and volunteers are getting involved through personalized 401Gives pages that feed into Bike Newport's effort, so if you know someone who has a personal page listed at the bottom of the Bike Newport page, you can help them reach or surpass their personal fundraising goal.
Champions: By timing your donation here on Friday March 31st, either promptly at 6:00am or promptly at 4:01pm, you have the power to multiply the impact of your giving as much as threefold! That's because both the Rhode Island Foundation and a generous Bike Newport donor are offering stacked matching gift opportunities beginning at those specific times.
Word of mouth is also a powerful way to multiply your gift. By encouraging friends, family, or co-workers to consider contributing to Bike Newport during 401Gives, especially around those key times, you can inspire others to donate. You could share Bike Newport posts, create your own posts, mention us at work, or text a couple of friends. Whichever methods you choose, you're a Bike Newport Champion!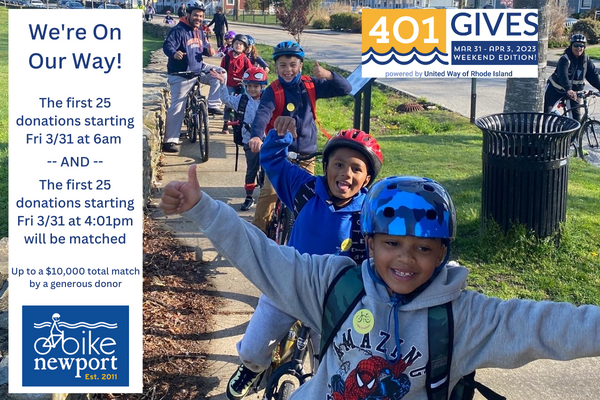 Superfans: 401Gives makes it so simple to create your own personalized fundraiser page for Bike Newport. All it takes are a couple of lines about why you support Bike Newport, an optional photo, and directing people you know to your page during 401Gives. We believe just a handful of enthusiastic Superfans could supercharge our kids' programs for the year.
Here are Executive Director Bari Freeman's personal page, and my personal page, as examples. If you would like to become a Bike Newport Superfan, and create your personalized fundraiser page for 401Gives, please simply go to Bike Newport's 401Gives page and click "Fundraise". It takes just a few minutes to do, and could generate meaningful support for our kids' programs. Contact chris@bikenewportri.org with any questions, and thank you so much!
However you choose to get involved, all of us here at Bike Newport are so very grateful. Thank you!
Chris Barker
Director of Development
P.S. While the times closest to 6:00am & 4:01pm on Friday 3/31 are supercharged moments when donors like you can maximize the reach of their giving, we are grateful for all contributions throughout the 4-day campaign. After Friday, two additional time-specific match opportunities remain, one at Noon Saturday April 1st, and the other at Noon on Monday April 3rd. 401Gives sponsors will add $20 to gifts made at those times, while matching funds last.