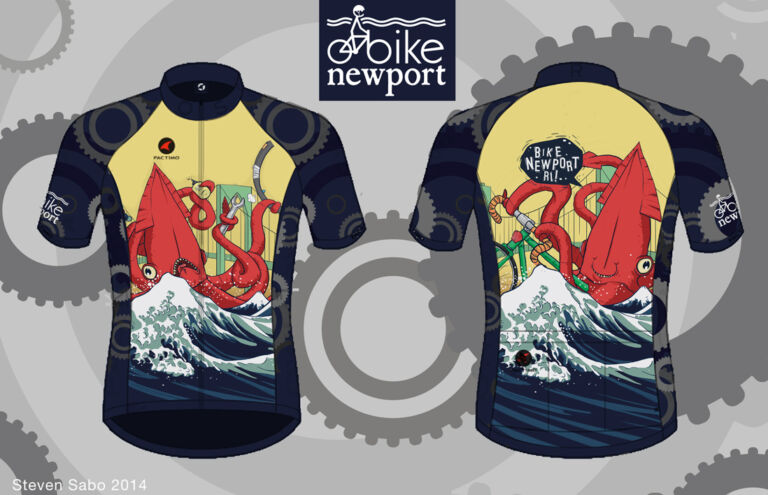 February 2015 update: first round of orders sold out, look for the opportunity to order jerseys again soon! Join our mailing list here.
Meet the Giant Cycling Squid of Narragansett Bay!  
designed by Steven Sabo
He started off Cranky and making Great Waves, but now he's patched and lubed and on his way on the Bay!
We're pulling out all the stops to get these jerseys in time for gift giving. But you'll have to order by this Thursday, November 13th.
Manufactured by Pactimo Apparel, the jerseys are high-performance, high-quality, and elastic-free. They come in Men's and Women's styles, sizes XS, S, M, L, XL, and 2XL. Not sure about size? Come to our office at 437 Broadway from Monday, 11/8, to Thursday, 11/13, to check out the samples. Please call ahead to be sure we're on site. (401) 619-4900.
Special 2014 prices – Bike Newport members receive 15% off all merchandise.
Short sleeve – Members: $63.75 | Non-members: $75
Long sleeve – Members: $85 | Non-members: $100
Two step order process:
1) Email us your order right away:  Include your name and contact information. For each jersey you order, please indicate: male/female; long sleeve or short sleeve; and size (XS to XXL).
2) Make your payment:
– Check: Either BRING or MAIL a check payable to Bike Newport to 437 Broadway, Newport, RI 02840,
– Use Paypal: choose "send" and enter "info@bikenewportri.org" as recipient
Order and payment must be received by Thursday, 11/13.
If you need to drop your check in person, or to see the sample jerseys for sizing, please call before stopping by the office to be sure we're on site: (401) 619-4900.
Questions: (401) 619-4900
Happiness is a Giant Cycling Squid! Happiness is a Bike Newport Cycling Jersey!