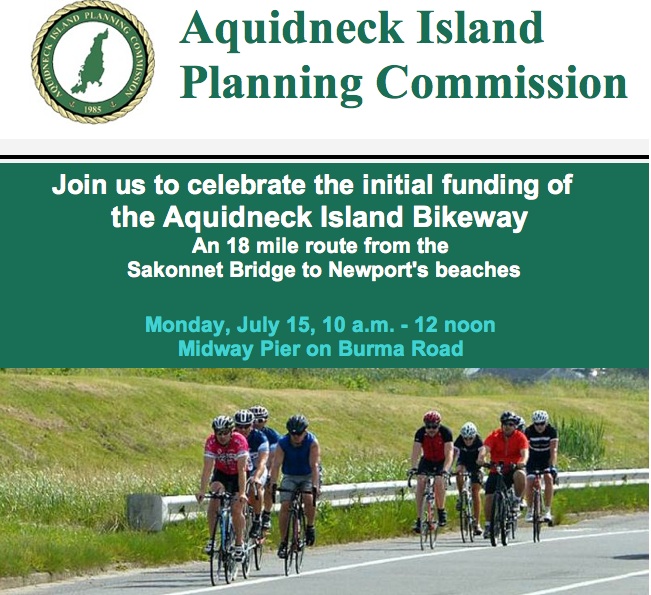 Details via Tina Dolen, Executive Director of the Aquidneck Island Planning Commission.
AIPC invites you to celebrate the launch of the Aquidneck Island Bikeway  
with our Congressional Delegation, appointed and elected officials,
state agencies, our funder and bike enthusiasts 
July 15th – former Midway Pier on Narragansett Bay  
(on Burma Road opposite Greene Lane) 
10:00 a.m. to noon  
We'll gather under the tent for light refreshments, a few words from bikeway supporters, and for those interested, a short bike ride along Burma Road
(Please bring your bike or use one of a few provided by AIPC)
The launch celebrates the van Beuren Charitable Foundation's generous gift to put the bikeway in motion by underwriting a design study review, the first step in moving the bikeway closer to completion.  This bikeway can be finished in as little as 3 to 4 years.
Much of the 18 mile route is either already in place or will soon be completed, thanks to
support from the Rhode Island Department of Transportation. 
The Bikeway will consist of dedicated lanes plus a 1.2 mile rail with trail on Narragansett Bay.  It will connect with 55 miles of off-island bike trails. Riders can explore the island in a manner that is safe, reduces traffic congestion, celebrates the island's natural beauty, provides healthy exercise and above all creates an unparalleled recreational asset.
Signing up in advance will help us plan for refreshments.