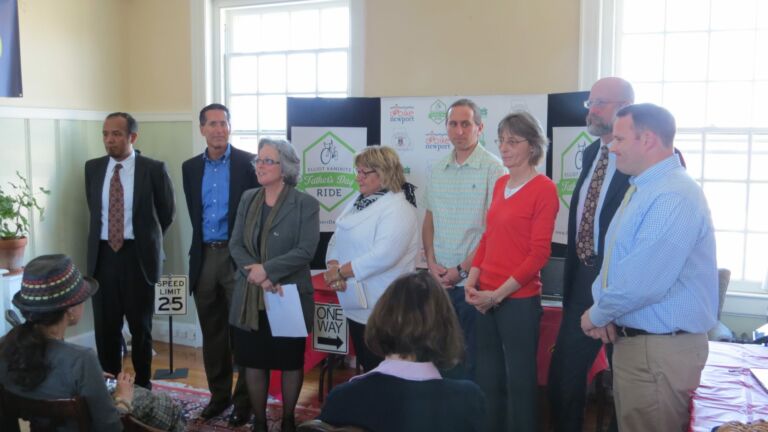 CHANNELING GRIEF INTO PROGRESS
(4/24/13) At a press conference attended by journalists, community leaders, bike advocates and the friends and family of the late Elliot Kaminitz, Bike Newport Director Bari George and supporter Renee Kaminitz today announced the first annual Elliot Kaminitz Fathers Day Ride – to take place on Sunday, June 16, 2013. The event will raise funds through donations and registrations to support Bike Newport's extensive bicycle advocacy, education and improvement initiatives. Registration opens today on the web site www.FathersDayRide.org.
Elliot Kaminitz tragically lost his life in a bicycle collision on Memorial Blvd near Easton's Beach just one year ago. His family decided to guide their grief into progress by working to make the Newport area safer for cyclists. Partnering with Bike Newport, the Kaminitz Family wishes to build the awareness and the funds needed to improve education, support engineering, and provide encouragement for more, better and safer cycling.
Renee Kaminitz explained. "We're putting our efforts and energy into improving the situation so people can enjoy our beautiful island and its history on two wheels. This is how we can honor my late husband and the city he loved. We're encouraging our friends and our community to join us in making cycling safer for everyone. We're partnering with Bike Newport because that's where we see action and progress."
Elliot's children, Ilicia Kaminitz Strasser and Adam Kaminitz, participated in the press conference by Skype from Wilmington, DE and Santa Monica, CA respectively: "My father practiced and preached safe cycling," Ilicia shared, "starting with his granddaughters. We've planned from the start for this event to include our youngest riders. Safety Town will be great fun for the kids and they're going to be better bicyclists because of it. It's like a kick start to all-important Bike Ed."
"We could lose some road riders to the fun of Safety Town," Mark Chesterton mused at the display of kid-size traffic signs made possible by VHB (the firm responsible for the Aquidneck Island Transportation Study). Chesterton is Bike Newport's new Director of Youth Programs, and he's galvanizing Bike Newport's corps of Smart Cycling instructors to deliver on Ilicia's vision for Safety Town. "Imagine – this is the first road ride for many of our youngsters – three times around the Fort is a complete mile.  We're creating our own temporary Bike Path for our kids and families in the amazing location of historic Fort Adams."
Francisco Lovera is PE Chief Civil Engineer at RIDOT. "The Rhode Island DOT is proud to sponsor the Children's Safety Town," he explained. "As we work together with Bike Newport and other local organizations to improve bicycle safety and reduce roadway injuries, we know that building knowledge of cycling skills and road sharing rules is paramount – and begins with our children."
Beginning and ending at Fort Adams State Park, the road ride will offer 5, 10 and 25-mile options, and will include some of the island's most beautiful views, circling the Ocean Drive and continuing to Sachuest Beach and Indian Avenue in Middletown.  25-mile riders will have the opportunity to pay respects at the roadside memorial bikes for Elliot Kaminitz and fellow cyclist Mike Strickland.
The Elliot Kaminitz Fathers Day Ride is sponsored by People's Credit Union and RIDOT. Gray Matter Marketing, the firm behind the Pell Bridge Run and the Newport Ten Miler is producing the event, and VHB Consultants are providing the child-size Safety Town road signs. Fort Adams Trust is also an event partner – making the space available and encouraging participation.
The event web site is http://www.elliotsride.org and registration is open as of today.