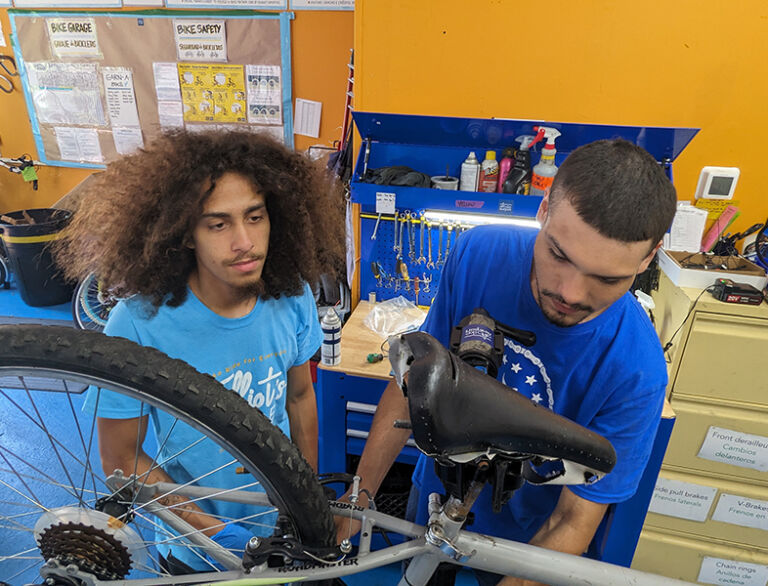 Within the walls of Bike Newport's community bike garage, Austin and Julien, two talented and enthusiastic individuals, have forged a strong bond of friendship while honing their skills and giving back to their community. Their journey from youthful participants to now educators and mechanics-in-training is an inspiring story we're happy to share.
A Journey Begins
Over a decade ago, at the age of 10, Austin and Julien began utilizing Bike Newport's Bike Library to borrow bikes and explore. Little did they know that their paths would intertwine and their connection would endure. Bike Newport helped them to begin learning about bicycle mechanics, which became the foundation of their friendship and ultimately led them on a remarkable full-circle journey.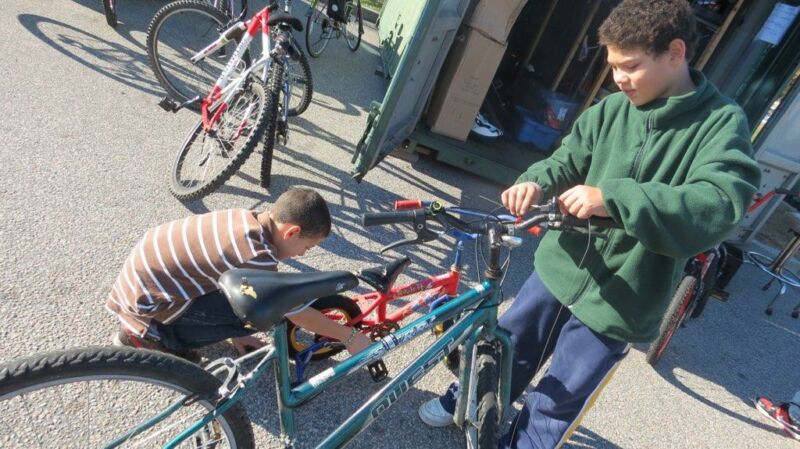 Friendship Flourishes
Austin and Julien's friendship grew as they learned more about cycling and mechanics. United by their shared passion for cycling, they supported and encouraged each other, explored Newport's stunning landscapes, learned how to repair and maintain their bicycles, and inspired others to join the biking movement.
Bike Newport: A Catalyst for Growth
The impact of Bike Newport on Austin and Julien's lives has already been substantial, and the story is still unfolding. Bike Newport's Open Garage provided them with a safe and nurturing space to develop skills, discover their potential, and cultivate a sense of responsibility towards their community and how biking could improve it. Under the guidance of Bike Newport's dedicated mentors and volunteers, Austin and Julien are advancing their skills in bicycle mechanics and learning the value of teamwork, leadership, and empathy.
Giving Back to the Community
Utilizing the knowledge and skills they continue to acquire at Bike Newport, Austin and Julien are helping to empower their community through biking initiatives. They help the community with bike maintenance, safety, and repair, ensuring equitable access to bikes and biking for Newport-area residents. By actively promoting biking as a means of transportation and recreation, they contribute to reducing carbon emissions, promoting a healthier lifestyle, and fostering camaraderie within the community.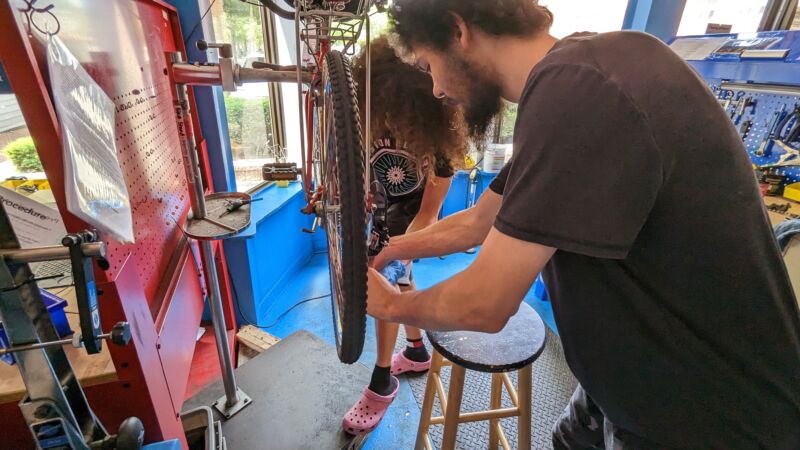 Full Circle Moment
Today, Austin and Julien are back at Bike Newport, this time as enthusiastic employees. It is a full-circle moment that exemplifies the lasting impact of their time at Bike Newport. They have come a long way since their early days as program participants, and now they are paying forward the opportunities and support they received. Austin and Julien continue to inspire the next generation of young cyclists just as they were themselves inspired.