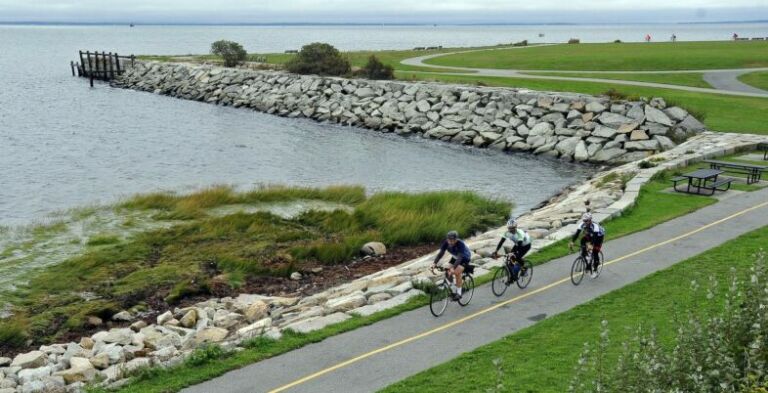 09/30/2021 Update – looking for two or more replacement bike marshals for the 100 and 75 mile routes. Please email bari@bikenewportri.org if you are interested!
The Buzzards Bay Watershed Ride is Sunday October 3rd – with starts in Little Compton RI (100 miles), Westport MA (75 miles), and Rochester MA (35 miles).
Every year, hundreds of cyclists participate in the Buzzards Bay Ride, raising needed funds to support the Buzzards Bay Coalition's work to protect clean water by improving the health of the Buzzards Bay ecosystem.
Cyclists choose from three spectacular routes that wind through farmland, coastal villages, cityscapes, cranberry bogs, and the back roads between Rhode Island and Cape Cod to end with a waterfront finish line party in beautiful Woods Hole.
The Watershed Ride is a fully supported event for cyclists of all abilities, with marshals along the route and SAG wagon and mobile bike mechanics following along. At three rest stops, riders enjoy food, beverages, snacks, and bike support. At the finish line, riders celebrate with dinner, drinks, live music, and complimentary massages. Shuttles are available for riders who need transportation before or after the ride.
BE A BIKE MARSHAL!
If you feel comfortable riding the route and assisting other riders with encouragement and positivity, can fix a flat and make minor adjustments, and communicate with ride organizers for additional assistance – then you can be a ride marshal!
As a thank you, ride marshals will receive volunteer t-shirt, event t-shirt, refreshments, dinner, and transportation back to their cars.
Interested in being a rockstar bike marshal volunteer?
Please email Bari@bikenewportri.org at Bike Newport right away!
photo: David W. Oliveria