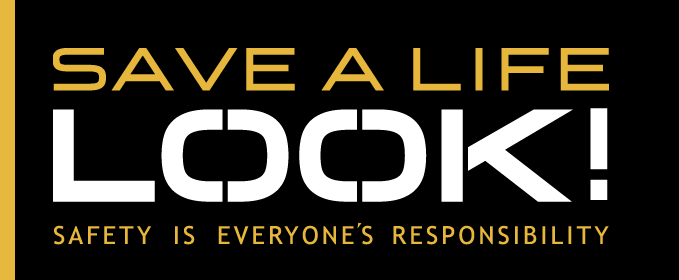 (above graphic: www.looksavealife.com)
Two pedestrians died this week in Newport – in two separate incidents – both were hit by cars while crossing in a marked crosswalk. Robert Silvia, 56, was in his wheelchair crossing Memorial Blvd. Sharon Gerlach, 58, was crossing Bellevue Avenue in front of the shop she has co-owned with her sister for 32 years. Our hearts and prayers are with their loved ones.
While total traffic deaths nationwide are decreasing, the numbers of pedestrian and bicyclist deaths are increasing. This statistic can be attributed to many factors combined – more people walking and cycling, conditions at the moment, as well as increasingly distracted behaviors by motorists, cyclists and pedestrians. We are off-season at the moment, but it is highly relevant that in Newport we experience the added complications of high-season tourism – visitors on holiday, excited, confused, distracted, and unaware of local ordinances.
Newport's pain is felt in cities across the country – 2013 saw record-breaking numbers of pedestrian fatalities in Tucson and San Jose, while in NYC there were seven pedestrian deaths in the first 12 days of 2014.
The most important thing we can do in the wake of these tragedies is to be aware and pay attention – in our cars, on our feet, and on our bicycles. As drivers, we need to keep our eyes on the road. As cyclists and pedestrians, we must pay attention, and we MUST not assume that we are seen. We must be in the habit of making eye contact before trusting a stop sign or crosswalk to protect us.
Ultimately, we are all our own best defense. Be aware, vigilant, visible and predictable. 
Please pledge to follow, model and teach these common sense rules of the road – regardless of circumstance, mood, or condition. Review these practices with the young people in your life. In this way, we can prevent more tragedies.
Motorists:
Expect and respect cyclists on the road.
Leave plenty of room when passing cyclists and pedestrians – at

least

three feet.
Approach crosswalks with extra caution. Expect pedestrians to use crosswalks.
Never use a cell phone or other device while driving. It can wait!
Be prepared for all driving conditions. If it's sunny, wear sunglasses. If it's icy, check brakes and tires. Adjust your speed to the conditions, including slowing down to the speed you need for control and visibility in ice, rain, snow, fog and sun.
Never honk at cyclists.
Be attentive and focused.
Foster a better relationship among all road users by being considerate, friendly, and polite.
Pedestrians:
Pay attention. Make eye contact.
Don't use your cell phone while crossing the street and avoid dulling your perceptions with headphones.
Look up and make eye contact with drivers.
Do not assume that cars will stop even when you are in the crosswalk.
Enter the street only once you are certain that the car is stopping.
Foster a better relationship among all road users by being considerate, friendly, and polite.
Cyclists:
Follow the rules of the road. Always ride in the SAME direction as traffic.
Ride on the right side of the road as far to the right as practical and safe.
Do NOT ride in the door zone. Check cars as you approach them to avoid any possibility of being hit by a suddenly opening door.
Ride single file when on narrow, curvy, and busy roads.
Be as visible as possible to traffic – wear reflective gear and proper lighting in the dark.
Communicate with the drivers on the road – use hand signals.
Make eye contact whenever possible before turning or crossing in busy traffic.
Understand and obey the laws regarding stopping and yielding at stop lights and stop signs, which are, in Rhode Island, the same for cyclists as for motorists.
Wear a helmet on every ride, not just in group rides and races.
Foster a better relationship among all road users by being considerate, friendly, and polite.
Bike Newport is working with all stakeholders to make every effort to improve the safety and education of all road users. Both Deanna Casey (Board Chair) and Bari George (Executive Director) sit on the newly formed Newport Bicycle and Pedestrian Commission. Additionally, Bike Newport works closely with the Highway Safety Program of the RI Department of Transportation on the statewide Vulnerable Road User Safety Action Plan currently in progress. This statewide project uses Newport as the model and pilot for statewide recommendations.
We welcome your comments, suggestions, and participation as we work to improve both the frequency and safety of cycling – and walking – in Newport. All are invited to attend our monthly Community Meeting, which takes place from 8:00 – 9:00 am in our office at 435 Thames St. on the second Tuesday of each month.
Please also remember that we offer FREE Smart Cycling workshops to any group of 8 or more – tailored to all ages and abilities. For more information, please contact Bike Newport at (401) 619-4900; or email info@bikenewportri.org.
Look both ways before crossing. Ride safe. Ride happy. Ride!