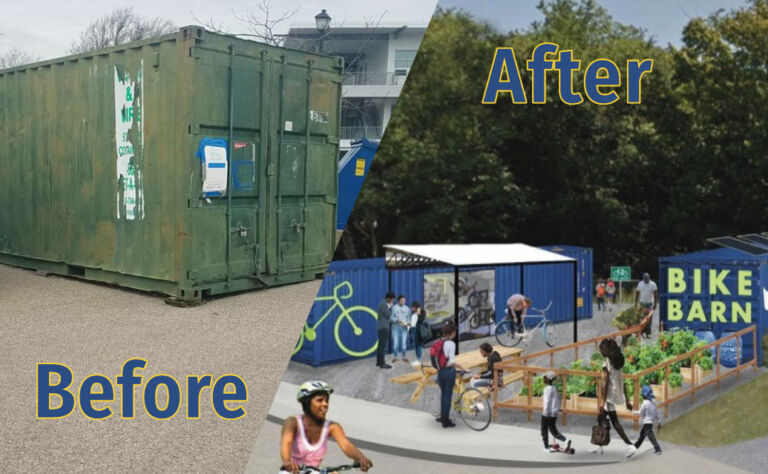 The Big Blue Bike Barn is Coming!
Modeled on the successes of the Red Shed in Olneyville, our new Bike Barn will dramatically increase the size of Bike Newport's current North Side Bike Library – from one 20' container to two 40' containers – quadrupling the size. The program will relocate out of the Florence Gray Center parking lot and onto a lot on Sunset Blvd, immediately adjacent to Miantonomi Park.
This past October, 23 city leaders and stakeholders boarded a bus bound for the Red Shed in Riverside Park where we toured and chatted with the staff of the Woonasquatucket River Watershed Council about their site and programs. Jai Communications Group captured the day in the accompanying video. In February, North Side residents gathered at the Health Equity Zone's Vision Lab to plan what the Newport version will look like. Place Studio Landscape Design captured the vision in the "after" illustration above.
If you'd like to volunteer to get the Big Blue Bike Barn up and rolling, please email Dave Mann
Thanks to multiple partners, the new facility will be a beautiful hub of bicycle, garden, and park activity. Work on preparing the site has already begun; and the new containers are expected to be in place by mid-April.
Newport Housing Authority made the land available to house the Bike Barn; the City of Newport is assisting with removing fences, clearing space, and cutting the path into Miantonomi to connect directly with the mountain bike trails in the park. Aquidneck Land Trust is providing access and guiding stewardship of the paths. The Newport County YMCA is actively partnering on creating summer program. Aquidneck Community Table is helping to plan gardens on the site. Solar panels will provide power and rain barrels will collect water. The community will be invited to help with many aspects of preparing the containers and the properties for activity.
Rhonda Mitchell, Executive Director of Newport Housing Authority, shared, "The board and staff of the Housing Authority are excited to see this property be put to such good use. We love the Bike Newport Bike Library and we're happy to help it to expand in an improved location. Our youth and families are going to get great enjoyment from this facility and from the programs that will take place there."
Austin Andersen is a 15-year-old bike enthusiast and one of the many excited Newport youth. He's been coming to the Bike Library for five years. "This is going to be the coolest thing we've had in a while. Everyone's been talking about it and waiting on it and now it's coming. It's showing a lot about people in the community reaching out to kids and helping them do what they love."
Dedicated funding to date has been generously provided by Powered by Prince at Newport Hospital, the Rhode Island Foundation, and the RITBA Foundation.
If you'd like to volunteer to get the Big Blue Bike Barn up and rolling, please email Dave Mann