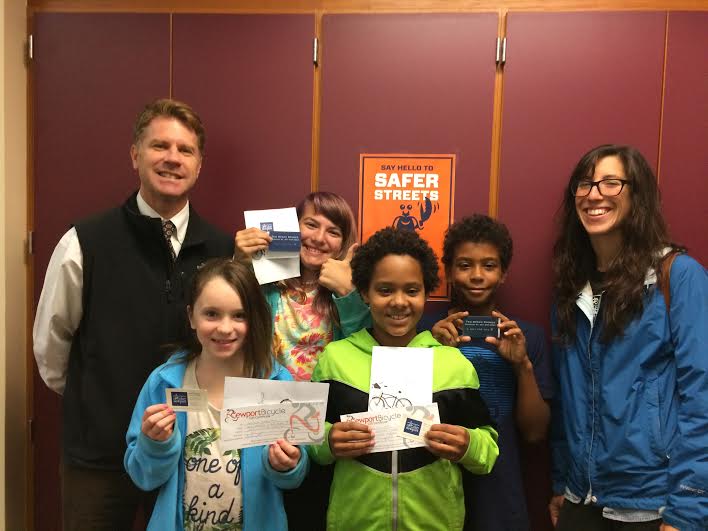 Student winners show off their $100 gift certificates to Newport Bicycle and Ten Speed Spokes (L-R): Thompson Principal Jaime Crowley, Jaylianna Fernandez, Angelina McCartney, Dwight Williams, Manny Simes, and Bike Newport Program Manager Liza Burkin
The four Thompson Middle School students were giddy, "We didn't know why we were getting called to the principal's office!"
Jaylianna Fernandez, Dwight Williams, Manny Simes, and Angelina McCartney weren't facing any reprimands – they were in fact greeted with $100 gift certificates to local bike shops.
"It's all part of the Safe Routes to School National Partnership's initiative to encourage more kids to bike and walk to school," explained Bike Newport's Program Manager, Liza Burkin. "Wednesday was Bike and Walk to School Day – all of the walkers and bicyclists were entered into a raffle, and these kids won!"
International Bike and Walk to School Day is a global event where communities from more than 40 countries participate on the same day. It began in 1997 as a one-day event. Over time, it has evolved into a movement for year-round safe routes to school and a celebration each October. Thousands of schools across America – from all 50 states, the District of Columbia, and Puerto Rico – participate.
School principal Jaime Crowley says he's seeing the impact of all the Safe Routes to School efforts at Thompson: "More and more students are biking and walking to school," he says. "and they feel energized when they get here."
Angelina is part of a group of friends who bike to soccer practice at Braga Park. She says, "It's a great warm up! And biking and walking is much cleaner because you're not breathing in other people's germy air." Dwight bikes or walks because he lives close to school and it doesn't take long. Jaylianna walks to school with a group of friends from all grades, and loves getting to talk with them along the way.
Manny often visits Bike Newport's Bike Garage North at the Florence Gray Center with his older brother, Tyrone. Last May, Tyrone rode with Bike Newport to BikeFestRI in Providence. Manny says he bikes to school because "it's fun and it gets out some energy out – and it's good exercise. I want to bike to Providence like my brother!"
Students from kindergarten to 12th grade are encouraged to experience the benefits of active transportation not just on Bike and Walk to School Day, but every day. Results include healthy habits, environment, attitude, and improved performance in school. Biking and walking also help students to be on time to school and to be present every day. In no small part because biking and walking to school is a fun way to start the day!