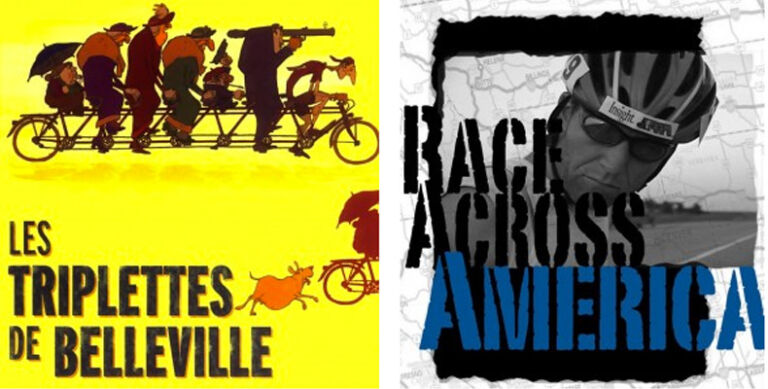 Jonesing for ice-free roads?
Come in from the cold for a mid-winter bike fix!
DOUBLE FEATURE BIKE NIGHT AT THE JPT: Thursday 2/28
Jane Pickens Theater – 49 Touro Street – historic Washington Square, Newport, RI
Proceeds benefit BIKE NEWPORT and the JANE PICKENS THEATER
"The Triplets of Belleville" and "Race Across America"
6:00 Doors Open – Bike Night in Lobby
6:30 Triplets of Belleville
8:00 Race Across America
$10 – Advance tix at Jane Pickens Theater, 49 Touro Street, or online at www.janepickens.com
About Triplets of Belleville (2003 / 81mins) French filmmaker Sylvain Chomet directs the animated feature The Triplets of Belleville. A young boy is raised by his grandmother, Madame Souza, in the French countryside. She buys him a bicycle and encourages his dream of winning the Tour de France. However, he gets kidnapped by a group of Mafia gangsters and taken to the big city of Belleville, where he is used for his bicycling prowess in an elaborate gambling scheme. Along with her faithful companion Bruno, Madame Souza sets out to rescue her grandson. They befriend a trio of aging musicians who were once the '30s jazz trio known as The Triplets of Belleville.
About Race Across America (2005 / 104mins) The goal is to pedal a bicycle 3000 miles across the country in just ten days. It is a journey unlike any other, filled with daunting obstacles both physical and mental, and one that attracts a special breed of competitor. The brave souls who accept the challenge must find and crush their physical, emotional, and spiritual limits, or risk being left broken and humbled somewhere on the roads of America. And while many will fall, those that reach the finish line will achieve a seemingly impossible dream: to confront their fears and conquer the Race Across America.