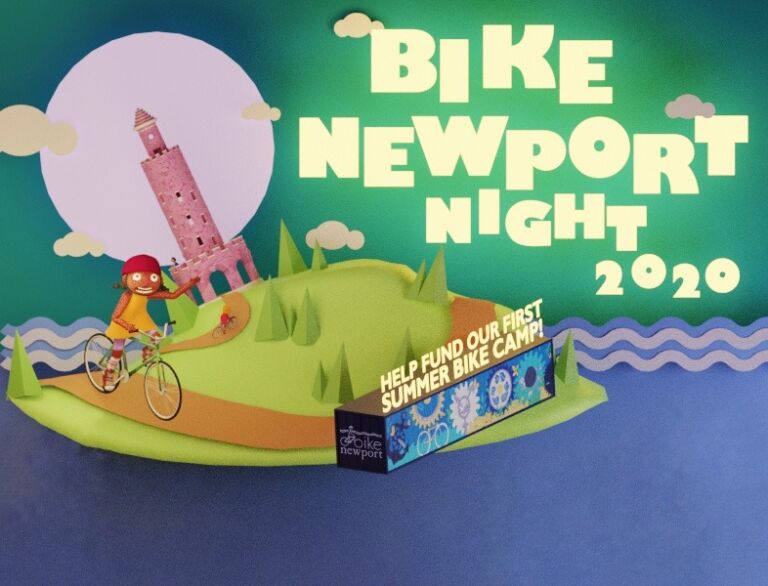 It's that time – the annual Bike Newport Night celebration and fundraiser for awesome programs – the best party of the season!
Thanks to our partner hosts at Parlor Bar and Kitchen – there will once again be singing, dancing, thrilling and chilling as we celebrate Bike Newport and fundraise for our community kids – and the first summer bike camp at the Big Blue Bike Barn!
Fantastic food, amazing auction items, VeloSprint Racing, the best live music from Slackwater String Band, Dragonfly Marie, and introducing THE VERY to the Parlor Stage.
Buy tickets here or get them on the door! Be an EARLY BIRD and save – $35/ticket or 2/$60 – must purchase by Sunday 3/8.
Of course, you'll ride your bike to the party, right? You'll be bike happy AND you'll get two extra raffle tickets. Bike racks will be waiting!
Auction items and raffle prizes are rolling in – thanks to many generous bike supporting businesses.
What's this Summer Camp, you ask? The Big Blue Bike Barn campus is headed for the big build soon – gardens and pump track are coming in the spring! After school and weekend activities, classes and rides for people of all skills and interests, a fleet of kids bikes from Powered by Prince, and then – with big thanks to the Bazarsky Family Foundation and LISC-RI – the first Bike Newport Bike Camp will be rolling in July! Imagine all kinds of bike fun – plus gardening, hiking, climbing, exploring, and lots of stewardship of our environs – after all, the Bike Barn is connected to the most beautiful park in Newport – historic Miantonomi.
The kids are stoked – and so are we – so let's party at Bike Newport Night and make the Bike Camp the best it can be.