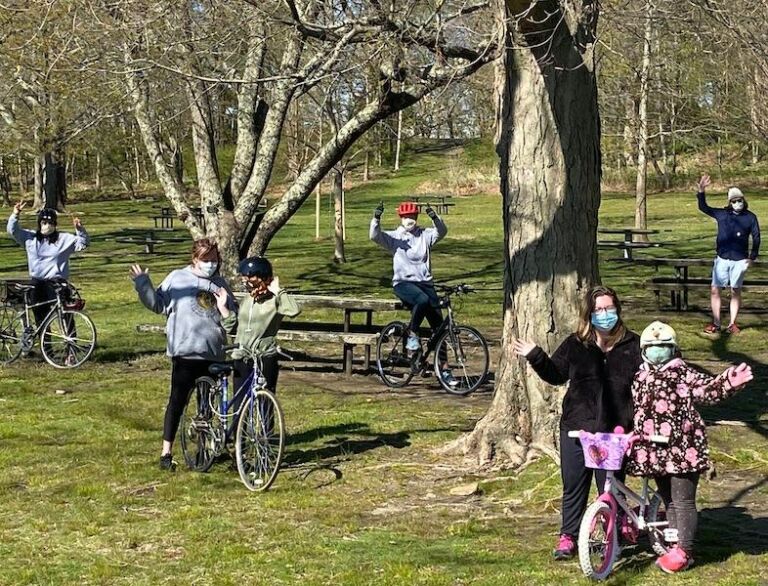 By Helena Touhey for Newport This Week:
Like many Newport residents, Maria Colon was hoping to channel some of her time and energy into safe and healthy outdoor exercise in this season of social distancing. So, in late March, she reached out to Bike Newport about its bike donation program, hoping to receive three bikes, one for herself and two for her sons.
With the onset of COVID-19, Bike Newport, a local nonprofit headquartered on Broadway, began offering free bikes in March that normally would have been reserved for seasonal workers who arrive in the city on J1 Visas.
"Let's get these [bikes] to local people who need them," said Bari Freeman, Bike Newport's executive director.
When Colon arrived to collect her bicycles, she was familiar with the organization. A few years ago, her oldest son, Oscar, now in his early 20s, completed a program where he learned about bike maintenance and safety in exchange for a bicycle.
His mom is a relatively new rider, and she has been spending her time getting comfortable on the bicycle. With her younger son, Jakeem, 12, they have been riding from their home in Newport Heights to the parking lot of CCRI, which is currently empty and a safe space for practicing.
"I'm just so grateful," she said of the opportunity. "I've been meaning and wanting to get a bike for years now, and I just couldn't do it."
Ramon "Barber Moe" Arroyo, also a Newport resident, recently picked up two bikes for his daughters, ages 17 and 20, who live in Middletown. He heard about the program from Allyson McCalla, Bike Newport's director of community relations, and said he had a great experience.
Arroyo said his daughters were excited to receive their bikes. "They wanted to get that exercise," he said. "Everybody's trying to get out, nobody wants to be in."
Since the end of March, nearly 100 bikes have been made available for residents of Aquidneck Island and a handful of people around the state. The bikes are free of charge, although any donation to the organization, whether now or later, is appreciated. A few higher value bikes are also set aside for sale to help support the program.
The process to obtain a bike begins with contacting McCalla, who takes information on a person's height and inseam, and then enters them on a spreadsheet. Anyone interested in the program should contact McCalla via her email, allyson@bikenewportri.org.
Clare Woodhead, director of education and communication, then sorts through the available bikes, completes the final tune-ups, and matches them to the measurements. A 15-minute appointment is made for a contact-free pick-up, and the bike recipient arrives and tests the bike before bringing it home. Freeman is usually on hand for pick-up, offering background information about the organization as well as current bike safety protocols, which include wearing a helmet and a mask and keeping social distance.
Freeman noted that an increase in bicycle ridership is one of the silver linings of these crazy times, which she said also highlights a certain sort of community resilience. She hopes that increased ridership will continue into the future.
"There are a lot of challenges, [also] a lot of good that's coming out of all of this," she said.
Top image: (Front of photo) Lisa and Ava Wright, and Sophie and Amy Wittekind , give their new rides a spin at Miantonomi Park. (Rear of photo) Bike Newport's Allyson McCalla, Clare Woodhead, and Sean O'Connor were on hand with safety tips and encouragement.
Lower image: Jezalyn Devora enjoys her new bike provided by Bike Newport.