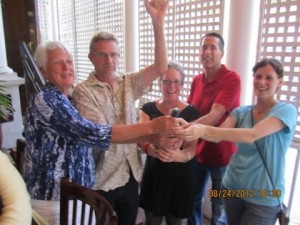 BIG PROGRESS FOR BIKE NEWPORT:  van Beuren Foundation funding and more            
 Major strides for Bike Newport – adding to steady progress in program, partnerships and participation, a series of collaborative achievements and generous financial support are increasing momentum for the young organization – and for bicycling in this scenic seaside city.
–       In April, the City Council passed a resolution expressing interest in working with Bike Newport to become a certified Bicycle Friendly Community.
–       Over the summer, the city's first bicycle road marks guided up to 600 festivalgoers per day to Fort Adams.
–       In September, Newport hosted statewide representatives at a three-day workshop on bicycle and pedestrian safety sponsored by RIDOT and the Federal Highway Administration.
–       In October, bicycling and pedestrian issues were top tier at the Washington Square citizens charrette. And,
–       as this story goes to press, RIDOT is installing bike lanes on Memorial Blvd – the first such lanes on Aquidneck Island and a model of the "Complete Streets" solutions endorsed by the City of Newport and the State of Rhode Island.
Traction on bicycling issues in Newport has been significant as Bike Newport has worked over the past 18 months to promote the benefits of bicycling and to bring together like-minded stakeholders to advance the improvement and encouragement of bicycling in Newport.
Now Bike Newport is pleased to announce its newest partner. The van Beuren Charitable Foundation has recognized Bike Newport's successes and expressed its support of further advance with a generous grant to support the organization's staff, operating expenses and program.  Dedicated to supporting and enhancing the exceptional resources of Newport County and to making a positive impact on the lives of our residents, the Foundation has awarded an initial gift of $75,000 which will be followed by two more installations as matching grants when Bike Newport secures additional funds from other sources.
"This grant is an enormous vote of confidence for a lot of progress in a short period of time. It's a vote of support for the collaboration of city, schools, police, business and the tourism industry that is at the heart of every success to date," shared Bari George, founder and now Executive Director of Bike Newport.
Funding makes it possible to open an office on Bowen's Wharf, in the heart of downtown Newport. Bike Newport is one member of the new "Change Place" nonprofit office cooperative in Seamen's Church Institute, a program coordinated by Social Venture Partners RI. Other current members include Sustainable Aquidneck and Ocean State Fresh.
What lies ahead for cycling in Newport continues to be informed by community partners and advocates.  A recent in-depth strategy session was attended by 30 local citizens and community leaders. "There's a lot to do to accomplish bicycle friendliness.  Bike Newport is all about 'one step at a time' and always moving forward," explains Deanna Casey, Advocacy Director for AARP Rhode Island  and Acting Board Chair for Bike Newport, "If we want to encourage people to choose cycling for transportation, they have to first feel safe and confident on the roads. That means working with the City, the Police, local businesses and the media. We can use a variety of methods to reach both cyclists and motorists through the colder months in preparation for next season."
Bike Newport partners with numerous local agencies to ensure that all expertise is present and that all sectors are engaged. The potential for an Aquidneck Island bike path is a consistent theme island-wide and a dream shared by Bike Newport and the Aquidneck Island Planning Commission (AIPC). Tina Dolen, Executive Director of AIPC explains "The Planning Commission's long range goal is to establish the regional Shoreline Bikeway on the West Side, and Bike Newport is a key supporter in that effort. Freshly powered, Bike Newport brings expanded capacity to model and lead advocacy and collaboration island-wide to achieve our collective goals."
Not to be missed is the close collaboration with the City's Community Police division.  Community Police Commander Lt William Fitzgerald keeps ties strong: "We partner with Bike Newport at every opportunity to drive home the message of safe cycling and safe road sharing.  With their team of cycling instructors, our team of Community Police officers, and now an office in the heart of town, we can consider new and better ways to make the situation safer for cars and cyclists."
For more information on Bike Newport programs, services and plans, visit www.BikeNewportRI.org and stop by their new office at 18 Market Square on the second floor of the Seaman's Church Institute.  While you're at it, bring your bicycles, or the serial numbers from your bicycles – you can now complete City bike registration at Bike Newport.