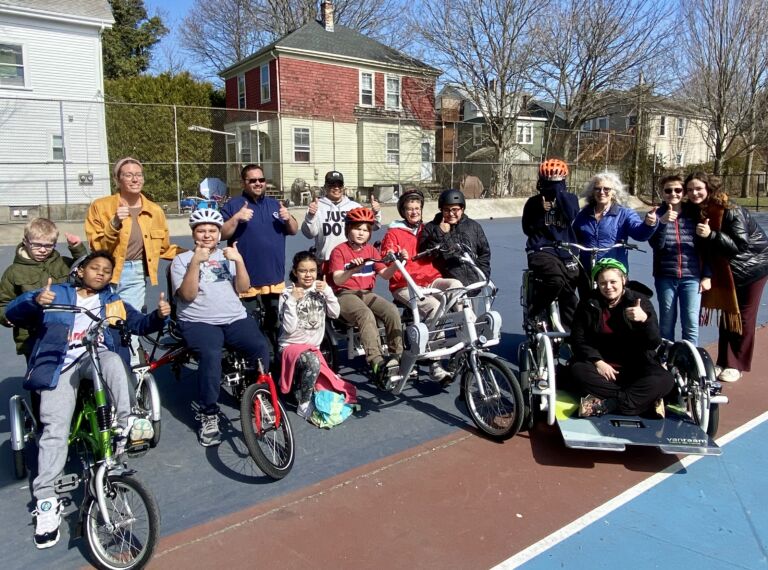 The days when our friends from Bike-On in Warwick visit are always among the most fun days of the year – and last Wednesday continued that tradition!
It was one of those perfect first days of Spring, and we were SO happy to be outside spinning our wheels behind the Martin Luther King Jr Community Center. Bike-On had just arrived with a truckload of bikes that open up the world of biking so all of our kids can have a blast together.
Bike-On is a wonderful business with a national impact – they build adaptive bikes that address physical and cognitive challenges – so that everyone can ride a bicycle. Hand pedals, tandems, wheelchair platforms, recumbents, electric-assist, and every combination that makes it possible for everyone to enjoy the fun and well-being of biking.
Based right here in L'il Rhody, Bike-On's reach is all over the country. They build bikes for people coast-to-coast. And their commitment to community is as big as their territory.
Bike-On brings their bikes to almost every Bike Newport event so more people can get to know about adaptive bikes and have the fun of using them. You may remember seeing Bike-On staff and bikes at Elliot's Ride for Everyone, at the Farm to Farm Ride, Bike to the Beach New England, and more.
They also bring bikes to our program with Thompson Middle School's Life Skills classes, where the adaptations make it possible for all of our students to ride!
Last week, Bike-On returned for a visit, bringing all the bikes we love, PLUS they surprised us with the donation of an awesome bike for us to keep and add to our collection of three-wheelers – thank you, Bike-On!!!
Here are some fun links about our work with Bike-On and their adaptive bikes:
Biking is for Everyone – video from a Bike-On visit
Bike Dreams – video of the wishes these bikes help come true