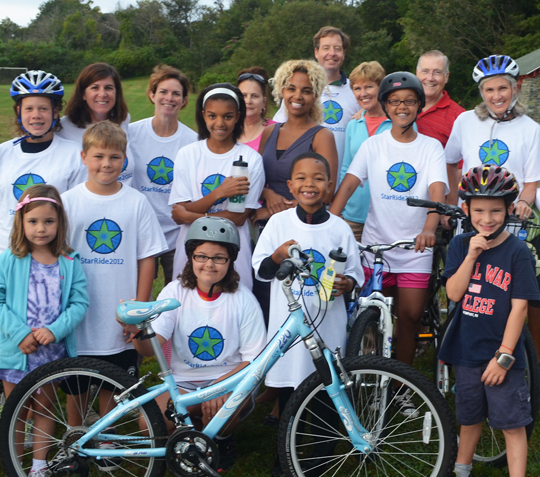 Three years ago, volunteers of the Star Kids Scholarship Program organized the first StarRide; a bike event for families and friends around the Ocean Drive area of Newport, RI. Routes were designed for all ages and abilities, ranging from 3 miles to 35 miles. Star Kids, Star Kids supporters, friends and families had a great morning ride. The first year of the event was fun and successful, raising enough to fund for two scholarships.
Last year's event grew in popularity and sponsorship. Treasure chests were introduced and "Keys to a Child's Success" were sold for $10 at registration. When riders returned, they checked to see if their key opened a treasure chest with prizes, such as tickets to a Red Sox game, dinner for four at top restaurants, jewelry certificates and much more. The 2nd annual event raised enough money to fund three scholarships.
This year's event promises to be even bigger and better. The routes are being opened to walkers and runners, and a 35 mile loop is being added for serious cyclists. Ten Speed Spokes has offered to loan bikes to anyone needing one (Contact Ten Speed Spokes by September 10) and will also be on hand to do a safety check on bikes. The treasure chests are filling again with great gifts, including a bike from Newport Bicycle, jewelry, pottery, art and gift certificates. It looks like it is going to be another great day!
Anyone can register and/or donate at www.starride.net. Routes are posted on the website. Sign in at 8am and routes open at 9am at the Cluny School, 75 Brenton Rd, Newport, RI. 'Keys to a Child's Success' will be sold at registration for $10.
The grill will fire up for after ride treats and riders can see if their key unlocks a treasure chest.
All profits benefit the Newport/Fall River chapter of Star Kids Scholarship Program. The goal of this program is to provide excellent educational opportunities through high school to children of families who have struggled with addiction and/or incarceration. Currently there are 94 children in this chapter.  Of the tracked Star Kids who have graduated from high school since the program's inception, 83% have gone on to higher education. Nine out of ten Star Kid high school graduates from the class of 2014 will be going on to higher education. These Star Kids are breaking the intergenerational cycle, and going on to lead productive, enriched lives.
Register for StarRide14 today!