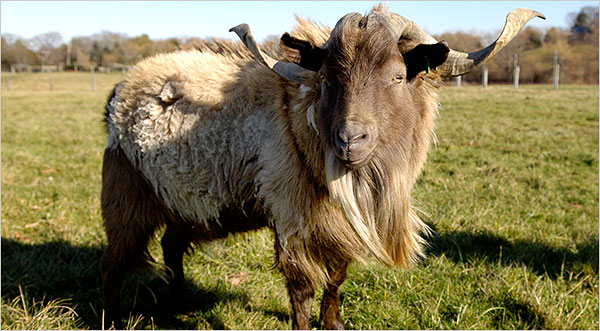 Photo: A Tennessee fainting goat at SVF Foundation in Newport, R.I. Credit Mike Mergen for The New York Times
Bike to SVF's Annual Visitors Day: Saturday, June 16th, 9am to 3pm
Did you know that the SVF Foundation Farm is open to the public just one day each year? It's an amazing not-to-miss event packed with fascinating experiences all set on SVF's breathtaking 35-acre property.  This video offers a taste of the day.
Take self-guided tours through the historic Swiss Village – peek into the state-of-the-art  laboratories – meet SVF veterinary staff – meet a goat born from a frozen embryo – witness live cryogenics and sheep shearing demonstrations, and more …
There are two entrances accessible to bikes – Beacon Hill Rd or Harrison Ave. Free bike parking is available on site and bicyclists are encouraged to enter from our Beacon Hill Road entrance. Bicyclists can also walk their bikes through.
This event is free of charge. For more information call 401.848.7229 or email info@svffoundation.org