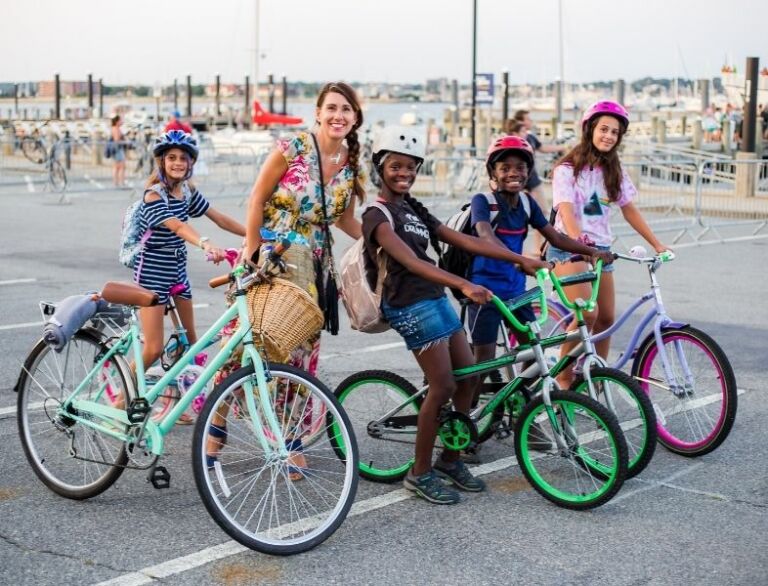 *Check back on this page for updated details to come
Did you know that up to 1800 people ride bikes to Newport Folk Festival each day? Wow! That's the highest percentage of bikes to any music festival in the country!
Join the movement and be part of reducing the stresses of motor vehicles on our beautiful historic and natural landscape – enjoy Newport by bike! Read on for routes, maps, Park 'n Bike locations, bike tune-up information, and how to volunteer…
Biking to the Festivals
You can skip the traffic and parking hassles – and talk about premiere parking! At Fort Adams, pass all the backed up cars and find Bike Newport at the Lower Lot for Artists and VIPs. Our volunteers and mechanics will help you park your bike and find your way into the festival.
If you're planning on biking to the festivals this year, here are some guidelines.
Bring LIGHTS, a LOCK, and a HELMET. You'll likely leave after dark; your lights will make you SAFE and VISIBLE.
Expect heavier traffic during the Festivals. Ride carefully, follow the bike route signs, pay extra attention to motorists, and give yourself time to get there safely.
Newport is known for its history and beauty – but not so much for the condition of the roads. Watch for pot holes and ruts!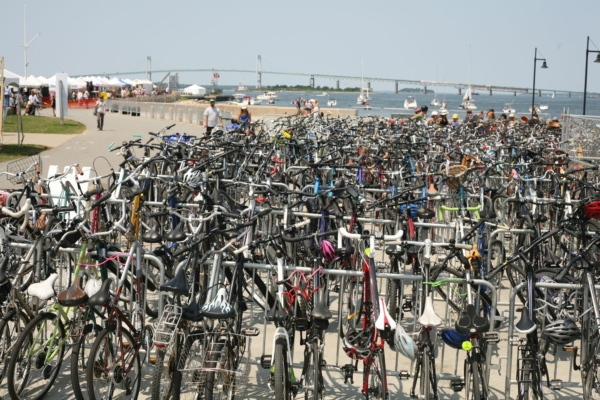 For Updates Follow #BiketoNewportFolk on Facebook & Instagram
Basic Bike Route to Fort Adams
Look for Bike Route signs and follow them to Fort Adams! We highly recommend you also check the map links on this page. They all use the app Ride With GPS so you can access them live or upload them to your phone.
Park 'n Bike
Coming from out of town? No problem. You can park and leave your car anywhere in Newport where long-term parking is permitted (be sure to check signs for restrictions), or you can head straight to our dedicated "Park 'n Bike" lot located at Rogers High School. There is no charge for Park 'n Bike, though donations to Bike Newport are welcome and encouraged! Your donations support bike education and road sharing initiatives.
Rogers High School Newport, Old Fort Entrance
This parking lot is just 1.5 miles from Fort Adams, but will still help you to save time and expense. The parking area is available through August 25th. There is no charge for parking, though donations to Bike Newport are always welcome and will support our work.
Parking is first come, first served! A big "thank you" to Newport Public Schools for this facility.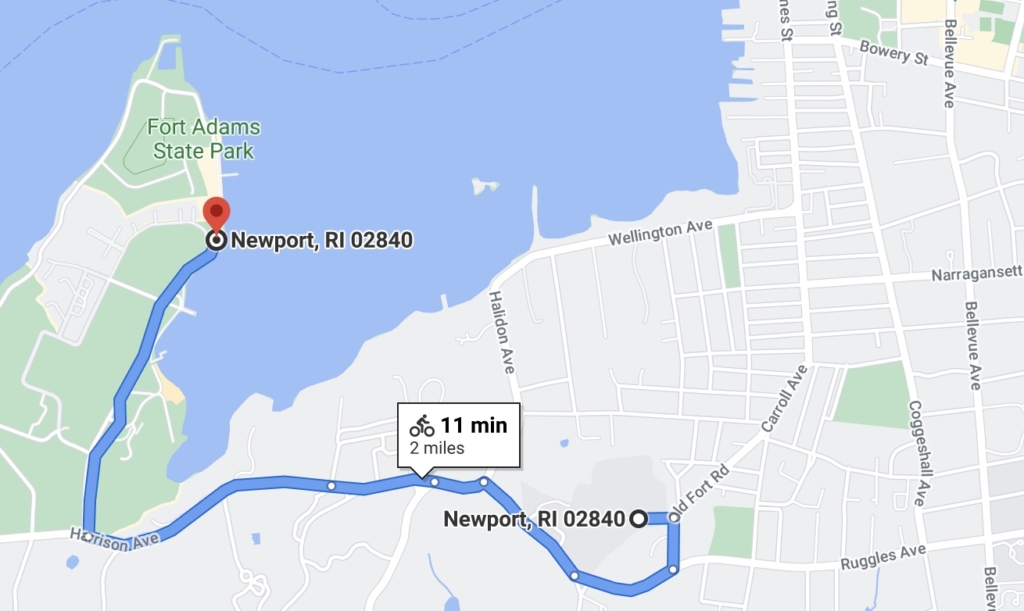 Temporarily Unavailable: YMCA
This year, 2022, the parking lot at the YMCA is NOT available for Park & Bike while the parking lot is under construction. Watch for the return of Park & Bike at the YMCA.
Volunteers
Want to show your bike love AND get into the show for free? Help out with a 4-hour shift and get a pass for the balance of the day. NOTE: to work Bike Parking, you must be fully vaccinated for COVID plus two weeks. Please only sign up to volunteer if you are certain you will be there. To volunteer, please email or call us at (401) 619-4900 to sign up.
About Bike Newport
Supporting Bike Newport is supporting more and better biking in Newport and beyond. Our mission is to make it possible for more people to bike more often, by ensuring that biking safe and comfortable and an easy choice for both transportation and recreation. We're busy bringing you Park n' Bike, Bike Routes, Bike Maps, Bike Parking, and On-Site Tune-Ups – continuously working to improve and encourage biking for everyone in Rhode Island and beyond – Thanks for being part of the solution!
Cheers to the Newport Folk and Jazz Festivals for being
BIKE FRIENDLY EVENTS!