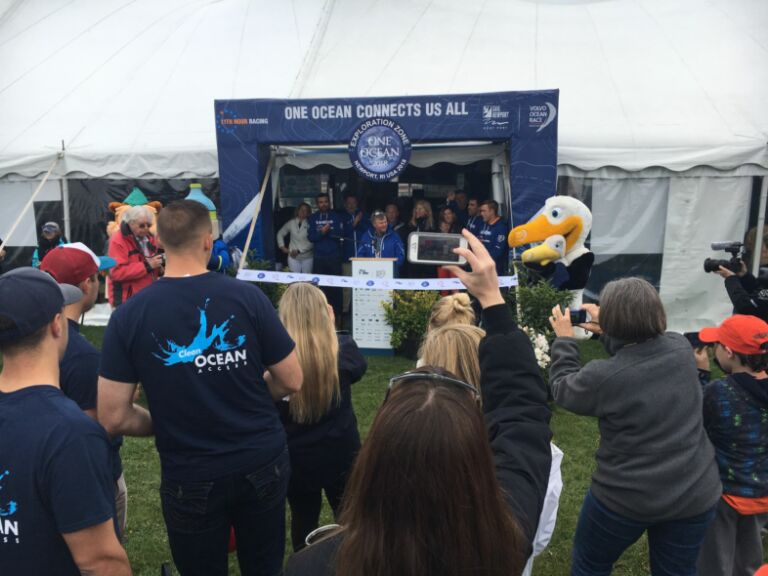 *Check back on this page for updated details to come
Love the ocean? Ride a bike! You'll be happier out of your car, and you'll be helping to reduce carbon emissions while you're at it.
The Ocean Race will make its only North American stopover in Newport this week; the six-month, 38,000 nautical-mile race worldwide will bring a sense of excitement and adventure to Newport.
Bike Newport applauds The Ocean Race and the wonderful teams participating, including 11th Hour Racing, for their efforts to promote environmental conservation and awareness through this worldwide event. Bike Newport is delighted to do our part locally by encouraging visitors to bike to Fort Adams for this and other large events, and through our efforts generally to get more people out of their car seats and onto their saddles. Thank you for riding and helping minimize the environmental impact of this exciting event in our community.
Biking to the Ocean Race
You can skip the traffic and parking hassles – and talk about premiere parking! Pass all the backed-up cars at Fort Adams and find Bike Newport at the Lower Lot. Our volunteers will help you park your bike.
Join the movement and be part of reducing the stresses of motor vehicles on our beautiful historic and natural landscape – enjoy Newport by bike! Read on for routes, maps, and Park & Bike locations.
Here are some guidelines for biking to The Ocean Race:
Bring LIGHTS, a LOCK, and a HELMET. If you leave after dark; your lights will help you SEE and BE SEEN.
Expect heavier traffic during the Ocean Race. Follow the rules of the road, pay extra attention to motorists, and give yourself time to get there safely.
Newport is known for its history and beauty – but not so much for the condition of the roads. Watch for potholes and ruts!
Bicycle route from downtown Newport to Fort Adams
Park & Bike
Coming from out of town? No problem. You can park and leave your car anywhere in Newport, where long-term parking is permitted (check signs for restrictions), or you can head to our dedicated "Park & Bike" lot at YMCA Newport. There is no charge for Park & Bike, though donations to Bike Newport are welcome and encouraged! Your donations support bike education and road-sharing initiatives.
Newport County YMCA (792 Valley Road, Middletown RI):
The "Park & Bike" lot at the Newport County YMCA is a convenient location if arriving from the bridge or the north. Thanks to our friends at the Newport County YMCA, this parking area is available year-round to people who wish to ditch their cars and ride bikes to the many events and activities on Aquidneck Island.
Please enter from Valley Road and travel to the top of the lot, farthest from Valley Road and select a parking spot in this area. Please reserve the closer locations for people actively using the YMCA facilities. Remember to wave your thank you to the YMCA as you come and go. It takes a village to create a healthy society, and the YMCA is always there to help.
Rogers High School Newport, Old Fort Entrance: Unavailable
This year, 2023, the parking lot at Rogers High School is NOT available for Park & Bike while the parking lot is under construction. Watch for the return of Park & Bike at Rogers High School.
Bike Newport in the Exploration Zone
Bike Newport is excited to be part of the festivities, helping to make cycling an exciting feature at The Ocean Race Exploration Zone. By popular demand, we're bringing the "Crossing The Pell" VR experience so visitors can experience a human-focused infrastructure plan that could change how people move across the Pell Bridge – and bridges across the state. Come bike and walk across the Pell Bridge virtually!
About Bike Newport
Supporting Bike Newport is supporting more and better biking in Newport and beyond. Our mission is to make it possible for more people to bike more often – by ensuring that biking is safe and comfortable and an easy choice for transportation and recreation. We're bringing Park & Bike, Bike Maps, and Bike Parking to the Ocean Race; bicycle safety education to schools; Summer Bike Camp to our kids; the awesome Big Blue Bike Barn campus to the community; and SO much more. We're working to improve and encourage biking for everyone in Rhode Island. Thanks for being part of the solution!
Cheers to The Ocean Race for being a healthy seas conservation-focused organization and a
BIKE FRIENDLY EVENT!