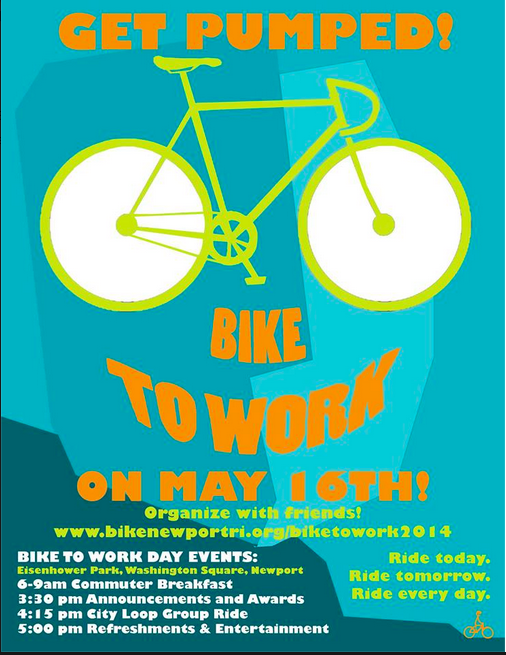 DOWNLOAD the Bike to Work Day poster HERE.
Newport's 4th annual Bike To Work Day is Friday, May 16. We encourage everyone who can to leave the car home and hop in the saddle – it's fun, healthy, invigorating AND makes us more happy and productive. Give it a try and see what you think. Maybe it will become a habit. We hope so!
We've got a fun day planned to celebrate cycling for transportation. All activities take place in Washington Square – the historic center of Newport.
If you live far away, over the bridge, or without access to a safe route into town, then take advantage of our Park n' Bike lot at the Bike Newport office at 437 Broadway. Drive to our HQ and ride the mile into town. You can follow Broadway straight to Washington Square.
Bike to Work Day 2014:
6:00 to 9:00 am Bike Commuter Breakfast:  Bike riders can start the day meeting friends, neighbors and co-workers at the Bicycle Commuter Breakfast – provided by Jonathan's Café, Tea and Javas Café, A Market, and more.
3:30 pm Bicycle Friendly Announcements and Awards in front of the Courthouse: Includes bicycle-friendly news and announcements by Bike Newport, Newport Public Schools, City of Newport, Newport Police Department, and Newport Housing Authority. PLUS the awarding of the 2014 Bicycle-Friendly Business of the Year. (If rain, we will move inside to Jane Pickens Theater & Event Center for the Announcements and Awards.)
4:00 pm Bike Decorating: Young and old can rediscover the joys of playing cards and clothespins, stickers and ribbons.
4:15 pm Community Ride: Leaving from Washington Square, a six-mile group ride around Newport.
5:00-6:00 pm: Delicious refreshments from Genie's Hookah Lounge and fabulous entertainment by Officer Jimmy Winters and Friends and the chance to register all those bikes with the City. Plus make-your-own-pedal-powered smoothies!
AARP-RI is again sponsoring Bike to Work Day in support of healthy, active transportation. And RIPTA will be on hand with a demonstration bus bike rack for practice.
Spread the word. Tell your friends, encourage your colleagues. Click here to join the event on Facebook and show your support! And check back for updates.
For more information and day-of updates, check our Facebook and Twitter.
#BikeToWorkDay #GETPUMPED