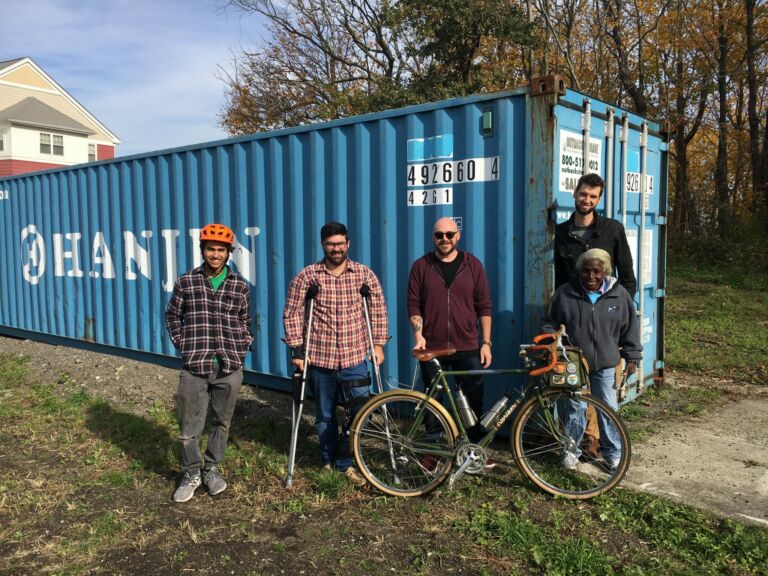 It's really happening and starting to feel much more real. Progress at the Bike Barn is coming along really nicely. Our staff and volunteers (big shout out to Peter Killea) have been working very hard to make it happen.
Our old green Bike Library is now retired and all contents, bikes and tools etc, have been moved to the new location on Sunset Ave next to Miantonomi Park. We'll soon be painting the containers to protect them for the winter before decorating them with murals, cutting doors and building up the inside. Shelving and structures inside the containers will host a bike workshop, bike parts, tools, and bikes. Along with a weather proof canopy we'll be working towards more ground work, trail clearing, solar panels, water collections and gardens.
Can you believe it? The kids have waited long enough for this Newport community bike hub so if you'd like to lend a pair of hands and a few hours, please fill in this form and click 'Big Blue Bike Barn' as one of your options. Stay tuned for more!
This is a big community effort. Thanks to Rhode Island Foundation, Powered by Prince Van Beuren Charitable Foundation, Rhode Island Turnpike and Bridge Authority, City of Newport RI, Aquidneck Community Table, Aquidneck Land Trust, Newport Health Equity Zone, Newport County YMCA, Gambrell's Landscape llc., Sunbelt Rentals, Reynolds DeWalt, Standard Modern Company, Newport Solar, Preservation Society of Newport County, Newport Housing Authority, and everyone else making this DREAM a REALITY – the kids are waiting!!