Join Bike Newport's Summer Bike Camp!
Summer Bike Camp 2022 is open to Newport children ages 8-13. We have a special week for LGBTQ youth ages 11-18 and one for girls/female-identifying youth.
The Big Blue Bike Barn campus next to beautiful Miantonomi Park is our base for the summer, and our staff comes with an expertise and love for biking that delivers a safe and fun time for everyone.
Bike Camp is a one-week program weekdays from 9-3pm. We have four one-week sessions starting July 25th. We provide the bikes and helmets needed to participate.
At our Summer Bike Camp, participants spend a fun-filled week learning about:
Bike handling and bike safety skills, basic bike maintenance
Trail and road riding skills
Scheduled 'specials' with community partners.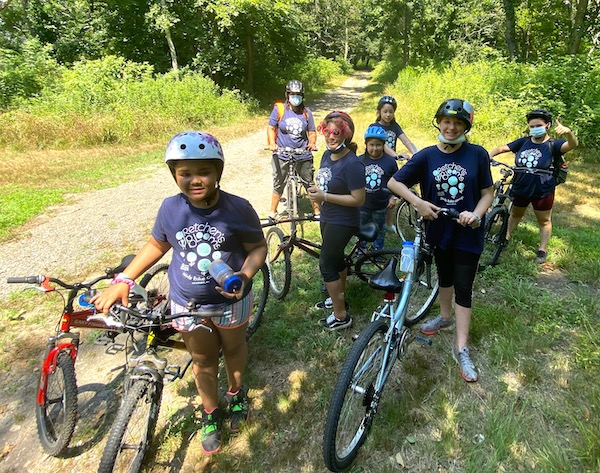 Bike Camp was made possible in 2021 with the generous support of the RIDOT Division of Highway Safety and The Bloom Family Foundation. Our camps are free for the youth of Newport with a focus on children from families with financial challenges. We welcome all participants to contribute what they can from $0 to $500 per week. All donations help to offset the costs of camp and our other programs.
Got questions? Email Camp Director Clare Woodhead: clare@bikenewportri.org
By the end of the week your child is filled with bike-happiness and with the independence of knowing how riding a bike safely and confidently. They will have new skills to be proud of, and know how to take care of their surrounding environment.