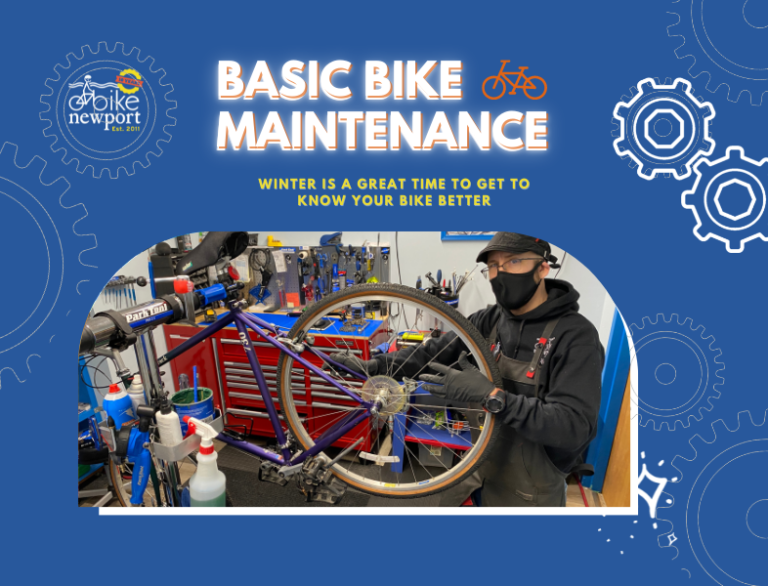 OVERVIEW
Our Basic Bike Maintenance class will give you plenty of tips on how to care for and maintain your bike.
Learn how to fix flats, adjust brakes and derailleurs, clean and lube a chain, and perform minor adjustments that will make you ready for the road and on your way.
Learning these skills will give you a much better understanding and appreciation of your bike – and save you time and money.
DETAILS
Dates: February 3, 10, 17, 24th, 2022.
Time: 6:30pm-8:30pm
Location: Bike Newport, 62 Broadway, Newport, RI 02840
Class Size: 5 participants only (must be 18 and over)
Instructors: 2 trained bike mechanic instructors.
Equipment: Bring your bike, or learn on one of ours.
Registration Policy: Advance registration is required. Pleaser email Clare Woodhead. and tell us your name, email, address, cell phone number, and any questions you have.
You may also call us at (401) 619-4900.
Cost and Payment: $300
You may pay in person or by mail at Bike Newport, 62 Broadway, Newport RI 02840, or online at bikenewportri.org/donate. Online, please indicate the reason for your payment near the bottom of the "Donate" page in "Notes regarding reason". Thank you!
The Basic Bike Maintenance Class is an introductory course intended for those with little or no bicycle mechanic experience. Each class lasts two hours and meets once per week for 4 weeks. The class is divided into teaching and discussion and hands-on learning where the student works on their own bicycle (or one of ours of preferred.)
Topics include
Week 1 — Basic bike anatomy and mechanical understanding. Learning about different bike styles, including various types of brakes, headsets, forks, chain ring size, and geometry.
Week 2 — Drivetrain parts and function, gears and brakes adjustments.
Week 3 — Different types of headsets, hubs, brakes, tires and wheels.
Week 4 — Give your own bike a full tune-up.
A few things to know about our classes
Wear clothes that you don't mind getting grease on.
Wear closed-toe shoes.
Bring your own bike to work on, or let us know if you would like to use one of ours.
You must be 18 years of age or older to take our classes.
Completing our basic bike maintenance class earns you 20% off parts and accessories at Bike Newport for 2022.
Cost is $300
For more information , If you'd like to know more or to register, please email us or call call us at (401) 619-4900.
Thank you – and we hope to see you in class!