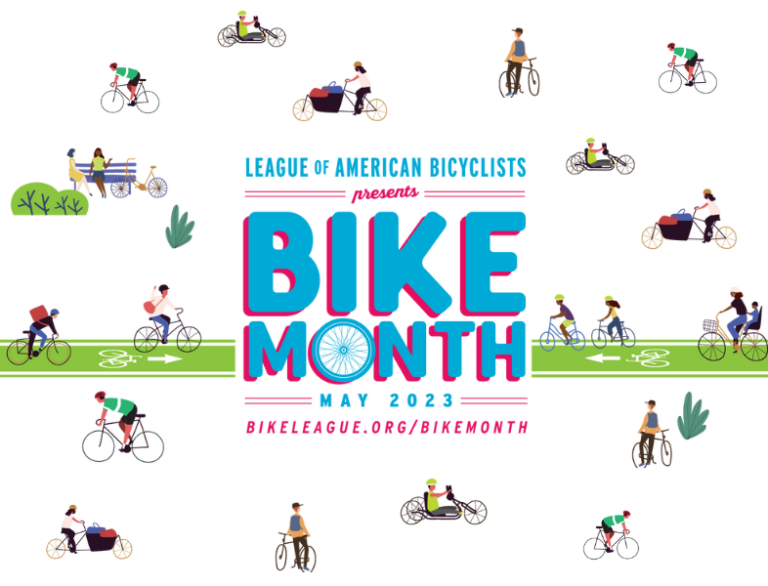 Get excited, it's pretty much the best month of the year! Spring is springing, everyone is our riding and we don't want you to miss out. So save the dates and stay tuned to our social media for regular updates on events!
'May is National Bike Month, sponsored by the League of American Bicyclists and celebrated in communities from coast to coast. Established in 1956, National Bike Month is a chance to showcase the many benefits of bicycling — and encourage more folks to giving biking a try.
Whether you bike to work or school; ride to save money or time; pump those pedals to preserve your health or the environment; or simply to explore your community, National Bike Month is an opportunity to celebrate the unique power of the bicycle and the many reasons we ride.'

Events for Bike Month
All of May for Bike Month
Kick off bike month with some TLC and a tune-up at The Annex – 10% discount on tune-ups
The season's warmer weather and longer days have many people ready to take to the road again.
We'll also be at the Bike Garage to help you learn how to do it yourself offering guidance and helping hand – Mon & Thurs 4:30-7pm and Wed 2-5pm
All of May for Bike Month
Bicycle Scavenger Hunt
Head out on your bike in your neighborhood and beyond and see what you can find, photograph them all, and put them all in one post on Facebook or Instagram. Tag @bikenewportri #bikenewportri and contribute to the bike community fun! Good luck and happy riding!
Scavenger Hunt items to find:
A public bicycle pump (if you're in Newport, RI, you can cheat by locating one HERE– and be sure to top off your tires while you're there)
Cherry blossoms
A magnolia tree
A cool manhole cover
A mural
A windvane
A "Widow's Walk"
A house built before 1800
A bike rack that you love
An historic landmark
View of the sea
Someone else on a bike!
Wednesday May 3rd
Bike to School Day
Help us spread the word by inviting Pell students, parents/guardians, families, friends and community partners to join us in riding to school.
We will be gathering at the Big Blue Bike Barn at 7:15, riding to the Pell Elementary school together promptly at 7:45am to be at school in time to lock up bikes, get some goodies, and for students to start their school day at 8:30am. Bike riding police officers will join Bike Newport Cycling Instructors to help lead the ride smartly and safely. Everyone who rides will sign a liability waiver – parents/guardians please accompany your student to the Bike Barn in time to sign this.
MEET: Big Blue Bike Barn, 20 Sunset Blvd.
TIME: Meet and get ready 7:15am. Ride out at 7:45am.
BIKES AND HELMETS: Students and adults should bring their own if possible. We will also have a few to borrow – first come, first served basis. Alternatively, if students would like to get a bike before May 3rd, they can come with an adult to Bike Newport HQ, 62 Broadway during Open Garage hours (Mon & Thur 4;30-7pm, and Wednesdays 2-5pm.)
LOCKS: If students bring their own bikes they can lock them up at school – we will bring some locks.
GIVEAWAYS: There will be some giveaways for those for students who ride to school.
Please help us to encourage as many Pell students, their friends and families to bike to school. Another option might be for students to join others and form groups in their neighborhoods to travel to the Bike Barn, or ride to school together using a different route.
Friday May 5th
AARPRI Full Moon Ride – a ride for all adults
Register: https://www.eventbrite.com/e/full-moon-rides-with-bike-newport-sponsored-by-aarp-rhode-island-tickets-532144126407
Friday May 19th
Bike to Work Day
7:00-9:00am – front lawn of City Hall. Bike Newport will be holding a commuter breakfast. Ride your bike and meet us there!
Saturday 13th – Sunday 21st
Ocean Race Newport
Bike Newport will have a booth in the Educational Zone. Come on down and see us!