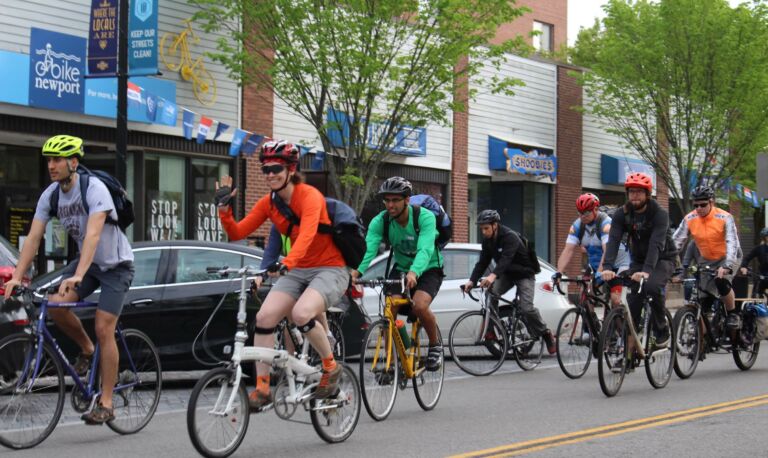 May is Bike Month and we're kicking it off with a challenge. Love to Ride has partnered with the League of American Bicyclists to support The National Bike Challenge on May 1st!


Bike Newport is joining the Rhode Island Bicycle Coalition (RIBike) Challenge to get as many RI cyclists as possible to ride everyday.
The Bike Challenge is a fun, friendly national competition in which teams of individuals, businesses, and communities compete to see who can get the most friends, family and co-workers to ride a bike during May. Let's do it!
Coordinated by RIBIKE, we are part of a STATEWIDE goal – and here it is: There are 384 miles of tidal coastline in Rhode Island. If someone rode that entire coastline every day of May (that's 31x) the total miles would be 11,904. Our goal is to to combine all of our individual miles over the month of May to reach that 11,904 goal. We can do this, Rhode Island! So let's all sign up and add our miles to the pot – It's all on the honor system and there are prizes!
Logging your rides give you a chance to win prizes from that challenge and we'll be able to see the number of miles ridden. You have two ways to win by biking in May and logging your trips.
Step 1 Join Love to Ride https://www.lovetoride.net
Step 2: Click 'Register here'
Step 2: On your profile page, click on 'Join a Group/Club' & look for RIBike. If you already belong to a Club, click on the "+" sign to add RIBike
Step 3: Start riding your bike as often as you can. Ride to work. Ride to have a coffee. Ride because it is a beautiful day!
Step 4: Record your miles on the RIBike site either manually, or through an App like Strava. Step 5: Have fun!

Learn more about the 2021 National Bike Challenge.