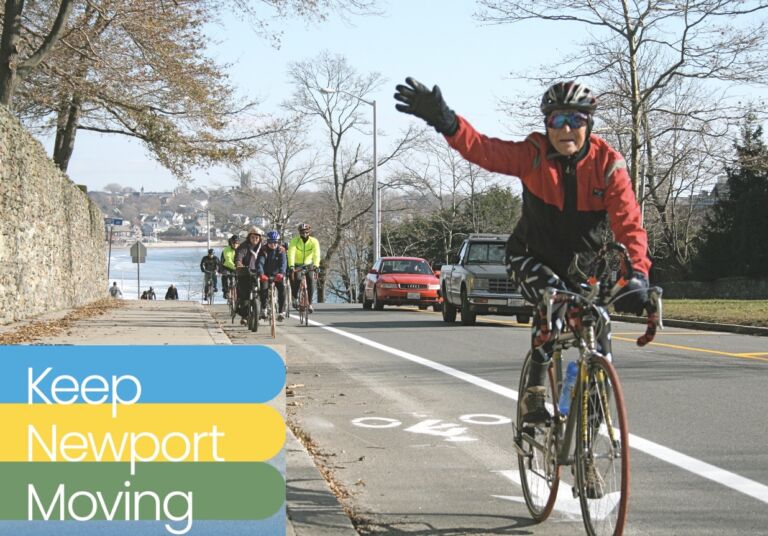 At Bike Newport, we're following with interest the Newport Transportation Master Plan (TMP) that will be presented to the City Council at a workshop this coming Wednesday evening, March 29th.  Along with the rest of the community, we are reviewing the recommendations put forward by the city's transportation planning consultants as well as the related public discussion.
IN GENERAL
As a whole, the TMP addresses the established goals of the project – which include reducing traffic congestion, improving traffic flow, establishing supported multi-modal transportation options, and overall improvement of the Newport experience. The TMP considers the entire city, its people, the physical layout – both opportunities and constraints, and the resident/student/business/visitor needs and experiences. It's a comprehensive and connected plan. It's best for us to understand the recommendations in the context of the goals – which we'll begin to do at the presentation on Wednesday.
ABOUT AMERICA'S CUP
Currently, there is a concentration of concerns focused on the proposed removal of one lane on America's Cup and the addition of a bike lane. Independent from the big picture of the city's combined goals to improve safety, traffic flow, and the Newport experience in general, this recommendation appears to be a swap of a vehicle lane for a bike lane on an already-stressed thruway. The resonant questions being: "Why not put a bike lane somewhere else?" "Why take away a car lane on such a busy artery?" "This is going to cause a traffic nightmare." These concerns are well-founded if our intention is to maintain America's Cup as a primary artery that cuts through the heart of our city.
If, however, our goal is to improve the Newport experience by taking steps to reconnect our iconic harbor and waterfront district on the west side of America's Cup with the businesses and historic experiences of the east side of America's Cup – then we need to plan differently. How do we change America's Cup to help people enjoy this part of town out of their cars? How do we introduce shuttles, bikes, safe walking, and easily traversable road treatments while still keeping vehicles moving and drivers happy?
The Newport Transportation Plan includes this broad explanation of the recommendation:
"By reducing America's Cup and Memorial Boulevard to have one lane in each direction, combined with efficient operations at key bottleneck intersections, traffic congestion will be reduced. Further, the recommended street transformation will provide for safe and enjoyable walking and bicycling for short trips around Newport."
We can know our concerns now, but we shouldn't yet have fixed objections or demands. Let's listen to the city's staff and consultants as they present and answer questions from our Councilors at Wednesday's workshop – which is the first step in the review process. Better-informed, we can together constructively process our concerns as questions and discussion, whether at this forum or subsequently.
On Wednesday, we all will learn more and be better prepared for discussions and decisions as a community with the long-term best interests of our city in mind.
ABOUT BIKES
Community input during the two-year community engagement process heavily favored improving bicycle and pedestrian access in Newport. This input came from widespread resident response and was not orchestrated by any agency, including Bike Newport. People want to safely navigate, explore and traverse Newport biking and walking because Newport is small and enjoyable out of a car, and because it's an inherently pleasant and healthy experience. Judging from the economic, health, and environmental benefits experienced by cities that embrace biking and walking, Newport can likewise gain as a residential city and a touristic destination by embracing biking and walking – by making it safe to do so.
Approaching the upcoming Council workshop, the City's Facebook post refers to the recommended bike lane network as an "aspirational concept project." We did not find the word "aspirational" in the plan. If this language is a response to the current discussion, it is troubling for public policy. We are an intelligent community, able to process differing opinions by providing context and opportunities to learn more.
OUR HOPE:
Bike Newport respects the time, expertise and funding that has gone into the process. We want to hear our city planners present the Transportation Master Plan in its full context, and we look forward to productive public engagement subsequently. Objectors can be asked to listen along with others – we need not have two years of expert work edited before it's been considered as a whole.