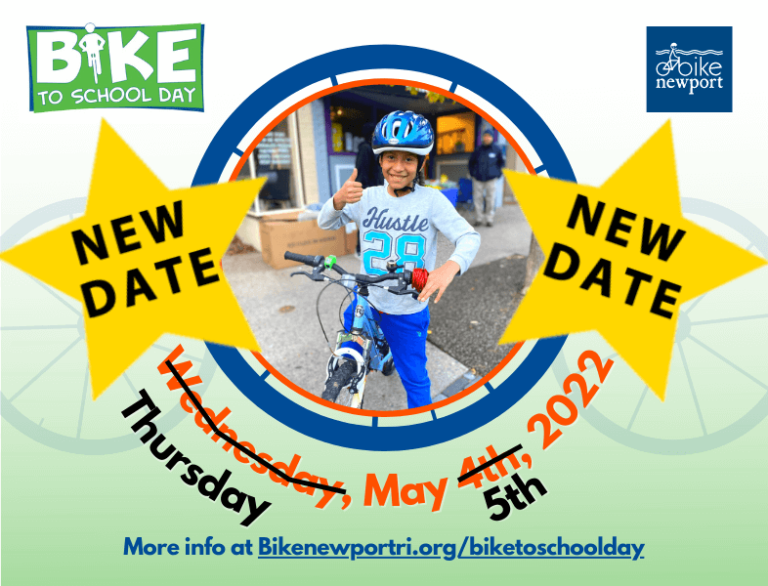 UPDATE: DUE TO THE WEATHER,
BIKE TO SCHOOL DAY IS NOW
THURSDAY MAY 5TH, 2022 
Did you know that children who start the day by walking or biking to school are engaged in the physical activity that contributes to a healthier lifestyle, a better outlook, higher self-esteem, improved independence, and, ultimately, better performance in school?
BIKE TO SCHOOL DAY
Meet: Big Blue Bike Barn, 20 Sunset Blvd, Newport
Wednesday May 5th • 7:15 – 8:30am
National Bike to School Day on May 4th provides an opportunity for schools across the country to join together to celebrate National Bike Month in May.
This year 3rd graders at Pell Elementary School are participating in bike safety classes during their PE classes. Many of them and other students will be joining us on Bike to School Day at the Big Blue Bike Barn to bike to school together. Help us spread the word by inviting Pell students, parents/guardians, families, friends and community partners to join us in riding to school.
We will be gathering at the Big Blue Bike Barn at 7:15, riding to school together promptly at 7:45am to be at school in time to lock up bikes, get some goodies, and for students to start their school day at 8:30am. Bike riding police officers will join Bike Newport Cycling Instructors to help lead the ride smartly and safely. Everyone who rides will sign a liability waiver – parents/guardians please accompany your student to the Bike Barn in time to sign this.
MEET: Big Blue Bike Barn, 20 Sunset Blvd.
TIME: Meet and get ready 7:15am. Ride out at 7:45am.
BIKES AND HELMETS: Students and adults should bring their own if possible. We will also have a few to borrow – first come, first served basis. Alternatively, if students would like to get a bike before May 4th, they can come with an adult to Bike Newport HQ, 62 Broadway during Open Garage hours (Mon & Thur 4;30-7pm, and Wednesdays 2-5pm.)
LOCKS: If students bring their own bikes they can lock them up at school – we will bring some locks.
GIVEAWAYS: There will be some giveaways for those for students who ride to school.
Please help us to encourage as many Pell students, their friends and families to bike to school on May 4th. Another option might be for students to join others and form groups in their neighborhoods to travel to the Bike Barn, or ride to school together using a different route.
Thank you for your help to 'roll' (pun intended!) this out.