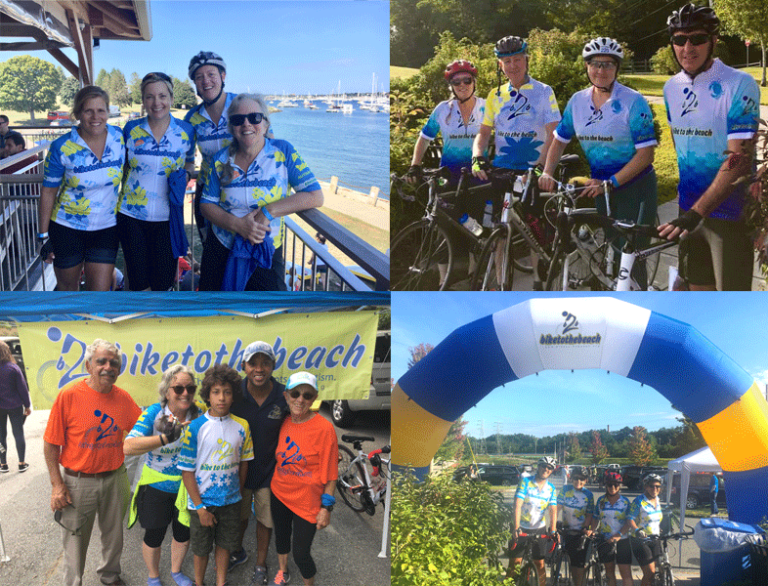 We are keeping up to date on state mandates regarding COVID-19
and will adjust plans as necessary.
Donate to Team BikeNewportRI and Bike-On 2020
Support us on Saturday, September 5th
Bike to the Beach, the national organization that raises funds for Autism awareness, is partnering with Bike Newport for an ninth year!
Support the Bike Newport RI and Bike-On 2020 team on our favorite ride of the year and help support our effort and get us to our goal of $5000!
Bike Newport helps adults and children of all abilities – and Bike to the Beach supports our programs. Students with Autism and a range of other challenges have a great time at our Bike Garage – getting greasy working with bikes – maintaining, fixing, and riding – having a great time and developing many important skills along the way.
This ride is our chance to give back to Bike to the Beach and help raise awareness and funds.
What we'll be doing:
The Bike Newport and Bike-On team rides 62 miles from Woonsocket to Newport every year – because where else but L'il Rhody can you you ride the full length of the state before lunch?? Please support our efforts, our programs, and Bike to the Beach for Autism. Thank you!!!
Did you know that …
Every 21 minutes a child is diagnosed with Autism
13% of our population that lives with a disABILITY.
Autism is the 2nd most prevalent developmental disorder in the world, but receives less federal funding than any other disorder affecting children.
Only 15% of these with an intellectual and/or developmental disability are employed.
We need your support to provide hope for those individuals dealing with Autism each day.
We would appreciate any effort on your behalf to support our journey and improve the lives of those who are touched by autism and disABILITIES. If you would like to donate to help improve the lives of Americans dealing with Autism, please contribute to our fundraising page.
Donate to Team BikeNewportRI and Bike-On 2020
Thank you!