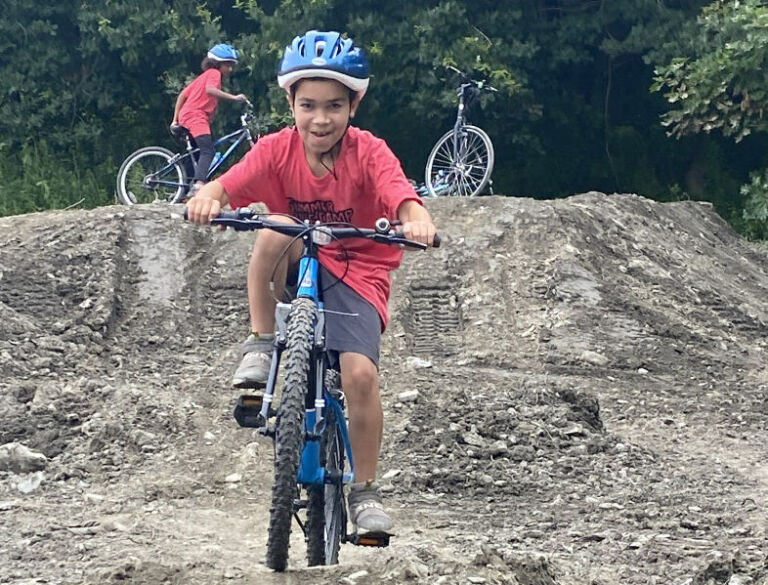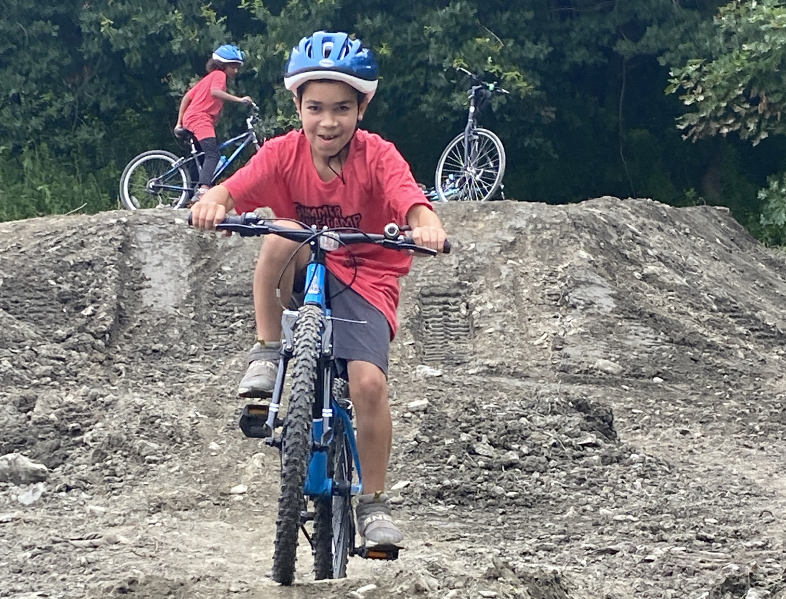 It was 2019 when the national organization People For Bikes provided the first funding for our awesome Pump Track. We were determined to build a place where kids could play on their bikes, practice their bike skills, and have lots of bike fun – away from traffic!
Our amazing community partner, Newport Housing Authority, had already given us use of 1/2 acre of their land for the Big Blue Bike Barn program area, and they stepped right up to expand that area with another 1/2 acre for play space.
Working with the City of Newport, we were able to establish the agreements necessary to convert this land into a public space for all to enjoy.
After that came the materials, the equipment, and the know-how. Our friends at East Coast Construction came through with "dirt for life" and the skid steers and people power to drive them. Pump track enthusiast and volunteer extraordinaire Marley Reed brought us the needed know-how and passion to design and maintain the track. Volunteers came by the dozens to help remove rocks, build, sculpt, and smooth to Marley's model. The Pump Track started to welcome bike adventurers in the summer of 2021 and it just keeps getting better.
Rain, snow, and lots of wheels are the norm at any pump track, as is the constant cycle of erosion and rebuilding. The Pump Track at the Big Blue Bike Barn is an ongoing labor of love and fun and we are extremely grateful to all who build it, all who maintain it, and all who use it. Let us know if you want to be part of the volunteer brigade that keeps the Pump Track in tip-top shape.
The Pump Track can be found behind our Big Blue Bike Barn at 20 Sunset Blvd in Newport. It connects directly with awesome hiking and biking trails in historic Miantonomi Park. Look for our big blue containers, community gardens and the beautiful new canopy – thanks to BankNewport, Champlin Foundation, Greenbridge Foundation, Ocean State Charities Trust, Cordsten Design Architects, and Pariseault Builders. Click here to meet all of our generous donors and partners.

Do you love the Pump Track? Send us your videos and tell us about it! Your generosity makes the Pump Track and all of our community programs and bicycle advocacy possible. Thank you!
EVOLUTION OF A PUMP TRACK in PHOTOS and VIDEOS