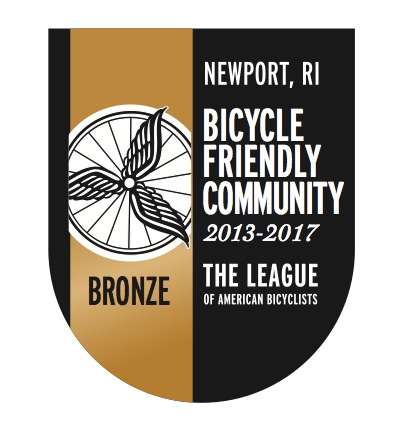 Yesterday, the League of American Bicyclists announced the latest round of Bicycle Friendly Community (BFC) awards and Newport has been named a Bronze BFC – the first BFC in the state of Rhode Island! Read the League's front page story about Newport here.
"Newport is playing a critical role in creating a truly Bicycle Friendly America," said Andy Clarke, President of the League of American Bicyclists. "We know Newport's investment in bicycling will be returned many times over in the health, environmental, and quality of life benefits of a thriving community."
The BFC program is transforming the way communities evaluate their quality of life, sustainability and transportation networks, while benchmarking their progress toward improved bicycle-friendliness. There are now 291 BFCs in 48 states across America. The Bronze BFC award recognizes Newport's commitment to improving conditions for bicycling through investment in promotion, education, infrastructure and pro-bicycling policies.
Newport is also the historic home of the bicycling movement. If you take a stroll through Touro Park off Bellevue Avenue, you'll see this monument (pictured below), carved with the League's winged wheel logo. Erected in 1980, it commemorates the founders of the League of American Wheelmen (now Bicyclists), who began their commitment to better and safer cycling in our own "City by the Sea."
We are so proud to be returning to our two-wheeled roots! Look out for a full celebratory event and ride in November.