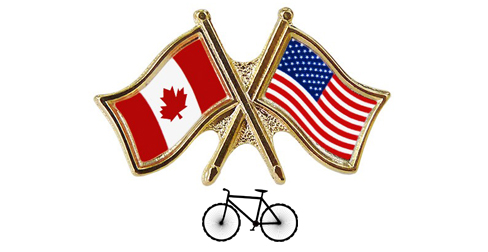 On January 3rd, Brian Gallant, the Premier of New Brunswick announced $1 million in funding to begin the connection of the 15,000-mile coast-to-coast Trans Canada Trail  with the 3,000-mile East Coast Greenway, which stretches from Key West, Fla. to Calais, Maine. The connection will run from St. Stephen, New Brunswick, to St. John's, Newfoundland, and will effectively create the planet's longest network of recreational trails.
Bob Poirier is a resident of Moores Mills, New Brunswick, with roots and family in Newport and Providence. He has been advocating to connect the Greenway to the Trans Canada Trail for decades. He had this to say, "The vision is to have the world's first linear park connecting Fundy National Park in New Brunswick and Acadia National Park in Maine and to be able to ride park to park. The uniqueness of the linear park would mean it would be a real destination for cyclists while spurring economic development in the area beyond just the summer months."
Since 1991, the East Coast Greenway Alliance (ECGA) has been creating segments of the trail throughout the East Coast to eventually link together, with a goal to have a 95 percent traffic-free route by 2030. Running alongside the rivers and train tracks that connect the East Coast's cities, the Greenway has roughly 11 million visits per year and has 40,000 supporters and volunteers, according to the ECGA.
"We see this as a great opportunity to link two trails, the East Coast Greenway and the Trans Canada Trail," Molly Henry, ECGA's New England Coordinator, said. "It's really about two countries working together to connect these trails. It's a small gap and yet we'd be connecting different countries and cultures, and bridging gaps in more ways than one. It makes sense from a bicycle tourism standpoint. This will be a great adventure, one to check off your bucket list."
Photo credit: bit.ly/2CRMjMv and bit.ly/2qod4Wn